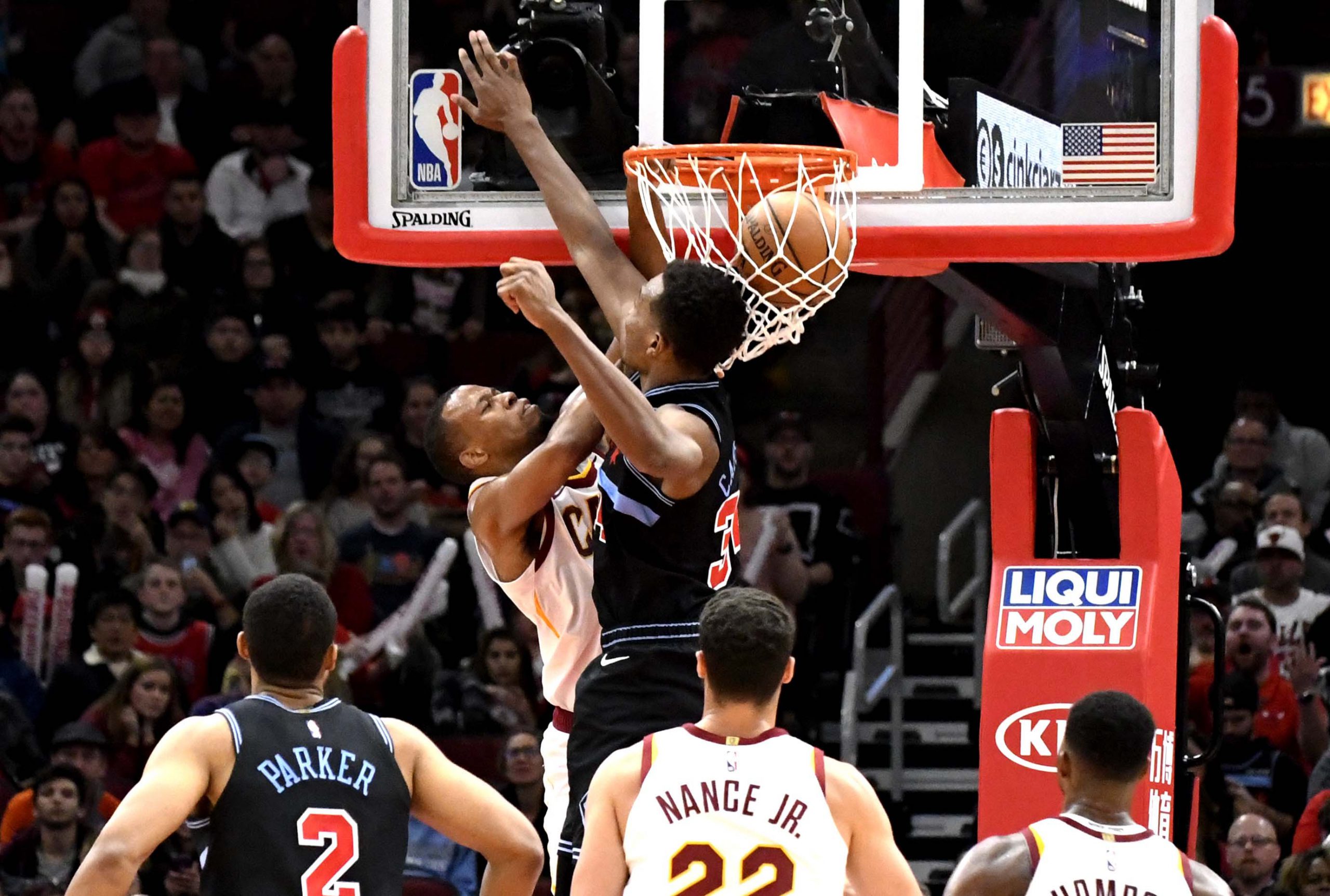 The Cleveland Cavaliers dropped yet another close game as they fell 98-99 to the Chicago Bulls on Saturday night. However, in keeping with the theme of wins and lessons, we'll continue to look at what we learned about the Cavs — and what they learned about themselves — in Saturday's nail-biter.
Collin Sexton is getting in a groove
With a career-high 20 points (on 8-16 shooting from the field and 2-3 shooting from three-point range) and three assists, rookie Collin Sexton had his most impressive offensive outing on Saturday. It wasn't just about the box score numbers, although his efficiency, output and ball-control (he had just one turnover in 34 minutes of play) were impressive.
Sexton looked sure and confident throughout the night, using his speed to his advantage against Bulls guard Ryan Arcidiacono while making sure to keep his teammates involved. Defensively, Sexton got beat off-the-dribble on a few plays but those poor possessions didn't stick out. His off-ball defense continues to be much improved.
In just his second career start, Sexton's performance was nothing less than a promising sign for the 19-year-old's potential. Sexton has responded well since being criticized by his veteran teammates and though he missed the game-winning layup, that the Cavaliers had confidence in him to take the last shot shows just how far he's come from his career-worst game in Orlando.
Tristan Thompson has worked hard on his scoring ability
With 22 points on 10-14 shooting from the field, and some of those shots coming against multiple defenders, Tristan Thompson had the most impressive scoring night since February 2017. That doesn't seem like it was too long ago but considering that both LeBron James and Kyrie Irving were in the lineup as well, it's been quite a while since Thompson had a scoring performance like the one he put on against the Bulls on Saturday.
Following the game, Fox Sports Ohio's Campy Russell would note that Thompson has worked hard on his footwork over the summer and is now able to get his hook shot up over either shoulder.
Thompson is averaging double-digit scoring figures for the first time since 2013-14 but here's the catch: his shooting percentage is 5.1 percent higher than it was that season. The veteran big man is having the best season of his eight-season career and is proving himself to be one of the team's most reliable offensive options.
Rodney Hood can explode
No, this isn't about Rodney Hood's poster dunk over Chicago Bulls rookie Wendell Carter, although that picture may be hanging up on Hood's wall somewhere in the near future. This is about Hood scoring nine points in both the first and fourth quarter's showing that when he's aggressive, and trusted, he might be every bit the player that the Cavaliers thought they were adding when they drafted him.
He had a rough start to the season, averaging 11.0 points per game while shooting 34.8 percent from the field and going 0-4 from three in the team's first two games. After his performance in the 2018 postseason, it seemed like everyone had less trust and patience for him than other players, so the hounds were on him. He's averaged 13.3 points per game while shooting 45.4 percent from the field and 44.4 percent from three in the 10 games since.
He's not going to score 20 points every game, having shown he can be a streaky shooter over the course of his entire NBA career. But when he's on, get out the way.
*All stats gathered from Basketball Reference

NEO Sports Insiders Newsletter
Sign up to receive our NEOSI newsletter, and keep up to date with all the latest Cleveland sports news.