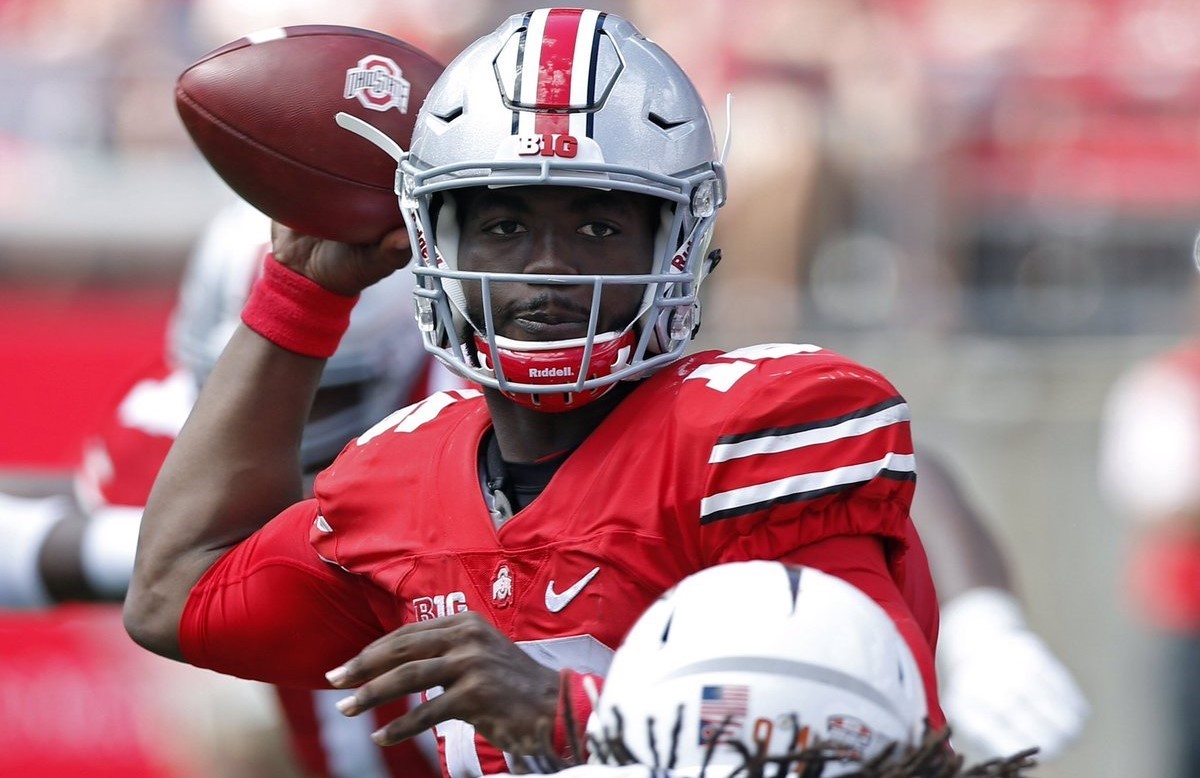 (3) Ohio State's upcoming match against (14) Oklahoma has a long list of implications at stake.
First and foremost are the playoff chances of both of these teams.
If Ohio State wins, they are validated as a top three team and will have a relatively easy road ahead with the exceptions of Wisconsin, Michigan State, and Michigan. A Buckeye win over Oklahoma on the road would indicate that the team is ready for those challenges.
If the Buckeyes fall to Oklahoma, the natural response of the college football world would be "If they have trouble with Oklahoma, how will they handle the elite teams, like Michigan?"
On the flip side, an Oklahoma loss virtually ends their playoff hopes, whereas if the Sooners win, they become a legitimate contender in the playoff picture.
If Oklahoma can get through this one with a 2-1 record, the general road ahead would mean the Sooners have to win out, but their playoff chances are alive if they run the table the rest of the way.
This is about as big of a pendulum swing as one can find early in the college football season.
Although this next example is further down the list of priorities, this game also has ramifications for the two starting quarterbacks, J.T. Barrett of Ohio State and Baker Mayfield of Oklahoma.
Barrett and Mayfield were both mentioned as potential Heisman candidates coming into 2016. Mayfield did not have a great game in the loss against (6) Houston in Week 1, but if he were to lead his team to the playoff, there's a chance he'd be back in the conversation.
Barrett, on the other hand, is firmly entrenched as a top candidate to win the award.
He scored nine touchdowns in two games (six passing, three rushing). He's the leader of a top three team that has a chance to run the table and reach the playoffs.
If Barrett can add this victory to his resume, on the road, it only solidifies his spot in the Heisman race even further.
He already has 498 passing yards in two games, and didn't even need to play in the fourth quarter against Bowling Green.
Barrett threw his first interception of the season on the opening drive against Bowling Green and has been nearly perfect ever since.
Oklahoma's secondary is as formidable as any the Buckeyes will face in 2016 and is led by two NFL Draft prospects, cornerback Jordan Thomas and  safety Ahmad Thomas.
Safety Steven Parker is no slouch either, giving Oklahoma three returning starters in the secondary.
Although the Sooners had trouble against Houston quarterback Greg Ward Jr. in Week 1 (most teams have the same problem), this will certainly be a few steps up for Ohio State compared to the first two cupcake opponents.
Barrett has a deep arsenal of weapons to choose from in the receiver group.
H-back Curtis Samuel has been deadly, with two receiving touchdowns and nearly 240 receiving yards on 14 catches.
Dontre Wilson is another threat out of the backfield in the passing game and already has two receiving touchdowns.
We still have yet to see Noah Brown make a big impact, but that seems to only be a matter of time.
11 different Buckeyes have caught passes in only two games. Tight end Marcus Baugh is more than capable. K.J. Hill and Terry McLaurin have made big  plays already.
There can't be many teams that are harder to prepare for defensively than Ohio State.
Much like our preview of Ohio State's running back committee coming into this game, the Buckeyes have just about everything one could hope for as far all the elements and ingredients to a successful passing game.
The offensive line is strong. The run game will open up the field for big passing plays.
Oklahoma does not have an elite defense.
Everything looks great on paper. Sure, Ohio State is "missing" weapons like Michael Thomas, Braxton Miller, and Jaylin Marshall, but that's just a testament to how great the recruiting has been and how much talent is on this fresh crop.
Look for Samuel, Wilson, and Brown to be some of the biggest impact players on Saturday night, but with this team, you never know who is going to step up and contribute.
As with our breakdown of the running game against Oklahoma's defense, this appears to be a heavy advantage of Ohio State coming into the game.
If Barrett and his deep pool of receivers get the job done, the Buckeyes and Barrett will both be cemented as true contenders for the championship and Heisman trophy, respectively.
Check back Saturday for part five of our preview series, when we give a general overview of the game, what to expect, key players to watch on both sides, and our prediction for the big game.