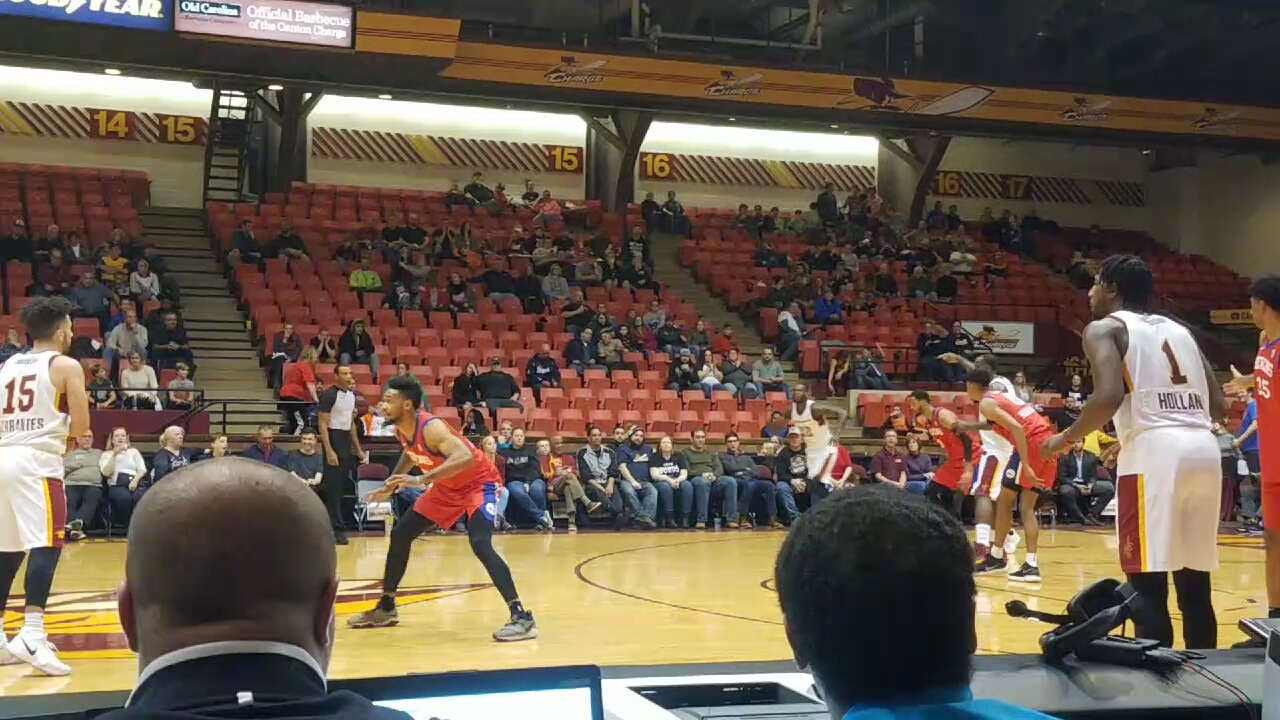 By Corey Perez
CANTON, OHIO – Coming into Friday night's matchup with the Delaware 87ers the Canton Charge had been winless in their four previous home games. That changed when they downed the 87ers 120-113 in a hard fought victory, they battled for until the final seconds.
Cleveland Cavaliers two-way players John Holland and London Perrantes led the way, each affecting the game in different ways. London Perrantes had himself a double-double 13 points along with a game high 16 assists.
John Holland added 23 points to lead all Charge scorers, Holland was joined by six other Charge teammates in double figures.
To get a win in front of the Canton fans was invaluable to Canton Coach Nate Reinking. "This is for our fans. And for our guys. You gotta protect home."
The biggest reason why the Charge were able to secure their first home victory was the 27 team assists, topping the season high of 26 set last game. When the ball is moving with purpose through the flow of the offense, good things usually happen.
Coach Reinking believes his team's chemistry is a major part of Canton's recent 2 game winning streak "It's a simple game when you move the ball and defend."
The man setting the table for Canton was Perrantes and Reinking is happy to have him around "He's our engine right now making things happen." Reinking continued to speak highly of the play of his point guard. "He's settling in. He's understanding what we want from him."
Perrantes is not only a willing passer but he's an underrated scorer as just his presence causes teams to either over pursue at the 3-point line or collapse in the middle off a drive which truly opens up the Charge offense.
While the stars may dominate the headlines, this game would not have been one without the play of Canton's bench.
In every victory there is usually one or two guys that made big plays but don't have stats that jump off the page. Friday's unsung star was Beverly, as he had 14 points to go with 8 rebounds in under 20 minutes of game action.
Beverly is the type of guy you can count on to jump start some energy into any lineup he's playing alongside. Beverly had this to say about his role with Canton, "I tend to do the dirty work. And get under guys skin and D up and get boards." There can never be enough guys like Beverly on a roster because he plays a role not everyone is comfortable filling.
As he said, "be that pitbull in the back for my guys."
Beverly wasn't the only guy who made key plays for the Charge as, Akeem Springs also played a big part in Canton's win. Springs made three 3-pointers in the first half, but the most impressive thing about Springs's performance was his +/- as he was second on the team at +16.
Springs was the first guy off the bench tonight and it was easy to see why. To have such a high +/- as a guy off the bench is something that Coach Reinking is sure to notice before Canton's next game.
Cantons next two games are home matchups with the Grand Rapids Drive on December 13th and then the Windy City Bulls come to town two nights later December 15th.