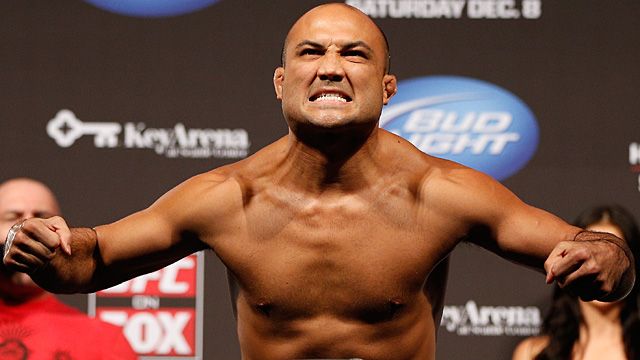 Sunday night in Oklahoma City, one of the most storied careers in MMA history will more than likely, come to an end. First ballot Hall of Famer and legend amongst legend's, BJ Penn may be walking to the cage for the last time.
He is close friends with Mike Goldberg, so a jump to Bellator, a company that loves to feature old UFC legends is not out of the possibility, but all signs point to this being it for Penn. And what a storied career it was.
No one, anywhere on the planet, can argue that Penn is not one of the greatest MMA Fighters of all time, and a true pioneer of the sport. It is clear he has hung on too long and his last several fights have diminished his overall record, but in no way his overall legacy.  He is truly one of the top ten fighters of all time.
He has had it rough of late though, losing 4 straight, and six of his last eight. They have come against some very good names however.  The first two against Frankie Edgar, a fighter who also established himself of late as one of the best pound for pound fighters on the planet.  His last official win came in November of 2010 against fellow MMA legend Matt Hughes.  Since then, he has suffered decision losses to Nick Diaz and Rory McDonald, also knockout losses to Frankie Edgar, and Yair Rodriguez.
Despite his recent troubles, it can never take away from the epic victories that defined his career and legacy! After wins at UFC's 31 & 32, Penn Burst onto the MMA scene in a big way with a riveting 11 second KO of Caol Uno.  "The Prodigy" was born that night!  It would be 3 more years however, until he tasted UFC Gold.  The night was UFC 46 in January of 2004 when he stunned everyone with a first round submission victory over Matt Hughes, to take away his UFC Welterweight title.  He was one of only two men to ever defeat Hughes as champion.
Contact disputes with the UFC caused him to leave for awhile and be stripped of his crown. Upon his return to the UFC in 2006 he lost to rising star GSP, and then to Matt Hughes in a rematch.  Both of which were contested at Welterweight.
It was then he made the wisest decision of his career, switching to Lightweight, a division he would go on to dominate!
BJ Penn would quickly avenge a loss to Jens Pulver with a dominant rear naked choke victory. Penn would then win the lightweight gold at UFC 80 over Joe Stevenson.  A title he went on to defend successfully 3 straight times over Sean Sherk, Diego Sanchez and Kenny Florain.
His current record stands at 16-11-2, at first glance, not very impressive. However, when you look at who he has beaten, and the simple fact that he is only one of three men to win titles in two different weight classes, the others being Randy Couture and Conor Mcgregor, and you can't dispute his dominance over the sport.
Penn will fight one more time under the UFC banner, this time against UFC journeyman Denis Silver. Win, lose or draw, thank you Penn, you will not be forgotten!
For the full main card, please see below ( predictions in bold)
Michael Chiesa vs Kevin Lee to headline the card.
Tim Boetsch vs Johny Hendricks
Felice Herrig vs Justine Kish
Joachim vs Reyes
Tim Means vs Alex Garcia
BJ Penn vs Dennis Siver

NEO Sports Insiders Newsletter
Sign up to receive our NEOSI newsletter, and keep up to date with all the latest Cleveland sports news.