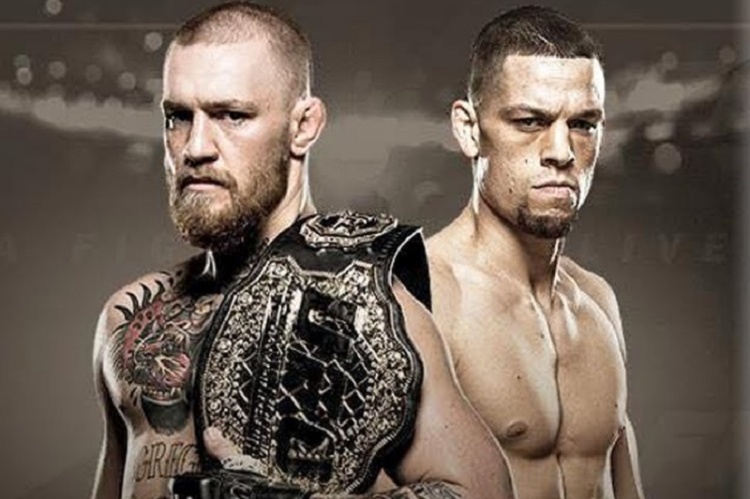 It was a wild and monumental year for the UFC, full of changes and growth.
Here below are the First Annual NEO Sports Insiders Year End Awards by your very own MMA insiders Eli Moon and Vince McKee.  Agree or Disagree with us?  Let us know in the comment section below.
Fighter of the Year
Eli – Conor McGregor..no questioning the first-ever two-division champion.
Vince – While I feel both Stipe Miocic and Conor McGregor are well deserving of this award, I must go with Cody Garbrandt instead.  He was 4-0 and won a title in which many thought Cruz would have locked down for a long time.  I would also strongly consider Michal Bisping for this pick as he went 3-0 and captured a title.  However, Cody Garbrandt is my winner.
Most Valuable to the UFC Fighter of the year (who does the most for the organization in and out of the cage)
Eli – Conor McGregor, as he brings it inside the Octagon as well as promoting the fight game outside.
Vince – People can talk all they want about the Fox Four (DC, Bisping, Cruz and Woodley) all being champions and then hosts on Fox, but I have to agree with Eli on this one, no one does more to bring attention to the sport then Conor McGregor.  It is not even close.
Best Card of the Year
Eli – UFC 205. No doubt about it. When it's the first card in NYC and three title fights are on the card, expect a great card. We got that and more.
Vince – UFC 200, almost every single fight on that card was worthy of a main event status at some point this year.  Great fights, loaded storylines, and even with that hideous Gold Mat, UFC 200 wins this award hands down.
Breakout Star of the Year
Eli – Amanda Nunes. Can anyone truly say that they saw Nunes being the UFC Women's Bantamweight Champion by the end of 2016? She did that and defeated two pioneers of women's fighting in the same year, as she took out Miesha Tate and Ronda Rousey in dominating displays.
Vince McKee – Mickey Gall not only backed up his boast with great in cage performances, but jumped onto the main event scene in only his fourth career fight.  This kid is for real, watch out!
Most Improved
Eli – Max Holloway. Holloway has surged to the top with a ten fight winning streak and now holds the UFC Interim Featherweight Champion.
Vince – As 2016 began, Amanda Nunes was 11-4 and not exactly a household name in the world of Women's MMA.  My, how all that changed in 2016!  3 wins and 2 of those with brutal and bloody results over pioneers of the Womens MMA legacy in Tate and Rousey.  Nunes has put the world on notice thanks to a monster 2016.
Fight of the Year
Eli – Tyron Woodley vs. Stephen Thompson at UFC 205. These two fought to a majority draw after battling for five rounds. From Woodley teeing off on Thompson to "Wonderboy" fighting out of a guillotine and battling back, this was a hell of a fight. Hopefully a rematch will be happening in 2017.
Vince – I agree with my partner on this one for all the reasons he just gave.  However, a close runner up would have been Diaz vs McGregor II.
Comeback of the Year
Eli – Dominick Cruz. Though he did lose on one of the last days of the year, he was able to take back his crown earlier this year after being out for three years. When he defeated T.J. Dillashaw, he proved he was still one of the best of all-time.
Vince – I couldn't agree with Eli more on this one.  He won the trilogy fight with Faber and knocked off one of Fabers protégé's in Dillashaw to take the title.
UFC Female of the Year
Eli – Joanna Jedrezyczyk. Joanna Champion could not be stopped in 2016. After big wins over Claudia Gadelha and Karolina Kowalkiewicz, look for her to continue to rule the Strawweight Division in 2017.
Vince – For the third straight award, I must agree with Eli.  She is not only the best pound for pound Women's fighter in the world, I'd make a solid argument for best overall MMA pound for pound fighter in the world.
Biggest thing the UFC did right
Eli – Letting Conor McGregor vs. Nate Diaz II happen. Though it wasn't for a title and it was at a weight that neither one fought at, Conor and Nate tore down the house and brought one of the best fights of the year.
Vince – Bring the UFC to Cleveland in September for UFC 203.  No one who was there or saw it live will ever argue that fact.  Rocking crowd and they are sure to be back.
Worst thing the UFC did
Eli – Let Ronda Rousey off the hook from media responsibilities before UFC 207. Add in the fact she didn't win and this was a huge mistake. Now you'll have fighters looking to stop doing things they don't feel are necessary to do, like open workouts, media interviews, press conferences, etc.
Vince – I would say just the overall way the UFC handled the media this year was horrible.  First, they cancel the McGregor vs Diaz rematch simply because McGregor wanted to focus on training and not the media?  Then, they ban Ariel Helwani for letting the Lesnar thing slip. Then,, they allow Mike Goldberg to depart, not too mention allowing Rousey to skip media events, after they punished Conor for it…….
Upset of the Year
Eli – Dominick Cruz vs. Cody Garbrandt for the UFC Bantamweight Championship at UFC 207. Garbrandt showed how talented he truly is, winning the title in fantastic fashion. He picked apart Cruz round by round to be able to walk into 2017 the champion.
Vince – Diaz over McGregor at UFC 196.  I don't care what anyone says, no one saw that coming at the time, the world thought that McGregor was invincible.
Knockout of the Year
Eli -Stipe Miocic knocks out Fabricio Werdum to win the UFC Heavyweight Title at UFC 198. I truly believe Stipe broke the curse and kicked off the best year in Cleveland sports history.
Vince – I would have given this to Stipe if it wasn't for Amanda Nunes knocking out Rousey standing last night.  Winner of this award goes to Nunes at UFC 207.
Submission of the year
Eli – Miesha Tate defeating Holly Holm at UFC 196 to win the UFC Women's Bantamweight Championship. What an incredible moment and a well-deserved victory for Tate, who had worked for a long time to get to the top. Though she wasn't there very long, it was great to see her finally reach the mountaintop.
Vince – For me, yet again, it goes back to UFC 196 with Diaz submitting McGregor.  It seemed as though McGregor was the kind of guy would die before submit, guess not!
Most Underrated
Eli – Demetrious Johnson. For a guy who is the only UFC Flyweight Champion, he tends to get left out of the "Best Fighters in the UFC" discussion. Hopefully 2017 changes that.
Vince – I could not agree more with Eli on this one.  So true!
Most Overrated
Eli – Ronda Rousey. After being advertised for a whole year that she was bigger and better than she was previously, she really dropped the ball. After refusing to do media for her return at UFC 207, she was defeated in forty-eight seconds. What a disappointment.
Vince – This was a tough one as it could go to Mark Hunt, Sage Northcutt or Luke Rockhold for the men, and certainly Ronda Rousey or Paige Vanzant for the women.  However, at the end of the day, I can't think of more deserving winner to this award then Holly Holm.  Her entire UFC career has been a giant disappointment with the exception of one match.  And now, she gets another title shot? She barely beat Raquel Pennington and Marion Reneau in 2015 before stunning a now overrated Rousey, and hasn't done anything since.

NEO Sports Insiders Newsletter
Sign up to receive our NEOSI newsletter, and keep up to date with all the latest Cleveland sports news.