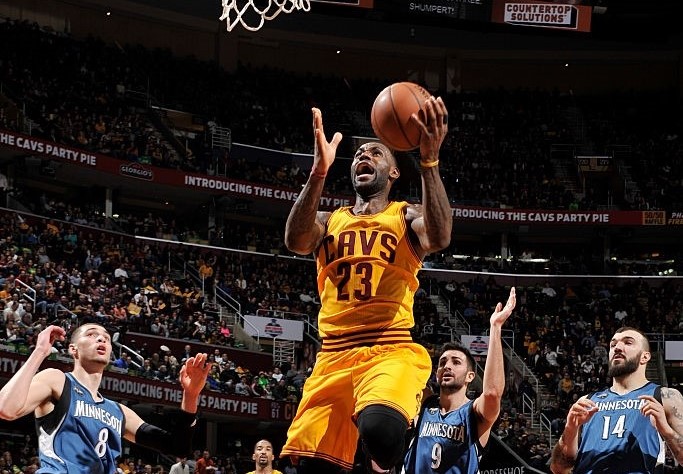 CLEVELAND — It is tough to recall so much negativity and bashing of a team that's been in first place in their conference pretty much the entire season.
Do the Cavs have flaws? Yes.
Are things always beautiful during their games? No.
Are they any less of a favorite to get back to the NBA finals? N.O!
The Cleveland Cavaliers currently sit atop the Eastern Conference with a record of 36-14.
They have been in first place for over three months now, half of that time playing without Kyrie Irving and Iman Shumpert.
They currently rank fourth overall in both total offense and defense in the NBA.
At 20-4 they have the best home record in the east and third best overall in the association.
They own a plus/minus of +5.6 which is the best in the east and fourth overall in the entire association.
In years past these numbers may have been dismissed due to the lesser competition they face in the Eastern conference, this year the East has clearly been the superior conference.
Two/thirds of their "big three" are still working their way back to 100 percent after different injuries have sidelined them.
Even with Toronto's recent 11 game winning streak and the Cavs minor slump, they still have a two game lead over the Raptors and a 7 game lead over the third place Celtics.
At this time last year the Cavs were just rebounding from a 19-20 start and most people had already written them off.
It is understandable that, in the dog days of the basketball season, sometimes you need to manufacture a bit more drama than there really is.
It is not understandable, however, that the Cavs get such a bad rap unless they win every game by 20 points.
It's baffling that this city will back the clowns, I mean Browns, until the death but give up on the first place Cavs after any loss.
Maybe the citizens of this championship-starved city forget that this Cavs team might be our best chance at a title in decades.
Things aren't always going to be perfect. There will be bumps in the road.
Lets just remember: The Cavs are still the overwhelming odds on favorite to win the East.
Once you get to the Finals, you just have to win four games. None of this regular season drama will matter then.
We also have a guy by the name of LeBron James who, despite what you may have heard, is a pretty solid player capable of willing a team to the promise land.
Hop off the bandwagon at your own peril, just remember the things you are saying now when the Cavs are playing for the ultimate glory in June.
Relax people, things will be okay.