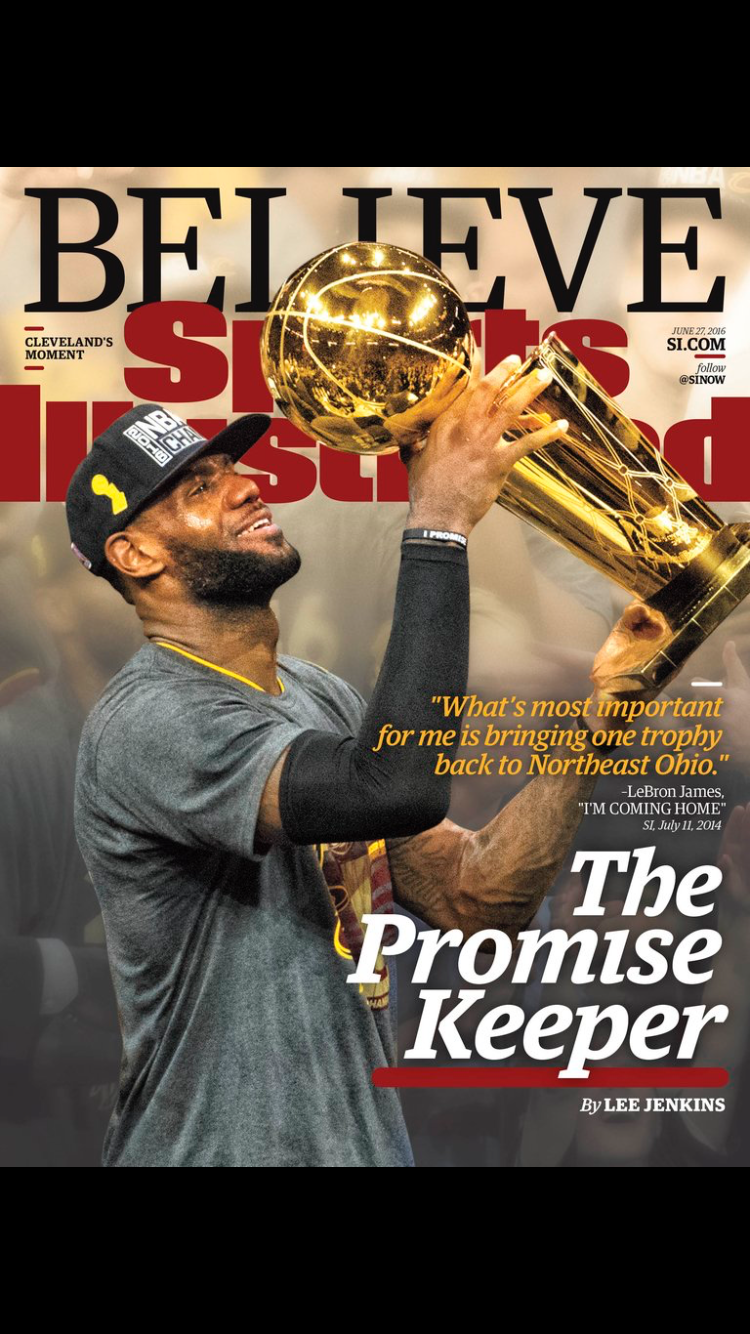 It has been six days and nights since the Cavaliers shocked the World and won the NBA Finals on Sunday Night, June 19. It was father's day, and the Cavaliers gave every father in North East, Ohio the greatest gift they possibly could. In so many ways it still seems all so surreal, almost as if it was a dream, but it wasn't and the joy is real, very real!
The Cavaliers ended a 52 year drought on the heels of one of the most dramatic and controversial seasons ever. They ran though the playoffs, only losing twice in the first three rounds, only to lose three of their first four games against 73 win Golden State before finally catching fire and destiny! Once the Cavaliers knew that they had nothing to lose, found their stride and confidence in the finals, surviving the Warriors best shot, there was no stopping them!
So here we are, six days later and I couldn't be more proud of this great city we call home on the shores of Lake Erie. They survived every kind of sports pain one could imagine, but it was all worth it, it was all a part of our destiny. We had the best player in sports come to our team straight from high school, a hometown boy who was seen as the savior. He broke our hearts by leaving us on national TV in July 2010. But in many ways, that may have just been the greatest thing to ever happen to Cleveland sports.
By him leaving, it allowed the Cavaliers to draft first only one year later. That draft pick was Kyrie Irving. The same man who hit the Game Seven winning shot over league MVP Steph Curry. A few years later when the Cavaliers were still rebuilding, they were blessed to draft first two years in a row selecting Anthony Bennett and then Andrew Wiggins the following year. Four years of hell, was worth it as those two draft picks, Bennett and Wiggins were used as trade bait to acquire Kevin Love. The same Kevin Love who stopped and defended brilliantly against Steph Curry in the final seconds of Game Seven, not allowing him a clean look at a game tying three pointer.
If LeBron James doesn't leave Cleveland, there isn't any Kevin Love to make the stop. If LeBron James doesn't leave Cleveland, there isn't Kyrie Irving to hit the Game Seven championship clinching, drought ending, curse stomping three pointer! If LeBron James doesn't leave Cleveland, then there isn't 1.3 million people attending an all day long championship parade and rally.
You see, Cleveland, a wise man once said it is "hell" getting to "heaven". You have lived it first hand, and now in the matter of 30 days you have seen a UFC Heavyweight Champion in Stipe Miocic. You have seen an AHL Calder Championship team in the Lake Erie Monsters. And now, perhaps the sweetest gift of all from the basketball Gods, the Cleveland Cavaliers have won the 2016 NBA Championship. Celebrate this championship like you have the last 6 days for the rest of your life. For this championship isn't just for the players, it is for you to! It is for every blue collar worker who goes through 40 hours of hell each week to put food on the table for his family. This championship is for every person who ever believed in miracles! This championship is for you!