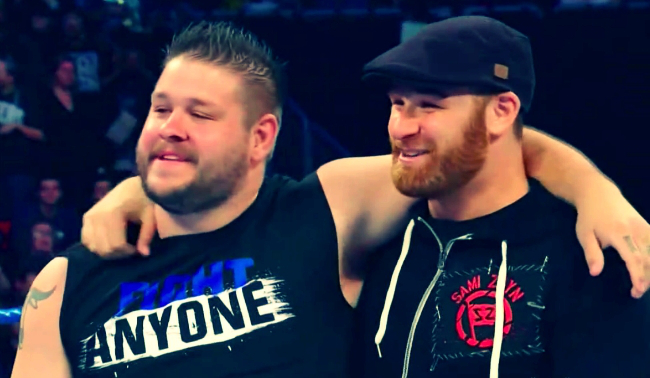 The WWE hoped to continue the positive momentum of a strong Monday Night Raw with a solid Smackdown Live last night. In case you missed it, here is a quick rebound of the action.
The show started off with Sami Zayn and Kevin Owens doing some talented promo work in the ring, talking about how strongly the McMahon family carries a grudge. They go on to say that they have it worse then Stone Cold, Bret Hart, Daniel Bryan and several others combined. This goes on for a few minutes until Randy Orton shows up out of nowhere and delivers the RKO.
After the RKO, Shane McMahon heads to the ring and addresses the situation at hand. Since Owens and Zayn are upset they were not featured at Survivor Series they will have a match against Orton and a partner of his choosing at Clash of Champions. Shane then booked Orton vs Zayn for the main event of Smackdown Live.
Later on in the main event, Randy Orton defeats Sami Zayn with Kevin Owens handcuffed to the corner post. The match itself was really good as most Zayn matches are. Orton who is known to be lazy in the squared circle, didn't have that option with Zayn who absolutely brought it.
Backstage, Bryan asks Shane if he is done punishing Owens and Zayn. Shane says he is just starting Shane names himself the referee for the tag match at Clash of Champions. If Owens and Zayn lose not only are they fired from Smackdown, they are fired from WWE as a whole.
Thoughts – Simply put, Owens is excellent on the Mike, and he is pulling the best out of Zayn as well. Much the same way that Sami pulls five star matches out of anyone. These two have natural chemistry and it works.
While this is starting off as Shane being the face, I think it is only a matter of time before Daniel Bryan has enough of Sami and KO being punished, and will eventually side with them. It almost happened tonight. Daniel Bryan can relate to them in every possible way as he took the same path they did, it is only a matter of time! Him managing them would be the natural fit.

NEO Sports Insiders Newsletter
Sign up to receive our NEOSI newsletter, and keep up to date with all the latest Cleveland sports news.