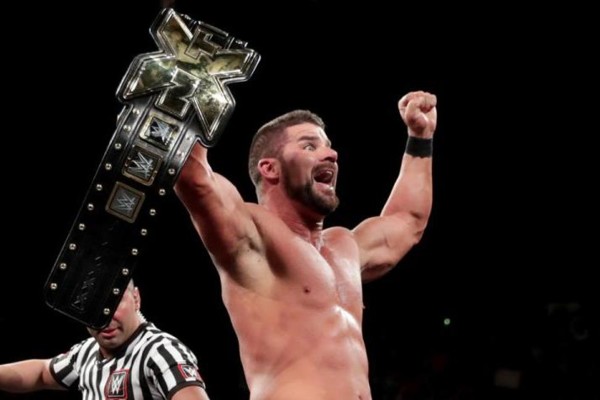 It has been a great 4 night stretch of WWE Wrestling as they have invaded Brooklyn at the Barclays Center with four straight stellar shows!  It started with NXT on Saturday , Summerslam on Sunday, RAW last night and then capped off tonight with Bobby Roode joining the Blue Brand.
The addition of Roode now gives Smackdown the two best entrances in sports entertainment with himself and Shinsuke Nakamura taking home those honors.  Finn Balor over on RAW is a close third in that category.
As for the rest of the show, it was pretty darn good!  As mentioned the former TNA Impact and NXT Champion Bobby Roode showed up in the second segment with a squash match victory over Aiden English.
A large part of the episode was spent with a comical search going on by Kevin Owens to find a suitable referee for his last title shot against AJ Style, granted to him in the opening segment by Shane McMahon.  Owens even went as far as to try and sweet talk mortal enemy Sami Zayn.
While Roode made his debut, former WWE Tag and Intercontinental Champion Shelton Benjamin made his return.  Daniel Bryan revealed that Kurt Angle helped him secure Benjamin as part of the deal that sent his son Jason Jordan over to RAW.
The Hype Bro's (yes, they are still a thing….) lost to The Uso's in a match that was nothing more then filling time.  The Hype Bro"s are done, and I'm not real sure if they ever weren't…..
Natayla came to the ring to remind everyone that she unplugged the glow of Naomi.  I was happy to see that!  The truth remains, the title had no place on Naomi to begin with and was on Naomi way too long anyways.
In the midst of all of this, Breezango wrangled up some Domino's bread twists, while Kevin Owens talked Baron Corbin into being his special referee for his match with Styles in the main event.
Shinsuke Nakamura destroyed the Singh Brothers in a handicap match.  Afterwards he also took care of the champ Jinder Mahal, which pretty much secures that feud will continue.
Dolph Ziggler came back with an edgy promo, pretty much running down everyone on the roster.  His promo was short, but had serious truth behind it.  Meanwile, Lana continues to play her best "Titus Brand" gimmick, only much sexier as she leads Tamina to a title shot next week against Natayla.
The main event arrived with a much larger referee (Corbin) then either competitor in the actual match.  However, there is no doubt that Styles and Owens are the two best performers on the Smackdown Roster right now, so it really wouldn't matter if King Kong Bundy was the referee at this point.
In the end, it was Corbin getting angry, tossing his ref shirt at Shane McMahon and storming off.  Styles took advantage of the distraction and pinned Owens.  Great ending that leaves a lot of doors open.  I'd expect a Shane vs Owens feud soon.
A solid 4 straight nights of Pro Wrestling at the Barclays center that can be wrapped up in one word- "Glorious"

NEO Sports Insiders Newsletter
Sign up to receive our NEOSI newsletter, and keep up to date with all the latest Cleveland sports news.