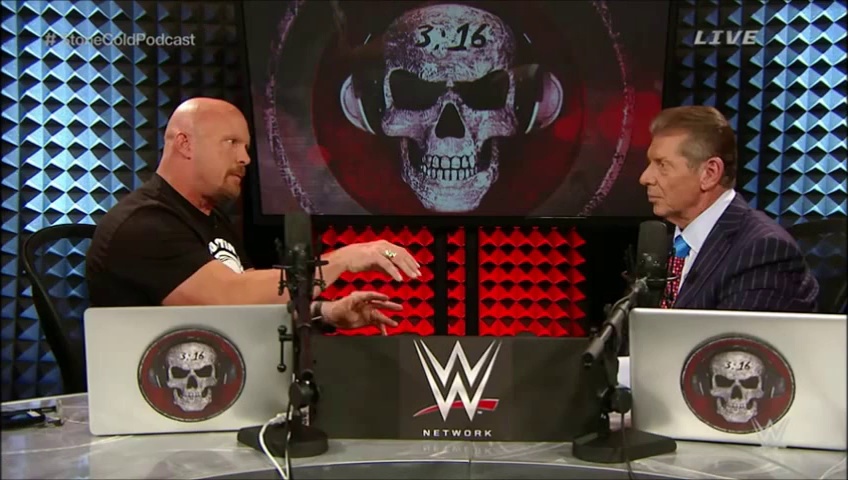 WWE, Network – For the longest time, the WWE Network was a glorified way of getting Pay Per Views for the low cost of $9.99 a month. Recently I decided to open up that Pandora box and see what else the network offers. So, the binge watching began and led to me finding such gems as Table For 3, Camp WWE, Legends House and not such gems as Jerry Springer Too Hot for TV.
I recently stumbled upon the series of "Stone Cold Steve Austin Podcasts." To no surprise, just like his wrestling career, these podcasts have been a massive hit and I can see why! He will ask the hard hitting questions but also does his homework, digs deep in the origins of each guests career as he did with Paige.
This show is excellent and earns 5 out of 5 body slams. Highlights include SCSU speaking with Paige about wrestling since she was 13 in England, a hard fought battle to get to the WWE. Also being a 10 year vet at the age of 23, and also her time as a judge on WWE Tough Enough. Perhaps the best part of his time interviewing Paige was her talking about her time down at NXT learning from Dusty Rhodes.
Who could forget his more than memorable initial podcast show with Vince McMahon. They talked about everything you can think of, every hard hitting subject. Including the lack of talent at the time, the history with how Vince got into the business. SCSU didn't pull any punches, even delving deep into the mess with CM Punk. He also brought up why Macho Man wasn't in the Hall of Fame as of that time.
His show with HHH is one of my personal favorites, and also showed why HHH is as successful as he is. The man has a mind for the business and a work ethic to make it work. I especially loved the word association part at the end with HHH. It was great to hear them mention Eddie and Owen.
The Paul Heyman one provided a great trip down memory lane, but also seemed to be a tab bit scripted at the end. The one with Brock Lesnar was also solid, as it seemed as though Lesnar and Austin were old hunting buddies, who just happened to wrestle as well.
My personal favorite was the podcast with Edge & Christian. This was funny, emotional and hard hitting all at once. These guys are true friends, all three of them and it was so emotional at times because it made you miss the old days of the attitude era. It also made you realize just how much they put their bodies on the line and gave back to the business.
Again, this show is excellent and I would HIGHLY recommend it to anyone!
You can follow Vince McKee on twitter at @VinceTheAuthor

NEO Sports Insiders Newsletter
Sign up to receive our NEOSI newsletter, and keep up to date with all the latest Cleveland sports news.