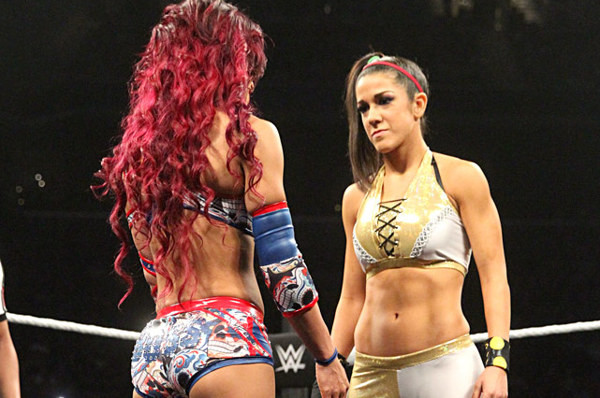 There was a lot of hype behind tonight's edition of Monday Night Raw.  With the WWE teasing a big announcement all week, and a superb main event match of Bobby Lashley vs Roman Reigns set up, the hype was real and it delivered!  Not to mention those of us hanging on to the next turn in the Bayley and Sasha Banks (friendship) saga. 
Easily the biggest news to come out of the show was the opening announcement by Stephanie McMahon, Vince McMahon and an emotional HHH, that on October 28th, the WWE will feature their first ever all women's Pay Per View.  It will be called "Evolution" and feature over 50 women's wrestlers from the present roster, legends and NXT roster.
Four matches are already set in stone for the show as the Smackdown, RAW and NXT titles will be on the line.  The fourth match will be the Finals of the second annual Mae Young Classic.  They did say that over 50 women will be featured on the card.  I would imagine that would mean at least 1 Battle Royal, and several multi person tag matches. 
The WWE will have 3 plus months to build towards this massive card, but I'd have to believe every single female member of the active roster will be on it and featured in some way.  My only hope is that Ronda Rousey or any legend is not in the Main Event.  Not that she isn't deserving of it, or talented enough, I just remember the backlash from the ending of the Royal Rumble and I'd have to believe the WWE doesn't want to kick up that dust storm again.
Speaking of the Women's Revolution, one could not argue that two of the biggest reasons it succeeded were the incredible performances of Sasha Banks and Bayley, both in NXT and now on the main roster.  Bayley and Banks remain two of the most captivating women in the company.  It has been a bizarre last six months for them however as the WWE creative team has lost all and any clue on how to book them,
That all seemed to change last week when Sasha Banks declared her love for Bayley in a very emotional, almost uncomfortable moment amongst the two women.  It was awkward to say the least, but sure had everyone talking and tuning in this week to see what would happen next. 
Tonight, they attempted smoothing everything over by saying that they were just very similar friends with the same dreams and that is why they argue so much. They also hung all over each other and almost kissed after their victory celebration hug.  Stayed tuned on this one as the WWE is about to go to a place where ratings soar.
The night concluded with a Bobby Lashley vs Roman Reigns rematch from WWE Extreme Rules with the winner getting a shot at Brock Lesnars Universal Championship.  You remember right?  The exact same thing the Extreme Rules match was "supposed" to be for?  Anyway, rather than try to understand that logic they had the match again and it was very good.  As much as the fans want to boo these guys, they are struggling to do so because they are delivering in the ring when it counts.
As mentioned, these two just fought two weeks ago at Extreme Rules where Lashley got the better of Reigns.  Tonight, it was Reigns coming out on top.  All signs point to a three-way dance being named for SummerSlam.  With Lesnar advertised for next week's show, expect the announcement to happen then.
That's it for now, we'll see you at ringside fans!

NEO Sports Insiders Newsletter
Sign up to receive our NEOSI newsletter, and keep up to date with all the latest Cleveland sports news.