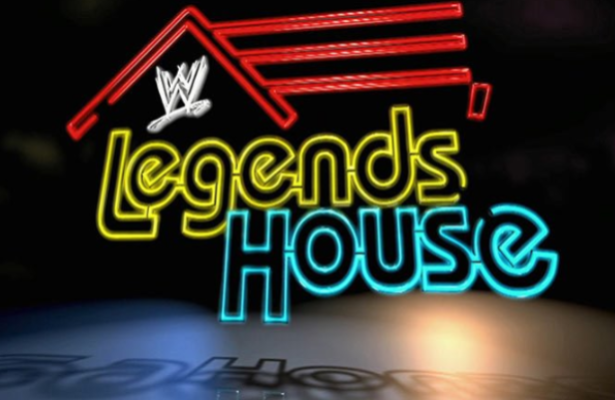 LEGENDS HOUSE , WWE Network – One of the best and most original shows on the WWE Network was WWE Legends House. It had on 8 stars from the past, mainly the 70's and 80's and provided all sorts of hi-jinx for the "Legends" to get into along the way.
The house had a cast of :
• Gene Okerlund
• Jim Duggan
• Hillbilly Jim
• Howard Finkel
• Jimmy Hart
• Pat Patterson
• Roddy Piper
• Tony Atlas
I would give this show a solid 3 out of 5 stars. There are a few reasons I wouldn't give it the full 5 however and I will go into those shortly. The highlights included a trip to Vegas,a fishing trip with Shawn Michaels and a roast of Rowdy Roddy Piper. Also a very emotional season finale where each man revealed some of the lowest points of there lives. It was great television, if not always accurate. The freidnship formed between Hacksaw Jim Duggan and Piper was great television and also heart warming.
Some of the reasons stopping this from being five stars is the fact that not everyone in the house are people I would consider to be "Legends". For instance, Pat Patterson may have been a big wig behind the scenes all those years in the office, but few of the age group watching the show really knew of his in ring career. Same with Howard Finkel, while he seemed like a very nice man, most fans would prefer seeing actual wrestlers in the house. However, on that note, Jimmy Hart provided great TV at times, and my heart truly went out to him when learning of his daughter's death. The arugments between Tony Atlas and Duggan seemed very forced. And why was Hillbilly Jim, a guy who appeared at a couple of Wrestlemania's, never in big role, at the house as well?
If I was going to cast a Legends House Season Two here is who I would pick for my cast and why.
– Hulk Hogan has lived like a Millionare / Billionare most of his adult life with every luxury known to man, it would be interesting to watch him have to share a room, and house with 7 other people
– Ric Flair is instant television watching, mix in some vodka and throw away the remote, errrrrr I mean mouse pad.
– Jake The Snake Roberts is another one who always makes great television. His struggle with addiction may be put to the test with the gang around him however.
– Bret Hart is never afraid to say what is on his mind, watching him work with Hogan's ego would be classic.
– The Million Dollar Man would bring a nice religious presence to the house, I could see him leading prayers groups at night in which this house would surely need.
– Mr. Wonderful may be the only man in the house with a bigger ego then Hogan, and there is already tension between the two. Should make for some good watching!
– Vince McMahon needs to be in the house. This one speaks for itself
– Eric Bischoff also needs to be in the house, for the sole reason he has heat with almost every guy in there ( except Hogan), plus it would be great to see his interactions with McMahon once a few Coors Lights kicked in!
No matter what the cast, the show was strong enough to have a second season and I for one, hope it does!
You can follow Vince McKee on twitter at VinceTheAuthor

NEO Sports Insiders Newsletter
Sign up to receive our NEOSI newsletter, and keep up to date with all the latest Cleveland sports news.