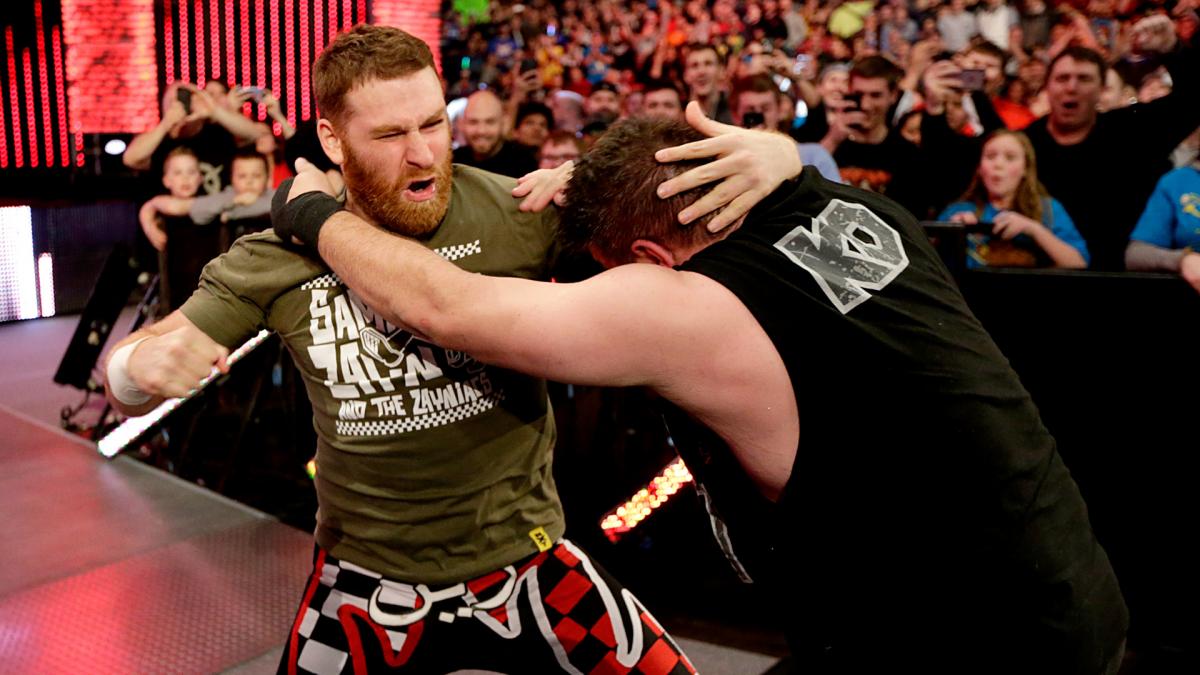 Another WWE Hell in the Cell is in the books courtesy of the Smackdown Live Brand.  There was some good, some bad, some ugly, let's get right to it with our "Hot Takes"
(NEOSI Warning, The Below Takes Are Very Hot, Handle With Caution)
Sami Zayn Turns Heel To Help Owens Defeat Shane McMahon 
While many skeptics, including myself were against Shane being in another high-profile feud then match, I must say he did well tonight. Some major bumps were taken as predicted and also a Sami Zayn heel turn as predicted by yours truly, gave Owens the win. As Zayn pulled Owens out of the way of a Shane McMahon cage jump to finish him off.  I just had this weird feeling that Zayn was going to turn heel and join KO, and sure enough!
Owens is one of the best in the world, and also very underrated as he showed in this match.  He can carry a feud on the microphone if he has to, and a match with his heart.  Say what you want about his figure, but the guy is a big match player.
Winner and STILL WWE Champion, Jinder Mahal!

And the Internet Geeks go wild!  It didn't matter what social media platform you chose to look at, fans were once again furious that their "Hero" Nakamura once again jobbed to the champion they all feel is undeserving.  Fans need to come to grips with reality on this one, Mahal is the real deal and one of the best heel champions since Edge and JBL.  Fans truly hate this guy and it is working.  It is time they came to terms with the "Modern Day Maharaja" being on top!
As for Nakamura, this will be all a distant memory when he is tearing the house down with Styles at Mania.  The plan never was for him to be champ, just keep building that fan base on the main roster level until WrestleMania to get the peak of his character exposed and the fans 100% behind him.
 The New Day drop the Tag Team Title Belts to The Uso's In The Hell in the Cell Match
As expected, this was the best match of the night with some extremely creative spots.  Both teams should be very proud after this one and the entire feud for that matter.  They were both elevated tenfold after this feud and it will be more then interesting to see where creative takes it from here.  Both teams deserve to be featured prominently moving forward.  I still have a sneaky feeling that Big E Langston is getting ready to be geared up for a huge singles push, time will tell.
Bobby Roode wins his Main Roster PPV Debut with a victory over Doplh Ziggler
As expected Ziggler continues to put over whomever is the new big name coming up from NXT.  I knew these two could put on, and would put on a good match, but a Ziggler victory and a Roode heel turn could have worked so much better than the expected.  A total waste of Zigglers talents right now.  A good win for Roode none the less.
Charlotte beats Natayla by DQ so "Nattie" holds onto the belt.
A great match has a cheap finish.  Both the fans and the competitors deserved better.  This one had all the makings of a classic and it appeared to be well on its way before the cheap finish.  This feud needs at least 3 or 4 more PPV matches.  You won't see Ronda Rousey and the Four Horsewomen angle appear until after the first of the year.
NEW United States Champion, Baron Corbin
Well, still not sure why they added Tye Dillinger to this one other than the fact they didn't want AJ Styles taking the pin.  Once Perfect 10 was added however, the finish became very predictable.  It did see Corbin botch the finish yet again, despite the belt being put on him, the WWE is running out of reasons to stand behind this guy.
There is a report that Randy Orton and Rusev had a match?
I'm not real sure about this one, if it actually did take place.  I recall both men coming to the ring, then suddenly I was fast asleep for some reason.  Hmm, I don't remember that happening when Lana was part of the Rusev routine.  Perhaps the WWE should try that again.  Meanwhile, Randy Orton just keeps cashing checks.
The Hype Brothers appear to be breaking up after their loss to Gable and Benjamin
Well,,, duh!

NEO Sports Insiders Newsletter
Sign up to receive our NEOSI newsletter, and keep up to date with all the latest Cleveland sports news.