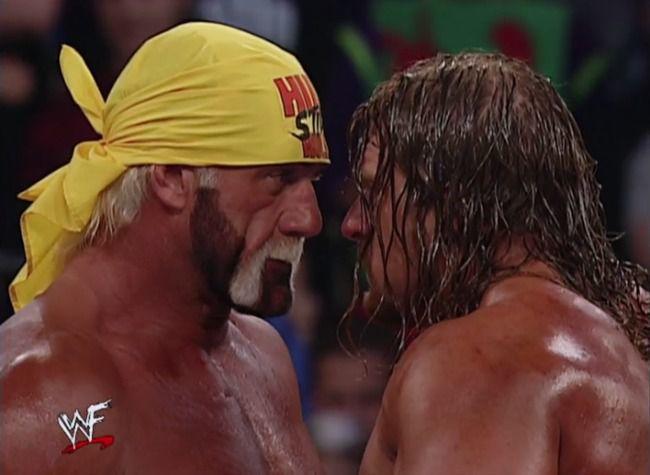 The WWE took over PPG Arena tonight in Pittsburgh for their Annual Extreme Rules PPV.  The card didn't appear loaded coming in but still performed well despite low expectations. It was clear they covered for injuries in certain matches and began much needed feuds in others.
The biggest question was if Hulk Hogan, who was backstage and had been reinstated into the WWE Hall Of Fame would be on the actual show, the answer was no however as he did not appear on camera.  Despite the lack of Hogan, the show itself was still pretty decent.
The B Team defeated Bray Wyatt & Matt Hardy for the WWE RAW Tag Titles: It appears the hard work of the B Team and grunt work they put in has finally paid off with championship gold.  For Wyatt and Hardy, it still seems a little too early for a break up.
Finn Balor defeated Baron Corbin: This match did nothing to help either man.  Let's just move on.
Shinsuke Nakamura defeated Jeff Hardy to win the WWE United States Championship:  Nakamura who has one of the best skill sets in the WWE, was relegated to using a low blow yet again.  This was horrible as was the Randy Orton heel turn on Hardy right after.  Jeff Hardy has already demanded a rematch on Smackdown which will absolutely see Orton interfere and cause him to lose.  This has been terrible.
Andrade Cien Almas defeated Sin Cara: This just in, Almas is very good at what he does.  Remember those 30 seconds Sin Cara was popular?
Sanity defeated The New Day in a Tables Match:  A good win to help keep Sanity over.  The New Day is headed for a split.
Carmella defeated Asuka to retain the Smackdown Women's Championship: Wow, the WWE has no faith in Asuka.  She may be headed the way of Nakamura with a heel turn soon.  What else can you do with her at this point?
Kevin Owens defeated Braun Strowman in a Cage Match: This was a great match that resulted in Owens taking a massive bump from atop the 15-foot cage to win.  Owens did everything perfectly in this feud and the WWE should make big plans for him.  You cannot tell me that he isn't the top Heel on Raw.
The Bludgeon Brothers defeated Team Hell No to retain the Smackdown Tag Titles: This result gives everyone hope of a possible Miz vs Daniel Bryan feud soon.  It is time for Kane to go away again.
Bobby Lashley defeated Roman Reigns: Another good match that the crowd didn't crucify.  Interesting to see where they take it from here as Brock Lesnar is due at RAW tomorrow night or he will be stripped of the title. Reigns is still due a rematch from WWE Greatest Royal Rumble as well.  Perhaps a Three-Way Dance gets set up for SummerSlam.
Alexa Bliss defeated Nia Jax to retain the RAW Women's Championship: Smart move to keep the strap with Bliss who is the total package and light years ahead of Jax in every way possible.  Look for Rousey to get the next shot at Bliss come the biggest party of the Summer and lose in a stunner too many.  I firmly believe that the WWE waits until Mania to place the title on Rousey.
AJ Styles retains WWE World Title over Rusev:  This was a fun match to watch and Styles looked incredible.  He proved again he is the best pound for pound professional wrestler in the WWE and can have a great match with anyone.  WWE needs to keep Rusev in the main event picture, but sadly won't.
Dolph Ziggler retains his WWE Intercontinental Championship with a win over Seth Rollins:  This Iron Man match saw 9 decisions and an overtime period to boot.  It was a great choice to reward both men with the main event slot.  The match was good, but having Rollins take 5 losses in just over 30 minutes may hurt him.  The match could have easily been just as good with only one pinfall.  I'm not sure of the decision to have both men take so many losses in such a short span.

NEO Sports Insiders Newsletter
Sign up to receive our NEOSI newsletter, and keep up to date with all the latest Cleveland sports news.