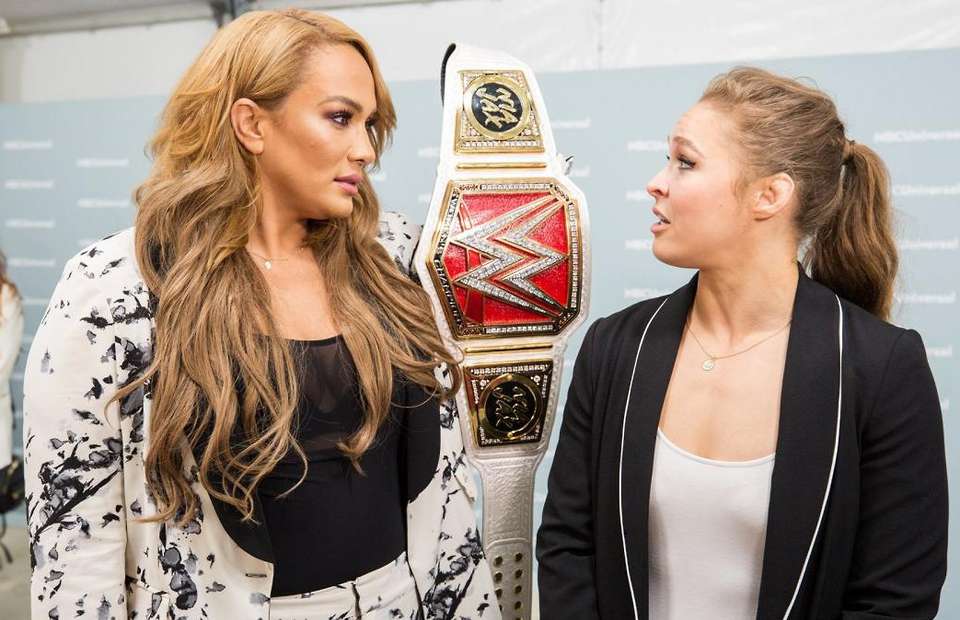 After repeated money grabbing PPV's in Saudia Arabia where women have been banned from appearing and relics from the past have been dug up. The WWE will attempt to make it up to the females on their roster and their fans with what is sure to be a good card dedicated to only the women tonight.
They are calling it "WWE Evolution" and it is the first ever WWE based PPV where only women will be on the card. We'd have to believe that Renee Young will be on play by play, but it has not yet been released as to who will do the color commentary.
It should be interesting to see if they go full throttle and even have women referee's, although I think that would be stretching it a bit much. I'd expect the regular cast and crew donning the stripes. With the recent network special promoting the show, there is no doubt that the WWE is giving this their best effort.
Seven matches have been announced, and the show is scheduled to run around 3 total hours. Let's take a brief look at the card and see who we believe may be coming out ahead tonight.
Kari Sane vs Shayna Baszler for the NXT Women's Championship 
Prediction -A smart move showcasing the NXT Women's Championship on this big card. Look for Baszler to win and then celebrate at the end of the night with Rousey, both hoisting belts.
Sasha Banks, Bayley & Natalya vs The Riot Squad
Prediction – The WWE has been waiting for the perfect moment to finally turn Banks full heel on Bayley. I believe this will be that moment once and for all. Banks will cost them the match by attacking Bayley.
Women's Battle Royal for World Championship match
Prediction – So basically this is the same exact thing they did at WrestleMania last year, except with a title shot on the line. If Asuka doesn't win this one, then her entire run on the main card has been a waste. Except a lot of former "Divas" to show up for this one.
Toni Storm vs Lo Shirai in the finals of the MAE Young Classic
Prediction – This is a great chance for both women to get major spotlight in what has been a solid tournament. This is another smart move to have this match on the card.
Team Bestie (Trish & Lita) vs Alicia Fox & Mickie James
Prediction – The whole buildup was based on Alexa Bliss having the torch passed to her by Stratus. That is now shot as Bliss is hurt. I still except her to get involved and cost "Team Bestie" the match.
Smackdown Women's Champ Becky Lynch vs Charlotte
Prediction – This feud has been incredible. Lynch reminds me of a cross between CM Punk and Stone Cold Steve Austin. Keep the belt on her and let her run with it for a while. The Charlotte vs Rousey match will still happen to headline WrestleMania next year, but Lynch needs her run first.
Nikki Bella challenges Ronda Rousey for the WWE RAW Women's Championship
Prediction – Nikki Bella will get exposed as the awful wrestler she is tonight. It will be interesting to see how long they can stretch this one out. I would also expect plenty of interference. As mentioned before, the night will end with Rousey and Baszler hoisting gold as the credits roll.

NEO Sports Insiders Newsletter
Sign up to receive our NEOSI newsletter, and keep up to date with all the latest Cleveland sports news.