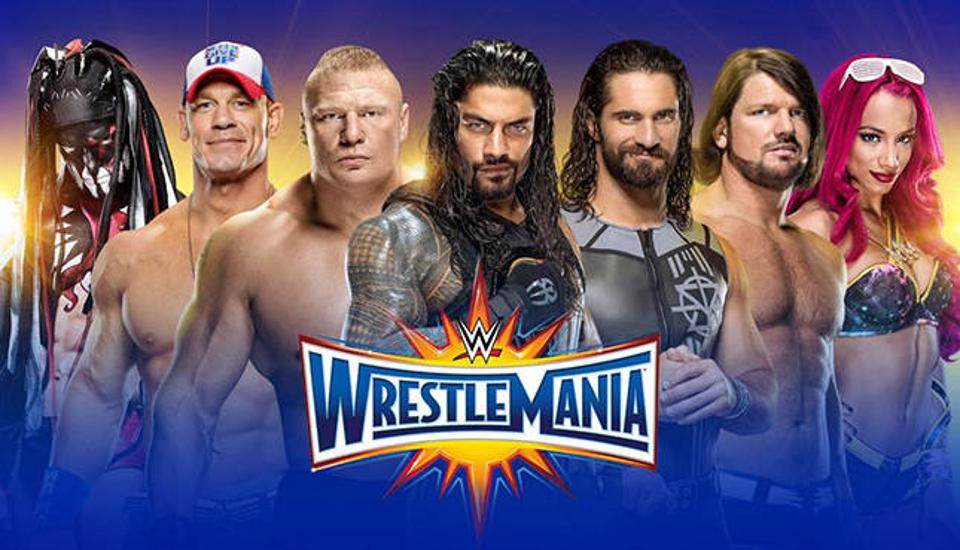 WWE Championship Match
Bray Wyatt (c) vs. Randy Orton
Analysis: The writing team has managed to tell a pretty good story, but a Randy Orton feud for the WWE Championship in 2017 just isn't for me.  If Bray is to be solidified as anything more than a transitional champion, he'll need to win this match.
Winner: Bray Wyatt
Universal Championship Match
Goldberg (c) vs. Brock Lesnar
Analysis: I can only imagine this match will last under 10 minutes, and it should (for everybody's sake).  I have to wonder how much momentum Brock has lost in the big picture, even if he wins this match convincingly.
Winner: Brock Lesnar
The Phenom vs. The Big Dog
The Undertaker vs. Roman Reigns
Analysis: As we approach the ultimate thrill ride (sorry, I had to do that), many fans are speculating if this will be Undertaker's last match.  Either way, this appears to be a match to advance the Roman Reigns agenda.  I'm not a Roman Reigns fan, but if WWE is convinced he's the guy moving forward, he should win this match, and do so somewhat convincingly.
Winner: Roman Reigns
Power Couples Collide
John Cena & Nikki Bella vs. The Miz & Maryse
Analysis: The Miz is doing the best work of his career and everyone is taking notice.  Maryse by his side is the perfect addition to his character.  A win for the Miz would be great for his career going forward.  However, John Cena is John Cena, which is why I expect him to win.
Winner: John Cena & Nikki Bella
Non-Sanctioned Match
Seth Rollins vs. Triple H
Analysis: Welp, Triple H is back for his annual ego stroking.  It's been a poorly told story except for the last couple of weeks.  If I never see Triple H wrestle at WrestleMania again, that will still be too much.
Winner: Seth Rollins
SmackDown LIVE Commissioner vs. The Phenomenal One
Shane McMahon vs. AJ Styles
Analysis: I like Shane, and AJ is truly phenomenal, but I'm not a big fan of this match.  The authority storyline is well past its prime, and AJ deserves a higher profile match.  Nevertheless, I expect some crazy stuff from Shane.  Luckily he's a full-time employee and has insurance through the company, unlike his opponent.
Winner: AJ Styles
Raw Women's Championship Fatal 4-Way Elimination Match
Bayley (c) vs. Charlotte Flair vs. Sasha Banks vs. Nia Jax
Analysis: I often wonder when the writers for Raw will realize the women's division has more than four superstars.  Bayley has been a huge let down on the main roster, and I think a Sasha Banks heel turn is coming soon.
Winner: Sasha Banks
United States Championship Match
Chris Jericho (c) vs. Kevin Owens
Analysis: This match will be good, but the feud lacked the intensity to live up to expectations.  At least it's not Owens as Universal Champion, which was a total flop.
Winner: Kevin Owens
Intercontinental Championship Match
Dean Ambrose (c) vs. Baron Corbin
Analysis: This is the match I'm looking forward to the most, although in the interest of full disclosure I am a huge fan of both superstars.  I expect this match to surprise many who are overlooking it.  A loss wouldn't kill Dean, but would really further Baron's momentum.
Winner: Baron Corbin
Raw Tag Team Championship Triple Threat Ladder Match
Luke Gallows & Karl Anderson (c) vs. Enzo Amore & Big Cass vs. Cesaro & Sheamus
Analysis: This is the type of match that the Hardy's could tell you a little about.  They're allegedly booked on April 2nd, but never say never…how you doin'?
Winner: Enzo Amore & Big Cass
The Fourth Annual Andre the Giant Memorial Battle Royal (Kickoff Match)
Featuring Big Show, Sami Zayn, Braun Strowman, Apollo Crews, Mojo Rawley and more Superstars
Analysis: I have to think one of two superstars will win this match – Braun Strowman or The Big Show.  Braun has to be the favorite based on his booking, and anything less than a win in this match would be a huge let down for his character.
I normally wouldn't consider The Big Show, but with his WrestleMania moment being stolen thanks to Shaq, who knows how Vince will make it up to him in what should be his last WrestleMania.
Winner: Braun Strowman
SmackDown Women's Championship Match (Kickoff Match)
Champion Alexa Bliss to defend against all female SmackDown LIVE Superstars who are available to compete
Analysis: I understand wanting to get all of the superstars on the card, but I generally hate these type of matches.  I would love to see Naomi win the title back in her hometown, which probably means it will never happen.
Winner: Carmella
WWE Cruiserweight Championship Match (Kickoff Match)
Neville (c) vs. Austin Aries
Analysis: This should be a solid match.  Neville has really reinvented his career by turning heel and joining the Cruiserweight division, and Aries has brought some much needed entertainment.
Winner: Austin Aries

NEO Sports Insiders Newsletter
Sign up to receive our NEOSI newsletter, and keep up to date with all the latest Cleveland sports news.