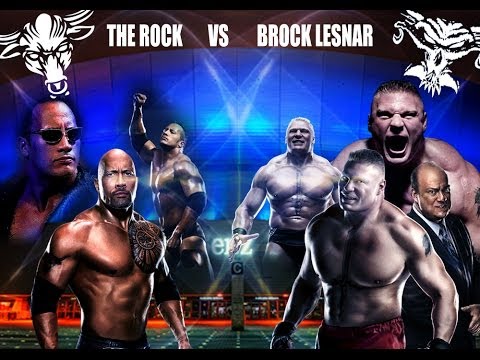 SUPLEX CITY, USA – The WWE announced on Raw this week that Brock Lesnar's Summerslam opponent will be announced this Thursday Night on Smackdown.
His last big feud was with Dean Ambrose and that ended at Mania with a convincing win.
So who are the top candidates to challenge the Beast Incarnate at the biggest show of the summer?
Lets take a look at the top Six options.
6. Kurt Angle – He is a free agent and reportedly in talks with WWE for a 2017 return. Why not an early surprise return to help boost ratings heading into the draft split.
5.The Undertaker – Considering they fought at last years Slam along with Hell in the Cell, this one does not seem likely. But, they draw money and we haven't seen Taker in months either. Again, it is a long shot but not out of the question.
4.Bray Wyatt – They were leading up to this at the Royal Rumble and a little after until they suddenly and for no reason dropped it. Perhaps it is time to pick that up again?
3.Baron Corbin – Yet another long shot, but they have been pushing him to the moon as of late. With a series of vignettes and allowing him to win the Andre The Giant Battle Royal. He has the size and skill to give Lesnar a great matchup as well.
2. Antonio Cesaro – He was another man once rumored to be a serious Wrestlemania opponent for Lesnar. He hasn't been winning much as of late, but, the crowd always seems to be behind him and with his strength and skill, he could put on a great match with Lesnar much the same way Kurt Angle used to.
1.The Rock – The most exciting and probable option is The Rock. This has been the long rumored Wrestlemania match for a very long time. It would be a rematch of 14 years ago, and a hot ticket! Also, don't think that the chance of them tagging up facing the Wyatts couldn't happen either. The Rock is done shooting movies for the summer, and will need something to do to pass time. Why not Wrestle?
I would love to hear your opinion. Agree or Disagree? You can contact me on twitter at VinceTheAuthor
Also, don't forget to visit our great sponsors at https://www.neosportsinsiders.com/sponsors/

NEO Sports Insiders Newsletter
Sign up to receive our NEOSI newsletter, and keep up to date with all the latest Cleveland sports news.