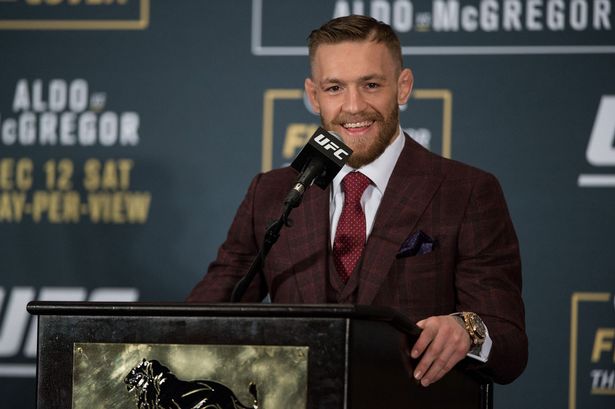 "The Notorious" Conor McGregor was the talk of the MMA world on Tuesday, as the current UFC Featherweight Champion took to Twitter and sent out this Tweet.
I have decided to retire young.
Thanks for the cheese.
Catch ya's later.

— Conor McGregor (@TheNotoriousMMA) April 19, 2016
What exactly does that mean for the UFC? From a first glance, it looks as if the most polarizing UFC fighter has called it quits at the age of 27, leaving a void in the UFC that will take a long time to fill. But, let's dig deeper into the subject.
On April 9, McGregor was in the corner of his teammate Charlie Ward during a Total Extreme Fighting event in Dublin, Ireland. During that fight, Ward was facing Joao Carvalho, a Portuguese fighter. Ward defeated Carvalho by TKO in the third-round of the fight. Later that night, Carvalho was sent to the hospital for an emergency treatment, which consisted of brain surgery. Carvalho passed away on Monday, April 11. McGregor released a statement on Tuesday, April 12 regarding the situation.
Terrible news regarding Joao Carvalho.

To see a young man doing what he loves, competing for a chance at a better life, and then to have it taken away is truly heartbreaking.

We are just men and women doing something we love in the hope of a better life for ourselves and our families. Nobody involved in combat sports of any kind wants to see this. It is such a rare occurrence that I don't know how to take this.

I was ringside supporting my teammate, and the fight was so back and forth, that I just can't understand it.

My condolences go out to Joao's family and his team. Their man was a hell of a fighter and will be sorely missed by all.

Combat sport is a crazy game and with the recent incident in boxing and now this in MMA, it is a sad time to be a fighter and a fight fan.

It is easy for those on the outside to criticise our way of living, but for the millions of people around the world who have had their lives, their health, their fitness and their mental strength all changed for the better through combat, this is truly a bitter pill to swallow. We have lost one of us.

I hope we remember Joao as a champion, who pursued his dream doing what he loved, and show him the eternal respect and admiration he deserves.

Rest in peace, Joao.
McGregor was obviously shook up from what happened at the event, which may have factored into the Tweet McGregor sent out Tuesday. McGregor has also been on record saying that he plans to conquer everything there is to conquer in the UFC and then retire on top.
Is he on top? Not exactly. McGregor's last fight ended in a loss by submission to Nate Diaz, in which McGregor moved up to the 170-pound weight class. The loss made many MMA fans lose interest in the boastful Irishman. McGregor was granted a rematch against Diaz at in the Main Event of UFC 200, which made Diaz and the other Featherweight contenders fed up with the UFC's infatuation with McGregor. After all of the uproar on McGregor moving up to fight in his last two fights, Jose Aldo and Frankie Edgar were granted with a UFC Interim Featherweight Title fight, where the winner would face McGregor in the next scheduled fight for McGregor.
Maybe the pressure got to McGregor. Perhaps it was the unfortunate event that took place in Dublin, Ireland two weekends ago. Either way, McGregor's Tweet suggests he is walking away from MMA for good. UFC Commissioner Dana White wasn't too concerned with McGregor's antics, as he pulled him from UFC 200 after deciding not to travel to Las Vegas and market the fight between him and Nate Diaz.
So what's next for Conor McGregor? Well, it looks like the WWE might come knocking on his door. WWE Superstar Becky Lynch Tweeted to McGregor on Tuesday, telling him to come join her in the WWE.
.@TheNotoriousMMA #ComeJoinMeBro

— Becky Lynch (@BeckyLynchWWE) April 19, 2016
It would be interesting to see if McGregor joined his Irish counterpart in the world of professional wrestling. As of Tuesday, McGregor follows Triple H, Stephanie McMahon, Shane McMahon and Becky Lynch on Twitter.
The jump has been made before, with Ken Shamrock being very successful in the WWF. With McGregor's ability to get people invested into a fight, there's no doubt he would be great at cutting promos. He has the athletic ability to be able to impress the WWE Universe. So the only question is will McGregor make the jump? Only time will tell.

NEO Sports Insiders Newsletter
Sign up to receive our NEOSI newsletter, and keep up to date with all the latest Cleveland sports news.