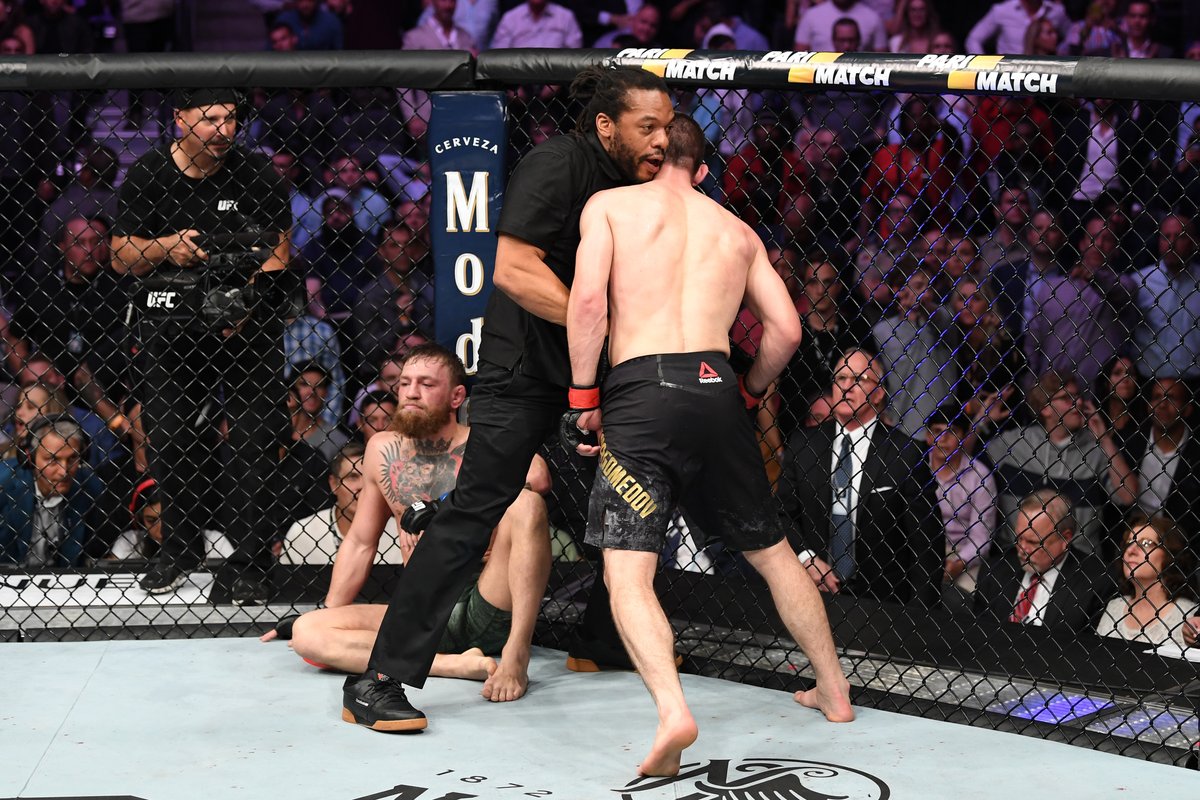 If you went to bed early (as I did) you missed what will go down as the wildest most insane ending to a major UFC fight of all-time, as Khabib Nurmagomedov did exactly what he said he was going to do, and basically destroyed Conor McGregor to win at UFC 229.
The fight was emotion filled, but the bigger story was what happened after the fight, as both corners were involved, first with a wild scene as Khabib jumped OVER the octagon to attack McGregor's corner, and then two men from Khabib's corner jumped in and attacked McGregor.
Oh and even Drake got involved, as he was in the crowd and evidently feels like he wants to now be part of the story.
Below is a series of video from Twitter that pretty much tells the entire story.
WHAT. A. ROUND. #UFC229

(via @ufc)pic.twitter.com/VSEO9T4npQ

— SportsCenter (@SportsCenter) October 7, 2018
conor mcgregor got destroyed

He took Khabib lightly and he paid for it

Forget what happened outside the ring

Khabib is on another level to Conor #UFC229

— SCARFACE (@LFC_LION) October 7, 2018
Crazy scene after Khabib wins, he hops the Octagon and goes after someone in Conor's crew. All hell breaks loose. #UFC229pic.twitter.com/33aNpyVcdO

— MyBookie Sportsbook (@betmybookie) October 7, 2018
Khabib beats Conor and then this happens… #UFC229 pic.twitter.com/vkzPXiEhqy

— R™ (@RealTalkMUFC) October 7, 2018
That's what you get for insulting his religion, khabib you legend #UFC229 pic.twitter.com/rIbhjexHUK

— TeamBeqa ?????? (@TeamBeqa) October 7, 2018
A closer look.. #UFC229 pic.twitter.com/EVj1xiMZN7

— ChattTenn Sports (@ChattTennSports) October 7, 2018
So Conor hit Khabib men 1st…??

Im glad he took that 5 punch combo after…..#UFC229 pic.twitter.com/rw0wxc8uEK

— Mig-L?? (@M1guelCh1nes) October 7, 2018
Rumours are drake is out there looking for Khabib and his boys now #UFC229 pic.twitter.com/dIZfbz8yeS

— Harding (@AlwaysAnti_) October 7, 2018
Dana White explains what happened after the fight was called and Khabib Nurmagomedov jumped the Octagon cage. #UFC229 pic.twitter.com/b5kvGgXsb8

— ESPN (@espn) October 7, 2018
Breaking: 3 members of Khabib Nurmagomedov's team arrested for Conor McGregor attack/scrum. #UFC229 pic.twitter.com/OiVhr03sEN

— GIF Skull (@GIFSkull) October 7, 2018