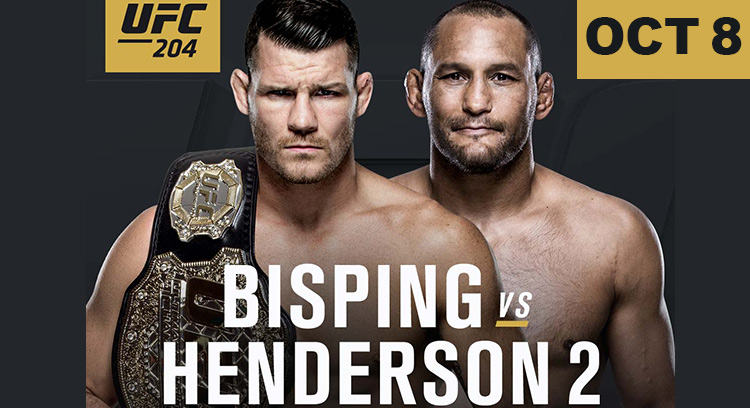 MANCHESTER, England – You may need to stay up late on Saturday night to watch UFC 204, but not nearly as late as those across the pond as it won't begin until 3am England time. However, a card this good is worth staying up for.
Here are Vince McKee and Eli Moone to break down the top six matches on the card, including predictions.
Match – Brad Pickett vs Luri Alcantara
Vince – Dana White has stated that Pickett is one of his favorite fighters to watch, and I agree with the President of the UFC. Pickett always brings the action, however that doesn't always equate to win as he is only 5-6 in his UFC career. Alcantara is no joke himself, and is also no stranger to the UFC as he has already fought 12 times in the UFC. Winning 7 times in those contests. I see him picking up win number 8 with a decision victory over Pickett on Saturday night.
Eli – Pickett is fun to watch, that can't be questioned. What does come as a little worrisome is that he is 1-3 in his last four fights. I feel this will be a fun fight for everyone watching, but Iuri Alcantara will be the winner by split decision.
Match – Mirsad Bektic vs Russell Doane
Vince – Russell Doane isn't exactly a household name, and after a second round submission loss to Mirsad Bektic, he will be less of one.
Eli – Mirsad Bektic did take time off, but Russell Doane is 0-3 in his last three fights and hasn't looked very good. Bektic will come out looking for a finish, though it won't happen. Doane has avoided being knocked out his whole career, and he does the same here. Bektic will win by unanimous decision.
Match – Stefan Struve vs Daniel Omielanczuk
Vince – I look for the Skyscaper Struve to stay on track here and pick up his second straight win since coming back from heart issues. He knocked out Glass Chin Antonio Silva back in May and I expect him to do the same in 3 rounds at UFC 204 against Omielanczuk.
Eli – Struve rebounded with a win over Sntonio Silva in his last fight, while Omielanczuk has won three of his last fights. Struve must stay on his feet or Omielanczuk can break him down and land a submission. That's what happens here, as Omielanczuk does win by submission in the second round.
Match – Ovince Saint Preux vs Jimi Manuwa
Vince – Ovince to me, still has a lot to prove. He received a freak chance at the Light Heavyweight Interim title against Jon Jones back in April, and showed a lot of himself against the rusty bones. He looked good at times, but lacked the needed skill set to really do any damage.
Manuwa hasn't fought I over a year, and has bene knocked out twice in last three showings. Once to Anthony Rumble Johnson and once to Alexander Gustafsson. His luck won't be any better on Saturday night despite the step down in competition, the result will be the same and I look for a knockout win for Ovince in the very first round.
Eli – Ovince Saint Preux still has room to grow, as seen when he faced Jon Jones for the interim UFC Light Heavyweight title. Both guys have struggled to win big fights as of late, so each guy will need to win this fight. Only one can, and that will be Jimi Manuwa, as he will win a great fight by split decision.
Match – Vitor Belfort vs Gegard Mousasi
Vince – Belfort has nothing left to gain, and nothing left to prove. He simply can't win title matches since coming back to the UFC in 2009. He is 7-1 in non title matches since returning to the UFC and 0-3 in title matches. This would typically spell doom for Gegard Mousasi, his opponent in a non title fight.
However, I see it very differently this time around and sniff an upset for Mousasi in the making. The former Strikefore Light Heavyweight Champion is riding the wave of two straight wins against very quality competition in Thales Leites and Thiago Santos.
I don't see this one being very pretty or action packed for a Belfort fight, but I think Mousasi will stay on his feet long enough, and work hard enough to pull off the split decision.
Eli – Mousasi is a very powerful fighter, who has twenty KO/TKO's on his record to prove it. Vitor is also very dangerous, as he has won four of his last six fights by knockout or TKO. Vitor also has only gone to the second round once in the last six fights, so expect a very exciting, short fight either way. Vitor wins in the first round by knockout and makes his claim to why he should fight for the Middleweight title.
THE MAIN EVENT OF THE EVENING!- Michael "The Count" Bisping defends his UFC Middleweight Title against Dan Henderson in his final fight.
Vince – What can I say really? My mind would say if Bisping can stay away from the heavy right hand of Henderson it is a sure thing for The Count. But, as we all know, it only takes one punch as Henderson showed back in 2009 at UFC 100.
I truly believe Henderson is on his last legs right now and barely has anything left going into this last UFC fight. However, he has that punchers chance and a sentimental favorite as well.
Michael Bisping worked too hard for too many years to lose the title after one fight however, and I see him being very smart about this challenge.
My official pick is Bisping by decision in an instant classic that see's Henderson dominate rounds 1 and 2, before Bisping wins the final three rounds to retain the strap in front of his countrymen.
Eli – Man, has this been building up for such a long time. Dan Henderson knocked out Michael Bisping all the way back in 2009, and people still remember it like it was yesterday. Bisping has made huge strides as of late, defeating Anderson Silva and then knocking out Luke Rockhold to become the UFC Middleweight Champion. 
Dan Henderson understands what's at stake. Win and claim the only title he's never had. Lose and retire after losing to your rival. Henderson is one of the best MMA fighters of all time, so win or lose he's going to be remembered for everything he's accomplished.
 I think Dan Henderson delivers one last time. Hendo wins the title, knocking out Michael Bisping in the second round.

NEO Sports Insiders Newsletter
Sign up to receive our NEOSI newsletter, and keep up to date with all the latest Cleveland sports news.