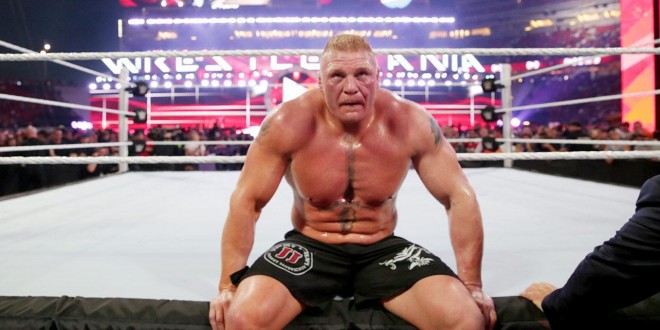 NEW JERSEY, New York – Well, Summerslam 2016 ended the same exact way that the 02, 12, 14, years all ended as well, with Brock Lesnar dominating his opponent from start to finish for the boring and predictable win.
Don't get me wrong, I'm a huge Brock Lesnar fan, but this is starting to get very predictable. Every big match of his has the same feel to it and method of delivery. The first 10 minutes is him suplexing his opponents over and over until the opponent gets a quick flurry of energy, until the comeback comes up short and it is Lesnar with the eventual victory.
It is smart booking to get Lesnar over as an unstoppable beast, I get that, but the WWE creative team needs to start allowing him to have the style of matches he had during his first run. Not this slow, boring MMA / Pro Wrestling hybrid style that is clearly no longer working.
Brock Lesnar dominated Randy Orton tonight until "The Viper" cut himself with a razor so badly that the match was called off because off too much blood. Lesnar capped off the "TKO" victory, ( because apparently a Pro Wrestling Match can end by TKO now) by attacking Smackdown Live General Manager Shane McMahon. It capped off a poorly written
Pay Per View that saw several other flawed matches.
If the WWE is going to start producing these brand only, network only pay per views, they will need to increase the creativity in the writing or they simply won't work.
Look for Brock Lesnar to disappear for awhile per his usual routine, and Orton to begin a feud with AJ Styles who was victorious tonight over John Cena in the best match of the night.
This article was brought to you by https://www.neosportsinsiders.com/store/

NEO Sports Insiders Newsletter
Sign up to receive our NEOSI newsletter, and keep up to date with all the latest Cleveland sports news.