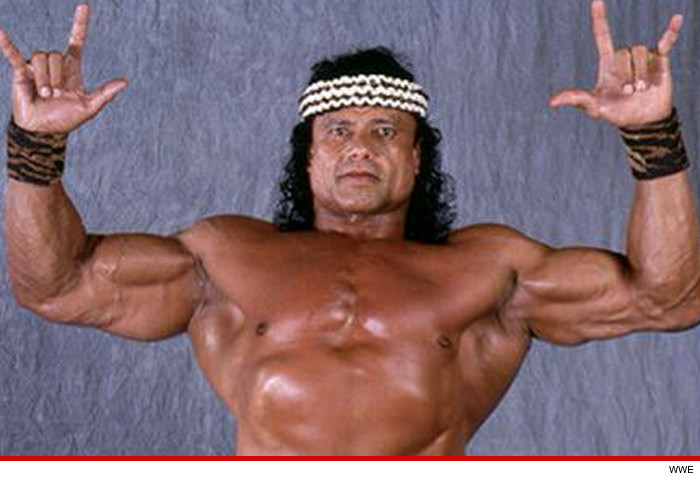 For many of us growing up, one of our fondest memories of WWF was watching Super Fly Jimmy Snuka leap from the top of the cage in Madison Square Garden on top of a prone Don Muraco.  It was actually the moment that inspired Mick Foley to follow his dream to become a pro wrestler himself.
Over the years Snuka would provide many more happy moments for many of his fans.  Including being in the corner of Hulk Hogan and Mr. T in the very first Wrestlemania.  Or his 5 star classic against the Million Dollar Man Ted Diabase at Summerslam 1989 in New Jersey at the Meadlowands.
However, and sadly, all that would change for many when news leaked out recently that he would once again stand trial for an alleged crime committed back in 1983 for the death of his mistress Nancy Argento in Allentown Penn.
He was charged in 2015 with third-degree murder and involuntary manslaughter of Argento.  Back in 1983 they had gotten in an argument,  he shoved her into a table/desk, she hit her head then decided to take a nap, then when Snuka returned from the show she was dead.  Or as the story goes.
The reason for the sudden trail in 2015, three decades after the original issue occurred, was because of inconsistences found in his auto biography he wrote, with the actual police report in 1983.  Too many facts clashed so prosecutors re-opened the case.
Prosecutors allege she was beaten, while Snuka has maintained she died from a fall. Authorities reopened the investigation after The Morning Call newspaper raised questions about the case in 2013.
The legal team of Snuka had to think fast, and instantly came up with the story that he was no longer capable of standing trial and would be un able to go through the entire process in his bad health.  Snuka's lawyer told the court that his 73-year-old client has dementia, is in hospice care in Florida and has six months to live.
His lawyer went on to explain Snuka suffers from dementia, partly due to the head trauma sustained over a long career in the ring.  However, prosecutors countered that Snuka's brain shows normal signs of aging and suggested he might be feigning symptoms.
It was then that his wife spoke up and pleaded with the courts that in fact her husband was in no condition to stand trial.  In a hearing before Christmas his wife told the judge that the family struggles to keep him from leaving home during bouts of psychosis in which he thinks he's late for a wrestling match.
The decision by Lehigh County Judge Kelly Banach came down today stating that the case would be closed due to the 73-year-old Snuka having dementia and is in hospice care in Florida and has six months to live.
So in closing, instead of spending the rest of his days in prison for a crime he may or may not be responsible for, it appears he will be spending them in a hospice center. 
His daughter Tamina Snuka is currently on the main WWE roster but has not been seen in several weeks on television.  Snuka went into  the WWF Hall of Fame in November 1996.

NEO Sports Insiders Newsletter
Sign up to receive our NEOSI newsletter, and keep up to date with all the latest Cleveland sports news.