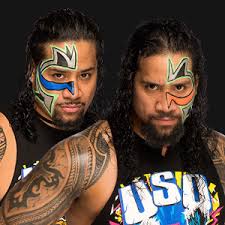 WWE, Stamford – In case you haven't noticed, and judging by the recent ratings, you haven't. The WWE tag team division is starting to heat up. Here below is a breakdown of the top ten teams in order of ranking to challenge for The New Days WWE Tag Team Titles.
10 – The Ascension. While not currently healthy, this team did destroy through the competition in NXT before coming to the main roster and failing miserably. If they can get their mojo back, watch out because they do have the look. Perhaps the next push won't fall flat.
9 – The Lucha Dragons. If they don't split up in the draft, expect a push out of them if Kalisto can remain healthy and avoid surgery. The WWE creative team has proven they will get behind him.
8 – The Dudley Boyz. It's hard to rate the 9 time former WWE Tag champs this low, but they have not won a single match since returning, and have been getting beat on a regular basis. The brand split screams a D-Von retirement and a singles run for "Bully Ray".
7 – Tyler Breeze & Fandango. These guys remind me a current version of the Beverly Brothers, mixed in with just a touch of Well Dunn. Whatever the case, I wouldn't expect much.
6 – The Golden Truth. The WWE tried this once before with Goldust & Booker T in the early 2000's. Can they strike "Gold" again?
5 – The Shining Stars. Carlito would be proud of his younger brothers as they continue to survive horrible gimmicks but still perform great on the microphone and in the ring. I just hope, this one gets the proper push because they can and will go far. It is in their blood to perform!
4 – USO's. A team the fans refuse to boo, even when teamed up with Roman Reigns. Despite the crowds love for them, they haven't been winning much as of late, since their Wrestlemania conquest.
3 – Enzo & Cass – EXCELLENT! When you talk "New Era", you need to start with these two when talking tag teams. This team can absolutely bring it. Great in the ring, better on the microphone!
2 – The Vaudevillains. I personally love this gimmick and see long lasting star power for this team despite their loss at WWE Extreme Rules. Just give them some time and they will continue to impress.
1 – The Club. They are the number one contender by a long shot and a real threat to take the title away from the New Day. With the hype behind them already, I'd be stunned if they don't walk away with the tag titles by the WWE MITB pay per view.

NEO Sports Insiders Newsletter
Sign up to receive our NEOSI newsletter, and keep up to date with all the latest Cleveland sports news.