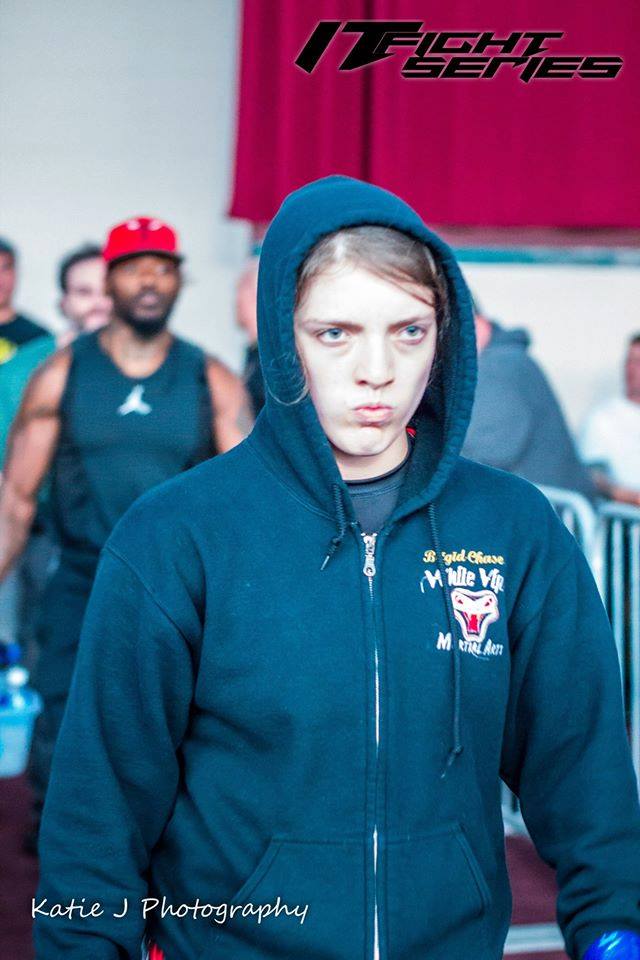 Recently Alliance MMA presented Iron Tiger 79 at Express Live in Columbus back on December 16th.  While the show was loaded with incredible fights, it was an amateur on the undercard that stole the show with her incredible performance.  That young warriors name was Brigid Chase.
She ran through her opponent like a hot knife through butter.  Showing incredible poise, focus and the keen abilities needed in the fight game to be a long-term success.  I said it that night in my recap, and I'll say it right now, Brigid Chase will be the next big thing in Women's MMA within 36 months.  Set your watch to it now!
Fighting is in her blood as her father Peter Chase has been involved in MMA since Brigid was a young child.  Her sister, Hope Hurricane Chase also competes in MMA.  Together, the Chase family is ready to put the MMA world on notice.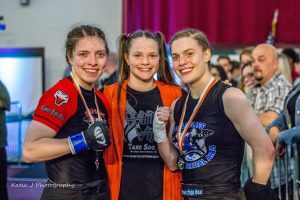 I had the chance to sit down with this young 20-year-old phenom who grew up in Pittsburgh, PA as she's prepares for her final fight in March as an amateur, before turning pro this spring.  Here are the highlights from that chat.
Did you play any sports growing up?
I competed in the full spectrum of Sport Karate competition since the age of 7. This was in addition to my traditional martial arts training at the time. So, you can say that my entire childhood athletics was circled around martial arts.
I am a seven-time Sport Karate World Champion with 3 Sport Karate Fighting Titles. I have fought girls from South America, Mexico, Canada and all across the USA. I love fighting – that's my sport!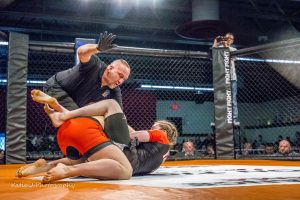 What intrigued you about MMA to begin a career in it?
Cyborg vs. Carano. That was the first time I saw women compete in an MMA fight. I was 10 when that fight happened, and I watched it live with my parents and sisters. When I saw that women could compete in a cage like the men, I was instantly hooked. So was my sister, "Hurricane" Hope Chase.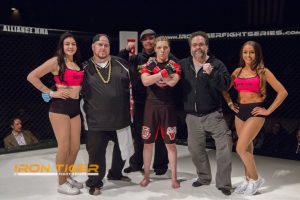 Does anyone in your family have a history in the sport of MMA, or any of the many backgrounds that encompass MMA?  Boxing, Karate, BJJ, etc.?
Yes. My Dad, Peter Chase who's also my head coach, has a lot of time training in Traditional Martial Arts. He began teaching my sisters and I when I was 4-years-old with toddler self-defense techniques and, shortly afterwards, started training and coaching us in the art of Tang Soo Do. My Mom, Brigid Chase (yes, I'm named after her) is my mental coach and also has many years training in Traditional Karate.
My Mom also grew up dancing, a lot, so her fluidity with movement and martial arts together is incredible! My Uncle, Jeff Kennedy, has a long background in Muay Thai and he is my Clinching Coach and also one of my striking coaches in Team Viper MMA.
How much training goes into your daily and weekly routine?
A lot! My sister Hope and I train five to six days a week, with many two-a-days and some three-a-days.  We train like we are already in the UFC. It's our goal, and what we both want more than anything. We are also blessed with an awesome team of main coaches on Team Viper MMA.
Coach Chase, my Dad, is not only a world-class kicking coach, but an incredible strength and conditioning coach who has 36 Professional Sport Karate World Titles under his coaching helm with 5 different Black Belts. Also, Coach Dan Roppo, who's the best Jujitsu and MMA Cage Strategy coach in the world.
He was the UFC's Adam Milstead's first MMA Head Coach, and he has just an incredible martial arts lineage.  And also, Coach Jeff Kennedy, my uncle who has cornered many Muay Thai matches with Wright's Gym around the United States, and he was also a heavy weight beast for a time as a Muay Thai fighter as well.
Thus, our daily routine incorporates a ton of ground and clinch work, not just punching and kicking which is only one aspect of what we do.
What fighters do you most model your style after?
Myself. I strive to be the best version of myself, not a copy of someone else.
What strengths does MMA bring to your overall life, increased focus, discipline, etc.?
Martial Arts, if taught correctly, is a great platform for someone to strive to become the best version of themselves, every day getting better and reaching newer heights than the day before. For me, this is a way of life, and it's something I truly enjoy.
Who do you train with?
I train with a lot of different fighters and martial arts stylists. I currently frequent three different gyms a week. Besides my three main coaches, I have many regular coaches who help me weekly. My full-time training partners are my sisters, Hope Chase and Bessy Chase. Bessy is a senior in high school though. So, she currently can't train with me as often, yet.
Wait until she gets on the MMA scene – there's a reason why her nickname is "Bam-Bam"! However, with Hope being 19, and making the decision to become a full-time fighter for her career path, she is just as insanely driven as I am to become the best in MMA.
We're both two totally different people with way different personalities. However, our fortitude and goals are the same. She is currently the Bizzarro Promotions Women's Amateur Bantamweight MMA Champion, and I couldn't ask for a better and more intense available training partner on a daily basis.
Hope is also 5-1 in Boxing, and has 7 Sport Karate World Fighting Titles. My youngest sister, Bessy, has 4 Sport Karate World Fighting Titles. This is the same type of sport karate fighting that Raymond Daniels and Sage Northcutt used to do. My sisters and I competed at many tournaments where they were both competing in the male divisions across the country.
When do you plan on turning pro?
I'm tentatively fighting amateur again in March. That will be my last amateur MMA fight. Look for my Pro debut to be sometime May or June of this year.
What is your strongest skill right now and the one you plan on focusing the most improvement on moving forward?
I'm confident in all my skills. However, I seek to improve all of them daily.
What do you hope to achieve in the sport of MMA?
If you really want to know my plans in MMA, watch me! Watch my fights real close! My actions will speak louder than words. With God's help, I believe all my MMA goals shall come to pass!
What should the world know about you?
I'm here. Look out! Because it's "Primetime"!!!
All photos in this article are provided by the talented Katie J of Katie J photography.  You can follow them on Facebook at https://www.facebook.com/Photography.KatieJ/?timeline_context_item_type=intro_card_work&timeline_context_item_source=504125144&pnref=lhc
To learn more about Brigid Chase and follow her incredible career, click on the below link.
https://www.facebook.com/brigidannchase/
To learn more about sister Hope Chase, and follower what will also be a star studded career, click on the below link as well.  https://www.facebook.com/hurricanehopechase/

NEO Sports Insiders Newsletter
Sign up to receive our NEOSI newsletter, and keep up to date with all the latest Cleveland sports news.