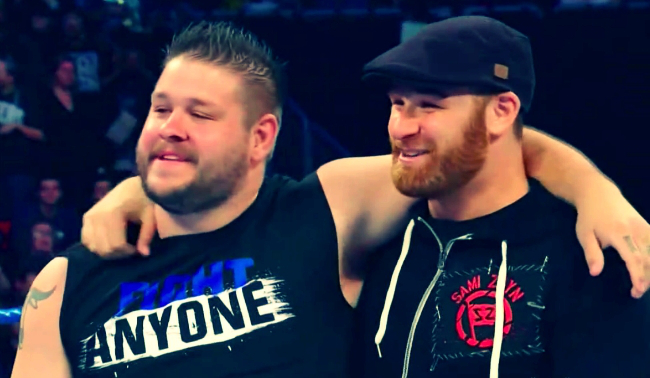 Tonight, will begin a two-night WWE Superstar Shake Up.  Both Monday Night Raw and WWE Smackdown Live will swap at least 10 Superstars over the next 48 hours.  While the "trades" are not announced all at once, but rather one show at a time, it is treated with all the fun of a MLB trade deadline.
In past years, it typically involves at least one tag team, one major singles superstar and one top women's wrestler.  It also includes one or two fledgling superstars in desperate need of a change as well.  If you recall, last year involved a switch from RAW to Smackdown for Jinder Mahal that single handily saved his career.  Rumors are already flying that Mahal may be headed back to RAW tonight in a switch that sees Seth Rollins and the IC belt land on Smackdown.
The action kicks off tonight with Smackdown Superstars jumping over to RAW. Rumors are running rampant of AJ Styles coming to RAW and Roman Reigns switching over to Smackdown. Again, time will tell, as you never can tell which way they are going to go with things.  A Styles switch to RAW would seem highly unlikely as a feud with a Nakamura seems to just be getting started.  While those switches seem unlikely, here are a few we do see happening.
1 – The New Day
While their one year on Smackdown did involve some classic tag team matches with The Uso's, the smart money is them coming back to RAW and at least one of them breaking off into singles competition.  It is time.
2 – Bobby Roode
His run with the United States title is done, there isn't much left for him.  A move to RAW and a heel turn seems destined for his future. If they don't go this way, then don't be shocked if it is Baron Corbin who makes the jump to RAW and begins a feud with Braun Strowman.
3 – Kevin Owens & Sami Zayn
This one seems almost like a sure thing.  The groundwork appeared to be laid out last week with the excellent backstage segment with Angle.
4 – Mojo Rawley
They tried, and then they tried harder after that, Rawley simply cannot get over on Smackdown.  One last ditch effort will be made on RAW, but even that seems like a long shot for the former "can't miss" project.
5 – Becky Lynch 
With rumors of either Sasha Banks, Asuka, or even Bayley coming to Smackdown on Tuesday night, there will be no room for Becky Lynch.  RAW is in her future. I wouldn't be shocked to see Naomi make this move a well, but that would require a move away from her husband (Jey Uso) and the WWE seems to have shied away from that over recent years.
Look out for our RAW to Smackdown article to come out some time tomorrow.  However, if you want a sneak peak, before tonight's RAW which could change everything, here are the early favorites to switch.  As of now, we expect The Miz, Asuka and The Club to switch brands.  But again, the "official" picks will come after tonight's RAW airs.

NEO Sports Insiders Newsletter
Sign up to receive our NEOSI newsletter, and keep up to date with all the latest Cleveland sports news.