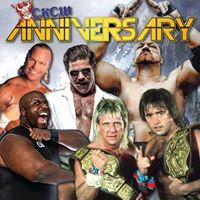 COMPLETE MATCH RESULTS, NOVEMBER 11, 2017, PARMA, OHIO, ST. JOHN'S BYZANTINE CATHOLIC CHURCH HALL, CLEVELAND KNIGHTS CHAMPIONSHIP WRESTLING, THE C.K.C.W. "ANNIVERSARY" SPECTACULAR
Match recaps and results supplied to NEOSI by Legendary Ring Announcer, Hank Hudson!
RING ANNOUNCER: Hank Hudson
REFEREES: Dave Dawson, Michael Contos
D.V.D. COMMENTATORS: Jeff Gorman, M.E. Howerton
NEXT LIVE EVENT: Friday, February 9, 2018
(1) "GOLDEN TICKET" 12-PERSON TAG-TEAM MATCH (WINNER OF THE FALL BECOMES FINAL ENTRANT IN C.K.C.W. WORLD'S TITLE TRIPLE-THREAT MATCH LATER ON THE CARD): Taya (Valkyrie)/El Nazareno/Sonny Vice/O.T. Fernandez/"Riot City's Most Wanted" (Sicend/Mac Mayhem) defeated C.P.A./R.C. Dupree/Ricky Mandel/Pat "Hooked On" Monix/"Bulletproof" Brandon Edwards/"The Impact Player" Seth Allen (Vice pinned C.P.A. via a top-rope leap for a flying cross-bodyblock press to win the "Golden Ticket") in 12:20!!!
(2) GRUDGE MATCH: "Luchasaurus" Vibora pinned "Mr. Entertainment" J.D. Smooth in 7:39 following a chokeslam!!!
(3) C.K.C.W. WOMEN'S CHAMPIONSHIP MATCH: Champion Vanilla Vargas (with Angel Fashion and Mike Mendoza) pinned Miss Hannah in 7:58 following a spinning sit-out "Tiger Bomb" to retain her title!!!
(4) FATAL FOUR-WAY MATCH FOR THE C.W.A. (CHAMPION WRESTLING ASSOCIATION) WORLD'S CHAMPIONSHIP: Champion El Sensacional Star Roger defeated DJZ, Robbie E, and Mike Mendoza (Roger pinned Mendoza following a "sunset-flip" short powerbomb despite earlier interference from Angel Fashion) in 9:33 to retain his title!!!
(5) Singles Match "Tokyo Monster" Kahagas pinned "The Firebird" Shawn Phoenix in 5:43 following a modified package-piledriver!!!
(6) THREE-WAY TAG-TEAM "FLAG MATCH" (U.S.A. vs. CANADA vs. PUERTO RICO) (WINNING TEAM GETS TO WAVE THEIR FLAG): "Team Puerto Rico" (El Fenomeno BJ/"The Owner Of The World" Hiram Tua) defeated "Team Storm" (representing Canada) (Jaxon Argos/"The Next Trending Topic" Jack Pollock) and "Team U.S.A." "The Rock 'N' Roll Express" (Ricky Morton/Robert Gibson) (Fenomeno pinned Argos) in 11:29!!! Morton and Gibson blasted Argos with simultaneous shoulder-tackles to enable Fenomeno to complete his "sunset-flip" takedown cradle for the duke!!!
(7) SPECIAL ATTRACTION MATCH: "Bad Ass" Billy Gunn pinned "King Of Sleeze" Joey Ryan in 10:04 following his "Fame-ASS-er" legdrop!!!
(8) TRIPLE-THREAT MATCH FOR THE VACANT C.K.C.W. WORLD'S HEAVYWEIGHT TITLE: "The Big Daddy Of Destruction" J-Rocc (with M.M.A. fighter Jessica "Evil" Eye and "personal ring-announcer" Dave Kich) defeated Angel Fashion (with Vanilla Vargas) and "Golden Ticket" winner Sonny Vice (J-Rocc pinned Vice following a piledriver) in 14:16 to regain the title!!!
*****It was announced that Eric Bischoff would be appearing at the next live C.K.C.W. event on Friday, February 9, 2018 as the new co-owner of Cleveland Knights Championship Wrestling!!!*****
(9) STEEL CAGE MATCH TO CROWN THE FIRST EVER C.K.C.W. WORLD'S TAG-TEAM CHAMPIONS: "The Heavy Artillery" (Thunder & Lightning) defeated "Stateline" (Damien Angel/Eddie Taurus) (Lightning pinned Taurus after his partner had elevated him for his "Ace Crusher") in 7:20 for the title!!! All four participants were bloodied in this cage battle!!!
Again, a HUGE thank you to Hank Hudson!

NEO Sports Insiders Newsletter
Sign up to receive our NEOSI newsletter, and keep up to date with all the latest Cleveland sports news.