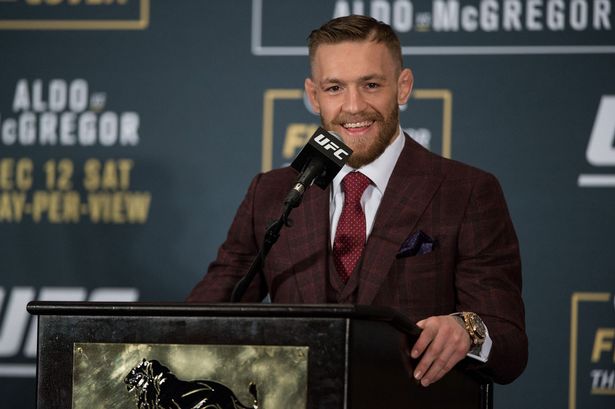 After a week away, it's time to get back into talking about the real world of "fake" wrestling.
The biggest news that's come out centers around WWE and UFC. On the heels of Brock Lesnar's return to the octagon and with C.M. Punk's debut (which will occur in Cleveland at UFC 203) on the horizon, one member of UFC with a reputation of running his mouth decided to turn his attention to WWE wrestlers via his social media.
That would be Conor McGregor, who announced his retirement from the octagon a few months, immediately followed several WWE personalities on Twitter such as Shane and Stephanie McMahon and Triple H, and then proceeded to issue challenges to many of the wrestlers this past week.
In 2014, McGregor and Sheamus got into a Twitter spat, which led to speculation about his future involvement with WWE and a potential feud. But that never materialized.
McGregor's coach John Kavanagh added fuel by posting an Instagram picture of Jimmy Hart from his days as the "Mouth of the South" and writing "New Job Uniform."
McGregor, who is still UFC's Featherweight champion, went off on a conference call promoting his rematch against Nate Diaz at Aug. 20's UFC 202, saying "those WWE guys are [expletive], to be honest. They're messed up [expletives], if you ask me."
He then added more fuel by tweeting out: "I didn't mean no disrespect to the @wwe fans. What I meant to say was that I'd slap the head off your entire roster. And twice on Sunday's."
Of course, it elicited a bunch of responses from WWE wrestlers. Ric Flair, for one, said that McGregor should "thank me for your gimmick" and said after Nate Diaz "finishes you again, I dare you to try guys like Brock, Dolph or Fit." He was referencing Brock Lesnar, Dolph Ziggler and Dave "Fit" Finlay.
Roman Reigns told McGregor "you are the size of my leg. Shut up."
Kurt Angle said "very funny, little guy. Why don't you get your head out of Dana White's ass?"
McGregor made some more pointed comments about John Cena on Saturday.
"What's the main guy? John Cena," McGregor said at a gym day to promote UFC 202. "He's 40. He's 40 years of age. He's walking around in a luminous orange t-shirt and a headband talking about nobody can see him. We can see him right there. He's a big fat, 40-year-old failed Mr. Olympia mother (bleep)."
Many have speculated on an agreement with WWE and UFC on trading talent after Lesnar competed at UFC 200 and won. Rumors have circulated about Ronda Rousey's potential involvement in a WrestleMania mixed tag match with The Rock against Stephanie and HHH – a match that was teased at WrestleMania 31 but has yet to come to fruition.
Perhaps it could be McGregor that is on the receiving end of that swap and he winds up wrestling Cena or any other WWE wrestler champing at the bit to get a piece of him at this year's WrestleMania. We shall see. Stay tuned.

NEO Sports Insiders Newsletter
Sign up to receive our NEOSI newsletter, and keep up to date with all the latest Cleveland sports news.