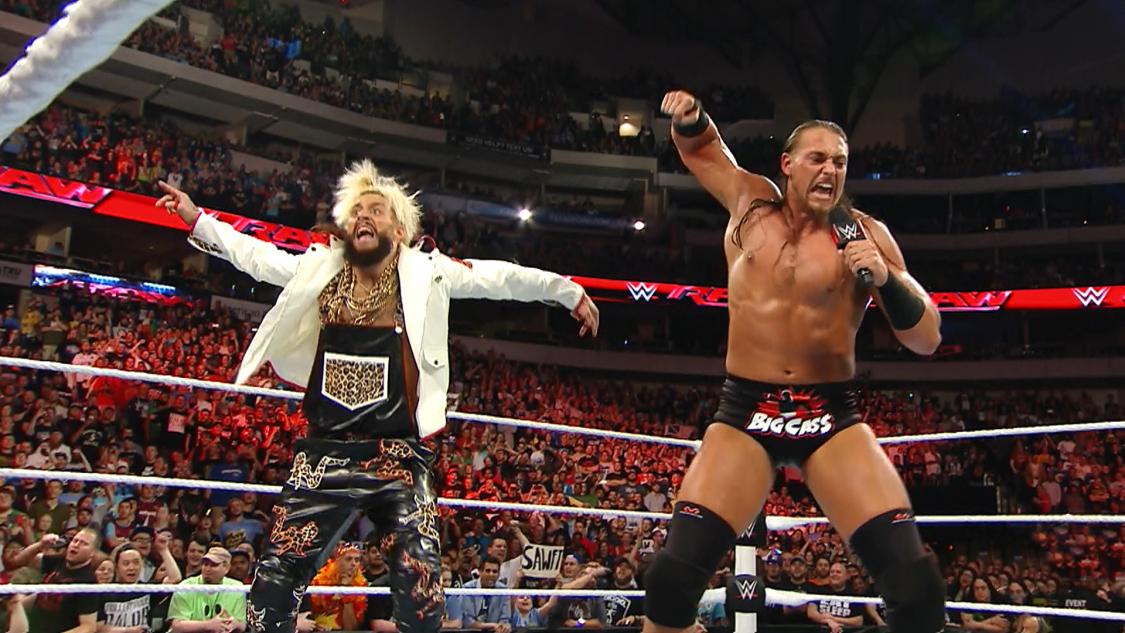 After several months of speculation, rumors and hearsay, the attacker of Enzo Amore was revealed, and it was none other then his very own tag partner, Big Cass!
Not exactly the big shock many of us hoped for, it was almost rather predictable.  However, it did come with a bit of a twist as the one to crack the case was none other then Corey Graves.  Not Kurt Angle as promised.
The obvious reasons for the heel turn of Big Cass where that he was tired of protecting Enzo every time he ran his mouth.  Also, that Cass felt being in a tag team with Enzo held back his promising singles career from taking off.
Again, it was predictable and the way many of us saw it turning out.  The interesting thing about all of this is to now sit back and watch Big Cass either take off or sink.  We have seen countless teams explode, only for one to swim, and one to sink.
He has size on this side, and for some reason, I just cannot get out of my mind, I still see Graves leaving the booth to either manage Cass, or become the personal assistant to Angle as they already seem to be setting up.  Time will tell on both those fronts.
Also, where did The Revival and The Big Show go from there, they were relevant all of four weeks, now what?
In other news from RAW, The Miz continues to dig himself deeper in the hole with wife Maryse, as he keeps blundering which leads to her humiliation.  But it is not all bad for the "A Lister", as he now has an entourage like any true star would.  His posse consists of Bo Dallas and Curtis Axel.
On a personal note, it has to be a cool feeling inside for Mike Mizanin the human being, the life long wrestling fan, to be teaming up with the sons of two wrestlers he looked up to as a little boy in IRS (Rotunda / Dallas) and Mr. Perfect Curt Henning.
Speaking of Rotunda, his other son (Bray Wyatt) appears to be fully invested in a heated feud with Seth Rollins.  Seth, who is now the new cover boy for the latest WWE Wrestling Video Game and quickly becoming the new face of Monday Night Raw.
Perhaps the biggest moment of the night was the "announcement" of Roman Reigns that actually didn't exactly happen.  He pretty much said that he is the "self appointed" number one contender, before running down Samoa Joe, as not a true Samoan, but rather, just some guy named Joe.
This led to a match between the two that would be interrupted by the returning Braun Strowman who promptly attacked Reigns.  I see that feud having a little more legs on it and another match at Great Balls of Fire.
As for the comments on Samoa Joe not being a true Samoan, this is now the second straight week they have made a point of saying that.  I can't help but wonder a "Samoan Swat Team" is forming with Reigns and Joe, with Paul Heyman at the helm.  It may sound crazy now, but strange things seem to happen in the summer.
CM Punk Pipe Bomb (2011)
NEXUS (2010)
ECW / WCW Alliance (2001)
The Hart Foundation Reforms (1997)
NWO (1996)
A Fake Undertaker arrives to Face The Real Undertaker (1994)
Lex Luger Becomes MR. USA and slams Yokozuna and the desk of the USS Intrepid.  (1993)
Etc…
Anything can happen!  What were your thoughts on RAW?  Tweet at me on twitter at VinceTheAuthor.  Or, leave a message in the comment section below!

NEO Sports Insiders Newsletter
Sign up to receive our NEOSI newsletter, and keep up to date with all the latest Cleveland sports news.