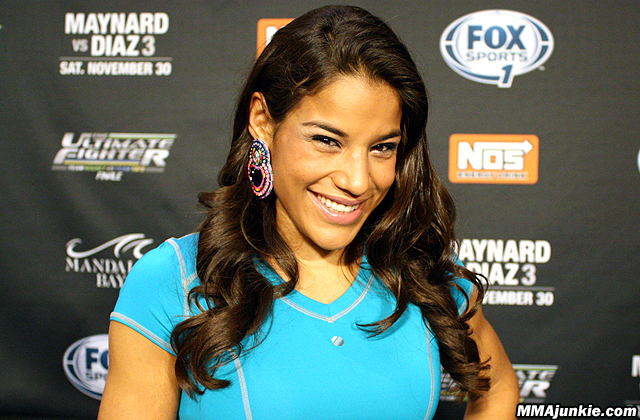 NORTH OLMSTED, Ohio – While all eyes were on Amanda Nunes Saturday night as she hoisted up her newly won UFC Womens Bantamweight title, I couldn't help but think the next big thing in the division fought on the undercard. Julianna Pena is not to be forgotten about or taken lightly.
Pena has been on a roll since winning the Ultimate Fighter Season 18 Women's Bantamweight season title. Peña faced Jessica Rakoczy in the finals on November 30, 2013 at The Ultimate Fighter 18 Finale. She won the bout via TKO in the final seconds of the first round
She has remained hot since leaving the house, winning her first three fights since. She has toppled the likes of Jessica Eye, Milana Dudieva and most recently Cat Zingano Saturday night. All of her wins were in dominant fashion, further expanding her explosive arsenal each time out.
She is 8-2 in her career, but an impressive 4-0 in the UFC overall. She is no stranger to the camera and public spotlight, both for good and bad reasons. Peña was featured in the award-winning mixed martial arts documentary Fight Life, the film is directed by James Z. Feng and released in 2013.
She is also no stranger to the wrong side of the spotlight as well as on Sunday, December 20, 2015 Peña was arrested in Spokane, Washington. Pena was charged with 2 counts of Assault.
It is hard to ignore her heart and hustle as she has already overcome several obstacles in her MMA career. Peña was expected to face Jessica Andrade at UFC 171 on March 15, 2014 but was forced to pull out because of injury. She suffered the injury while grappling in training, tearing her ACL, MCL, LCL and meniscus.
She was away from the sport over a year when Peña returned to face Milana Dudieva on April 4, 2015 at UFC Fight Night 63. She won the fight via TKO in the first round. The win also earned Peña her first Performance of the Night bonus award.
She not only has the talent to go far, but also the look to keeps the men's attention and pose for magazine covers, posters and whatever else the UFC merchandise machine needs of her.
If Holm, Tate and Rousey arent't careful, Pena will sneak ahead of all of them and challenge Nunes for the next title shot.
Pena is for real and a name you will want to remember her name for a very long while!
Agree or disagree, let me know. You can follow Vince McKee on twitter at VinceTheAuthor
Don't forget to visit our great sponsors at https://www.neosportsinsiders.com/sponsors/