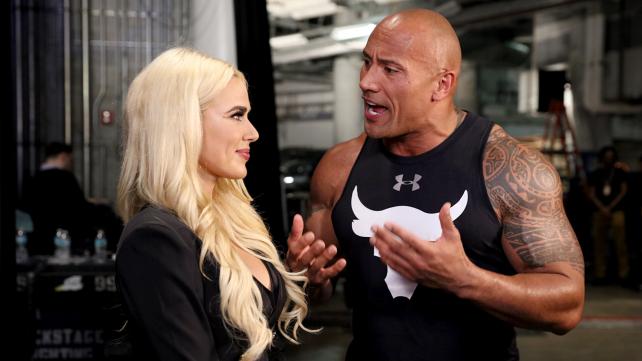 Opening Segment: Well I thought that it was the start of something new last week without the McMahon's opening a show, that was a lie. Welcome back to 2009 where Triple H is champion. Roman cheers ? So Triple H needs to be champ in order to get Reigns over? Triple H says that he will be champ until he is shown respect.
Dolph Ziggler vs Kevin Owens
These guys have put on a few great matches in the past,didn't disappoint this time either. Very impressive. Owens is fantastic and Ziggler is also. Can't complain about this match at all.
WINNER: Kevin Owens via pop-up powerbomb
Bo Rida (Bo Dallas) vs Flo Rida (In a Rap Battle)
Bo Dallas wasn't bad during the rap battle, caught me off guard how good he was. Flo Rida was not that impressive but led to him bringing out DudleyVille (Dudley Boys).
Dudley Boys vs Bo Dallas and Curtis Axel
Bo had formed a Bo-Train. Refreshing to see Dallas with new ring gear. It is great that the Social Outcasts are a group because this is the most TV time that these guys have got ever. Best part of the match was when Bubba had to tell D-Von he was legal at the end of the match. First time the Dudley's have picked up a victory in a while.
WINNERS: Dudley Boys via 3D
AJ Styles vs Chris Jericho
While Styles was heading down the ramp he goes on to say "THIS IS WHERE I BELONG", "THIS IS WHERE I SHOULD HAVE BEEN ALL ALONG". Styles is way more over than I expected he would have been. Styles deserves being here in WWE and can hang with the big boys. I wish that WWE would have signed him a long long time ago but I'll easily accept what I'm getting right now. Styles beat Jericho in his RAW debut! WOW!
WINNER: AJ Styles via roll up
Sasha Banks vs Becky Lynch
Good to see Banks back. The Divas Revolution should have just been these three plus Paige. They wasted their time with girls like Tamina, Alicia Fox and Brie Bella.
WINNER: No Contest Charlotte interfered
I am starting to think at Fastlane, in Cleveland, we will see a triple threat for the Divas Championship involving Lynch, Banks and Charlotte. I am curious to see what the final result will be leading up to this pay-per-view.
Kane vs Bray Wyatt
Why is Kane still considered "Demon Kane"? Most entertaining part of the match was the crowd chanting Randy Savage (because of the cosplay guy). Thanks for the 2 minutes that was shown on television WWE, could have showed less!
WINNER: Bray Wyatt via Sister Abigail
The Rock is the special return!
I love the promo work that the Rock brings with him and of course the fantastic jokes. The Rock made Big Show cry… why is that a thing. I loved the different angle and view of the backstage scenes. It wasn't the same rinse and repeat like usual, FINALLY a different perspective. If you are smelling what I'm cooking. Rock is taking selfies with little kids, such a class act! The Rock will be at WrestleMania. The Rock goes off script with the four guys cosplaying in the front row, that was fantastic! I think that this was the best promo work from The Rock yet! New Day interrupts the ROCK, boy that was interesting. They need to make Booty-O cereal, I'd buy it. This was by far the best segment I have seen on WWE television in my lifetime.
Brie Bella & Alicia Fox vs Natayla & Paige
Brie Bella is the only one that can bring back the YES! Chant without Daniel Bryan being around.
WINNERS: Natayla & Paige via Ram-Paige
Great to know that once again they waste a divas match just to advertise for Total Divas. Match might have lasted a whole 3 minutes. Natayla and Paige deserve a ton more time then they are getting to just promote Total Divas, they are athletic and entertaining.
Miz vs Kalisto
Miz was a bad opponent for Kalisto, you already know that Miz wouldn't win heading into this match. Waste of time could have been a better match with someone else.
WINNER: Kalisto via Salida del Sol off the ropes
JBL:"That's why Kalisto is so annoying, you think you have him down then he does some kind of flippy adey floppy adey thing"
Roman Reigns and Dean Ambrose vs Sheamus and Rusev
Why has Lana not been at ringside? What is her role now? Backstage consultant? Some things never change, kind of like this match. We've seen it 100 times, why are we seeing it again!? Rusev is an absolute joke now, he was the second entrant in the Rumble and first eliminated. Remember that one time when Rusev was undefeated? I think we are slowing seeing how thin the main roster is actually with matches like this every week.
WINNERS: Reigns and Ambrose via Reigns spear
Rusev put through a table just like Reigns was at the Rumble.
Top 3 Matches of the Night
1.) AJ Styles vs Chris Jericho
2.) Dolph Ziggler vs Kevin Owens
3.) THE ROCK Promo! (No match is worthy of Number 3)
Triple Threat Match at Fastlane
Dean Ambrose vs Roman Reigns vs Brock Lesnar
WINNER GOES TO WRESTLEMANIA TO FIGHT TRIPLE H