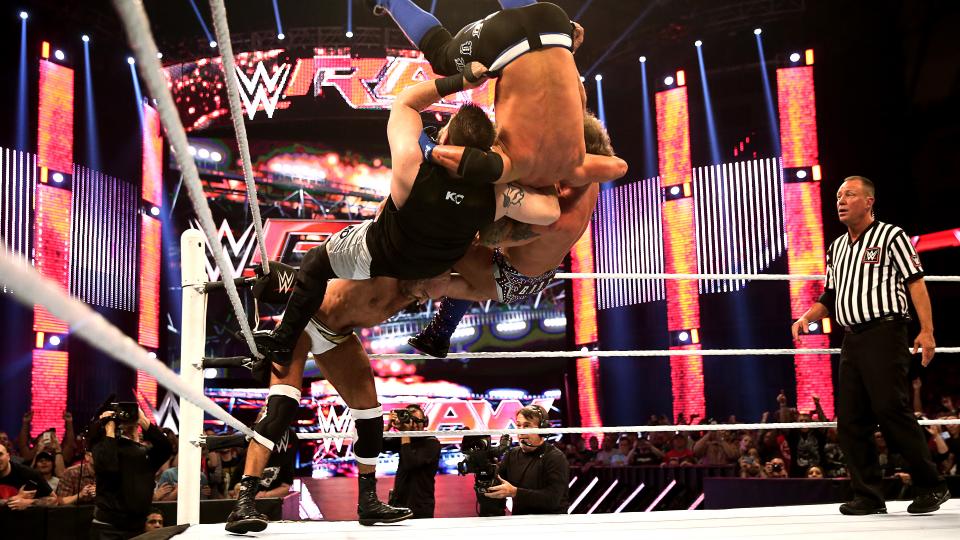 Opening Segment:
Vince McMahon came out and I think for the first time ever the crowd sung along with Vince's theme music. Vince said he didn't know Shane having control of the company meant that much. Vince calls the crowd crazy and tells them to get ready for an unpredictable RAW. Shane comes out moments later. Shane says he came out because he is a man and wanted to shake Vince's hand because Vince won. Shane also thanked the fans and got a "You still got it" chant. Shane said goodbye to the fans but Vince stops him. Vince said he didn't want to be upstaged and Shane is running the show tonight.
New Day vs League of Nations for the Tag Team Titles
Woods cherished the last Booty O like Simba in Lion King before the match. The crowd does the wave during the match. Very entertaining and fast past matched.
WINNERS: New Day retains via Midnight Hour
Post match , Sheamus says that the group is only as strong as their weakest link. After that, Sheamus Brogue kicks Wade Barrett in Barrett's possible last appearance in WWE. The Wyatt Family comes out and attacks the League of Nations, is this a possible face turn for the Wyatt's? That could be a smart move.
Summer Rae vs Sasha Banks
Summer Rae said that if she would have controlled her WrestleMania team, they would have won. Rae went on to say that at least she didn't take the pin. Summer Rae challenges Sasha Banks. After the Triple Threat match from Mania, Banks is still undefeated even though she isn't champion.
WINNER: Sasha Banks via Bank Statement
Tyler Breeze vs Apollo Crews
Crews makes his debut, that was amazing.
Fun Fact: My first independent show was Crews last in AIW.
WINNER: Apollo Crews via Spin-Out powerbomb
That was a great surprise for a debut on RAW.
Roman Reigns segment:
Roman Reigns said he isn't a bad guy, he is not a good guy but he is the guy. Reigns seemed like he might have turned heel but one time you cannot tell. Reigns said that if anyone one wants his WWE World Heavyweight Championship, come and get it. Chris Jericho comes out. Jericho says that he buried AJ Styles in this ring at WrestleMania, and he wants to do the same to Reigns. Jericho demands to jump the line for a shot at the WWE World Heavyweight Championship. AJ Styles comes out to interrupt Jericho and Kevin Owens follows. Sami Zayn comes out after Owens and the crowd is singing along to Sami Zayn's entrance music. Sami Zayn attacks Owens and Styles attacks Jericho. Jericho gets speared by Reigns.
Baron Corbin vs Dolph Ziggler
It was unexpected to see Corbin in the Andre the Giant battle royal but winning it was a huge curveball. Corbin wasn't happy with the fact that the referee counted him out. Corbin delivered an End of Days to Ziggler outside of the ring.
WINNER: No Contest because of double count out
Corbin should be impressive on the main roster.
Zack Ryder segment:
Ryder gets "You Deserve It Woo Woo Woo" chants. Which he truly does. Ryder thanks his father for everything that he did for him and without him he wouldn't be Intercontinental Champion. The Miz comes out and interrupts Ryder and says that he is just a one hit wonder. Miz said that if Ryder wants to prove he deserves to be in the list of names like Razor Ramon, Shawn Michaels, and The Miz , he'd put his title on the line.
Zack Ryder vs The Miz for the Intercontinental Championship
Ryder defeats Jericho last RAW and now this RAW he is Intercontinental Champion. The Miz starts talking smack to Ryder's father and Ryder's dad shoves the Miz. Maryse comes out to slap Ryder's dad which leads to Ryder being distracted.
WINNER: The Miz via Skull Crushing Finale
Strongly disappointed that Ryder wasn't champion for more than a day…
WWE Women's Championship Presentation:
Before Charlotte says anything the crowd begins to chant "Hey We Want Some Bayley", while Charlotte is talking they begin to start singing "Hey Bayley". Charlotte says that the WWE Women's Championship is the future. "Womens Wrestling" chants also happened during this segment. Charlotte says that she wouldn't be the first Women's champion if it wasn't for her father, Ric Flair. Charlotte said she did it herself and every lady in the ring walked out on her. Natalya gets on the mic and says Charlotte needs to learn a thing or two about humility. Charlotte told Natalya that every meeting they've had has shown that Charlotte's family is better than Natalya's.
The Usos vs The Dudley Boyz in a Tables Match
The Dudley Boyz are still against using Tables. Jimmy Uso did a splash over a table, that was pretty cool.
WINNERS: The Dudley Boyz via Double Uso splash onto nobody on the tables. Dudley Boyz moved out of the way. Dudley Boyz were leaving and said who needs these fans. Enzo Amore and Colin Cassady came out to the ring. Enzo & Cass cut a promo on The Dudley Boyz. Cass said that it seems like the Dudley's aren't liking what they are saying, so come to the ring and do something about it. The Dudley Boyz came down to the ring but backed out. Cass said there is only one word to describe them and he will spell it out for them, S-A-W-F-T.
AJ Styles vs Chris Jericho vs Kevin Owens vs Cesaro
Sami Zayn got attacked by Kevin Owens before the match and was not medically cleared to be in the match. Cesaro was his replacement, Cesaro is coming back from injury also. The future for WWE is looking really bright after all these debuts and returns tonight. If the WWE can keep up this momentum, fans will be in for a treat. The Uppercut train that Cesaro was running was a great spot in this match. I missed the Cesaro Swing. Cesaro had the Sharpshooter locked in and Styles hit the Phenomenal Forearm on Cesaro.
WINNER: AJ Styles via Styles Clash to Jericho
Styles is the new number 1 contender for the WWE World Heavyweight Championship. I am kind of shocked that this happened but I don't mind it at all! Great to see Cesaro back also. This was possibly the best main event I have seen in a very long time.
Top 3 Matches of the Night
1.) AJ Styles vs Chris Jericho vs Kevin Owens vs Cesaro
2.) New Day vs League of Nations
3.) Baron Corbin vs Dolph Ziggler
Thursday Night Smackdown Notes
1.) The Vaudevillians are set to debut
2.) Zack Ryder gets his rematch against The Miz for the Intercontinental Championship

NEO Sports Insiders Newsletter
Sign up to receive our NEOSI newsletter, and keep up to date with all the latest Cleveland sports news.