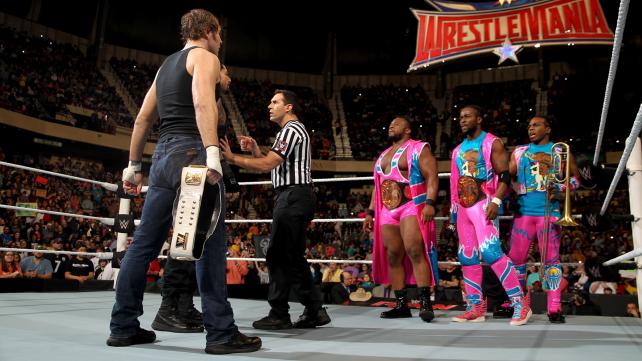 Opening Segment:
Wow! This is amazing , Brock Lesnar and Paul Heyman to start off a show. This was way better than Stephanie McMahon and Triple H. Not to long ago , last year or two years ago, Lesnar would be the most hated guy, but now he gets one of the biggest cheers. Heyman declares that Lesnar will win the triple threat at Fastlane then will go on to beat Triple H at Wrestlemania. Heyman is the best in the business at cutting a promo. Dean Ambrose proves why he should be the top babyface of WWE instead of Roman Reigns. Ambrose asks to be taken to Suplex City.
Kalisto vs Rusev
Why is Kalisto the only Hispanic wrestler that gets his ring introduction in Spanish? Alberto Del Rio gets his rematch at Fastlane, woo. Lana doesn't look like she knows how to walk in high heels, painful to watch. Rusev is still a joke but I have a feeling if he turned face he would be The Great Khali 2.0. If Kalisto holds the United States Championship up until Wrestlemania, I see him defending against Neville and Sin Cara in a ladder match. It's funny that Rusev's Twitter is more entertaining than he is as a wrestler. This crowd is behind Kalisto doing the Lucha hand pumps, maybe it is a start for him? The corkscrew dive off the ropes Kalisto does is a thing of beauty. I know there has been plenty of different comparisons of Kalisto to Rey Mysterio, but he is so much better than Rey.
WINNER: Kalisto via count-out
The Usos vs Curtis Axel and Adam Rose
Apparently the Usos are now Grammy award winning Tag Team of the Year. Bo-Rider(Bo Dallas) has retired from wrestling to work on his rap career, just kidding… When are the Usos going to learn some new moves? I used to like them but once I finally opened my eyes and noticed how limited their move set is, I turned on them. When I say Bo, you say Ring. At least they have their Grammy's though.
WINNERS: Usos via splah
Miz TV with AJ Styles
The entrance music AJ Styles has is awesome, I love it. If this is the plan for Fastlane, I'm happy I didn't get tickets to see Miz vs Styles. Miz was hogging the spotlight and not letting AJ talk, good talk show hosts don't do that. Miz tries to recruit Styles as a protege. AJ Styles can become another Daniel Bryan because the crowd is behind him and that helped out Bryan in the long run, I guess we will wait and see in the long run.
Brie Bella vs Ric Flair, oh wait I'm sorry, CHARLOTTE
Ric Flair is still hanging around, retirement must not be working out to well for Ric. With a heel vs a heel , who is there to cheer for? Team Bella is the only team left from the Divas Revolution as a whole. Charlotte is not fit as a heel, and she is better off without daddy at ringside.
WINNER: Brie Bella via roll up
Did Brie win because of Total Divas? Probably. It's that time of year again when storylines don't make sense because of a TV show.
Big Show vs Erick Rowan
Big Show has turned once again, is this a running joke even in WWE? This gives me nightmares from TLC in Cleveland in 2014. Show vs Rowan in a stairs match, waste of a match and a bore fest. Rowan is better fit as a heel.
WINNER: Big Show via chokeslam
This match was almost a squash ! Post match attack from the Wyatt Family, but where is Bray ? If three members of the Wyatt Family were able to take out the World's Largest Athlete , what can all four do to anyone?!
Titus O'Neil vs Tyler Breeze
So once again one of my famous sayings, what is the purpose behind this match? Is Titus done with his feud with Stardust?
WINNER: Titus O'Neil via Clash of the Titus, So is O'Neil getting built up so that he can win singles gold, doubtful. It'd make sense though.
Dolph Ziggler vs Kevin Owens
We've seen this match 10 times now, I know this because Kevin Owens tweeted out that he is 9-0 against Ziggler. This match has been done so many times yet each and every time these two competitors bring out the best in each other. This match up would be so much better if it involved some gold though. If Owens was correct about the number of times they have wrestled he is now 9-1.
WINNER: Dolph Ziggler via Zig-Zag
Sasha Banks vs Becky Lynch
Sasha Banks officially declares that she is on her own and no longer with Team B.A.D . Finally, Women's Wrestling that is actually worth my time. Team B.A.D at ringside was an okay idea. Team B.A.D officially breaks up when Naomi and Tamina attack Banks after she tells them she didn't need their help. Becky Lynch saves Sasha while she is being attacked by Tamina and Naomi.
WINNER: No Contest
Goldust trys to recruit R-Truth once again, Truth calls Goldust a weirdo. Goldust brings up the fact that the last time Truth had a tag team partner it was Little Jimmy yet he won't team with Goldust. Truth gets offended because Goldust brings up that Little Jimmy was imaginary.
New Day (Big E and Kofi Kingston) vs Dean Ambrose and Roman Reigns
Booty-Gate? New Day does it again. New Day shames The Rock and complains about the language The Rock used last week. New Day calls Ambrose and Reigns, Ambreigns? New Day is the most entertaining tag team the WWE has to offer , so happy that their gimmick didn't flop like many people had expected. PAUL HEYMAN on commentary is gold! Big E will be holding the WWE World Heavyweight Championship within the next three years. The Unicorn Stampede is one of the most unique tag team signatures, maybe the trombone helps. When New Day is eventually disbanded in the future I believe Xavier Woods will have his own spot on commentary if he doesn't wrestle anymore.
WINNERS: Dean Ambrose and Roman Reigns via Dirty Deeds
Lesnar comes out post match. New Day attacks Reigns and Ambrose from behind while they are focused on Lesnar. Brock Lesnar F5's Dean Ambrose to close out the show.
Top 3 Matches of the Night
1.) Roman Reigns and Dean Ambrose vs New Day
2.) Dolph Ziggler vs Kevin Owens
3.) Kalisto vs Rusev (any match could have gone here honestly)
Smackdown Thursday 8 pm EST
AJ Styles vs The Miz
Roman Reigns vs Rusev

NEO Sports Insiders Newsletter
Sign up to receive our NEOSI newsletter, and keep up to date with all the latest Cleveland sports news.