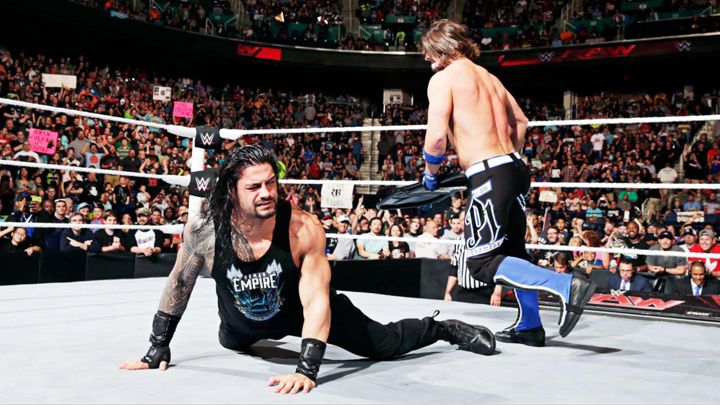 Opening Segment:
AJ Styles comes out and hypes up his match with him and Roman Reigns. Styles mentions the fact that if you don't know who he is, he's been a champion all around the world. Styles was saying that he has scratched and crawled…and then Roman Reigns interrupted him. Reigns was greeted by thunderous boos. AJ Styles said that everyone knows who Roman is. Styles says we know you aren't a bad guy, you aren't a good guy, you are the guy…that I'm going to beat on Sunday! Reigns says that he knows that Styles won't be able to beat him on his own so ahead of time he is telling Styles that the Usos will be out there to have his back. Roman Reigns said that Styles will find out that the Bloodline is thicker than The Club.
Sami Zayn vs Cesaro
The Miz and Kevin Owens are out on commentary for this match. Kevin Owens said that he doesn't care about this match and all that matters is that he will win on Sunday. Kevin Owens starts to walk off but attacks The Miz. Owens and Miz brawl to the inside of the ring. Shane McMahon comes out after the match was called off. Shane says that he thinks tonight that he will have Kevin Owens and Miz team up to face off against Cesaro and Zayn. Stephanie comes out and said given what happened on Smackdown this past Thursday the better teams would be Sami Zayn and Kevin Owens against The Miz and Cesaro. Stephanie said that if Kevin even thinks about walking out on Zayn…he can forget about his spot in the fatal four way Sunday.
Sami Zayn and Kevin Owens vs The Miz and Cesaro
I love the fact that the teams are split with one face and one heel .I also love the fact that Zayn and Owens are on the same team after everything that has happened between them since both of them have came to WWE. Cesaro was able to show off the power and strength. The Miz interrupting Cesaro's Cesaro Swing was interesting. The Miz was going to go for the Cesaro Swing but Cesaro hit the Skull Crushing Finale on The Miz.
WINNERS: Sami Zayn and Kevin Owens via Helluva Kick
Kevin Owens attacked Sami Zayn after the match

The Shining Stars vs Two Jobbers
Primo and Epico called the ring their island and the ring turns into Puerto Rico when they are in it. It seems as if The Shining Stars will be starting off their repackaging as heels. Primo and Epico fit this role a lot better than the bull fighting bit.
WINNERS: The Shining Stars via The Shining Star
Post-Match, The Shining Stars invited everyone in the arena to come to Puerto Rico.
Dean Ambrose segment:
Dean Ambrose mentions the fact that last Thursday on Smackdown , Chris Jericho put him in a straight jacket. Being put in a straight jacket made Ambrose feel like he was in prison or an asylum, and he didn't like it. Jericho said that Ambrose destroyed a major part of WWE history when Ambrose destroyed his jacket. Dean Ambrose challenged Jericho to a match at Extreme Rules this Sunday. Jericho accepted and told Ambrose that he will beat out the 15,000 dollars that Ambrose owes him for destroying his jacket. Ambrose said that Jericho put him in the hospital so he is going to put Jericho in an asylum. Their match will be an asylum match, consisting of steel cage and even more! I absolutely love this idea but please capitalize on this unlike the No Holds Barred match between Ambrose and Brock Lesnar.
Becky Lynch vs Dana Brooke
Dana Brooke is still looking rough in the ring but there is such a thing as Eva Marie… I actually have hope for Dana to improve though. She has a great look, a over the top attitude and also cockiness. I feel bad that Becky Lynch has lost twice to Dana, I think they could've booked it differently…but who am I?
WINNER: Dana Brooke via roll-up
Golden Truth (R-Truth and Goldust) vs Breezeango (Tyler Breeze and Fandango)
R-Truth and Goldust are finally together! The video package of everything leading up to becoming a team was hilarious. Flashback to the times when Goldust wanted R-Truth as a partner and vice versa. Now, we finally see them together!
WINNERS: Breezeango
R-Truth accidentally hit Goldust in the face with a kick and Breeze took advantage to get the win.
New Day Segment:
New Day comes out when there is a object in the ring already with a black sheet over top of it. New Day takes off the sheet and reveals Xavier Woods time machine. New Day goes inside of the time machine. Kofi Kingston's old music hits and he does the boom, boom,boom and calls himself the Jamaican sensation. Xavier Woods yells at Kofi to get back in the machine and Kofi said no he doesn't want to because the 2009 Kofi was the best! New Day travels back to the bygone era where The Vaudevillians are from. The Vaudevillians attack the New Day from behind to end the segment.
Luke Gallows and Karl Anderson w/ AJ Styles vs The Usos w/ Roman Reigns
This match is happening once again. Corkscrew Moonsault by Jimmy Uso was rather impressive. The Greensboro crowd was backing The Usos.
WINNERS: The Usos via Uso Splash
I thought going into this match that there was a possibility of this match becoming boring since it has happened three shows in a row essentially but this match exceeded all expectation! Styles finally got to use the steel chair on Roman Reigns, something that has been teased for weeks. Styles hit the Styles Clash on Reigns onto the steel chair.
Big Cass vs Devon Dudley
Big Cass called Devon Dudley the Steve Urkel of the squared circle and Bubba Ray a Fred Flintstone looking goon.
WINNER: Big Cass via East River Casting
Big Cass is looking mighty impressive recently.
Kalisto vs Alberto Del Rio
As the match was going on, Sin Cara was watching the match in the back. Rusev eventually attacked Sin Cara from behind. Alberto Del Rio forced Kalisto to watch the backstage attack on the titantron. Del Rio's double foot stomp aggravates me so much, I hate the fact that his opponent just hangs there until he stomps on him. Rusev dragged Sin Cara out to ringside to distract Kalisto. Rusev was beating up a defenseless Sin Cara at ringside where Kalisto could have helped him…but didn't, I think that made Kalisto look super bad as a tag partner.
WINNER: Alberto Del Rio via Back Stabber
Post-Match , Rusev kicked Kalisto in the back of the head and put the Accolade on Kalisto. Rusev might be the new United States Champion come Sunday at Extreme Rules.
Charlotte and Natalya Contract Signing:
Charlotte was introduced over the top by Ric Flair. Charlotte came down to the ring and asked where she should sign immediately. Natalya was second to come out and asked Charlotte what happened to her? Natalya said she knows the Charlotte from NXT when she was beat by her for the NXT Women's Championship. Natalya said she misses that Charlotte. Charlotte tells Natalya that she is delusion. Charlotte tells the Greensboro crowd that she is a godess, she could punch everyone's friend in the face and they would still praise the ground she walks on. Charlotte said that Greensboro is Flair Country. Charlotte was about to sign the contract but noticed something changed in the contract. Shane McMahon added in an extra stipulation , if Ric Flair even so much as walks down to the ring…Charlotte will forfeit her championship. Stephanie added on that if Charlotte doesn't sign the contract tonight, Charlotte would forfeit the championship on RAW. Ric Flair got sick and tired of what was going on and threw down his jacket. Shane said that he had to much respect for Ric to hit him so Stephanie interrupted and said that Shane might have respect for Ric but she doesn't and slapped Ric. Natalya put the sharpshooter on Charlotte and made her tap. Natalya closed out RAW by holding the WWE Women's Championship over her head.
Top 3 Matches of the Night
1.) Luke Gallows and Karl Anderson w/ AJ Styles vs The Usos w/ Roman Reigns
2.) Sami Zayn and Kevin Owens vs The Miz and Cesaro
3.) Kalisto vs Alberto Del Rio

NEO Sports Insiders Newsletter
Sign up to receive our NEOSI newsletter, and keep up to date with all the latest Cleveland sports news.