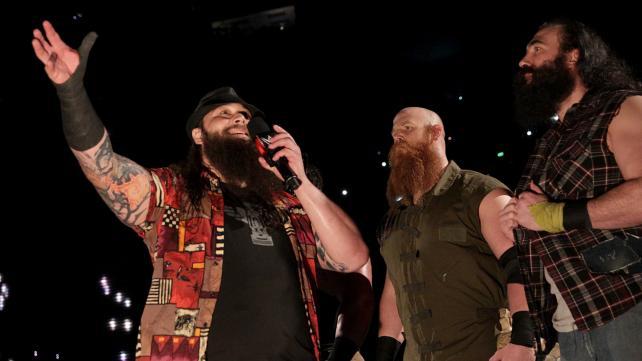 Opening Segment:
Dean Ambrose asked for an F5 (from Brock Lesnar) so Stephanie McMahon came out and gave him an F5 which was a fatal five way for the Intercontinental Championship.
Kevin Owens vs Dean Ambrose vs Tyler Breeze vs Dolph Ziggler vs Stardust for the Intercontinental Championship.
Going into this match you didn't expect the Intercontinental Championship to change.
When I see Breeze I just think Scooby Doo while he is in that gear. The cannonball to the four other competitors was a cool spot.
Winner: Kevin Owens pins Breeze with a pop up powerbomb
My buddy just got done saying the championship needs to change more often…I guess he got his wish.
I'm beginning to think Dean Ambrose might win the triple threat at fastlane.
Big E vs Mark Henry
This match would have been great if it happened back when Big E debuted. It's not appealing to me now. Mark Henry looked legitimately hurt.
Winner: Big E
Brie Bella interview
Charlotte interrupts the interview that never really started. Charlotte goes on to say Daniel Bryan was in a league of his own but Brie says that he still is. Charlotte gives Brie the option to forfeit their match at Fastlane. Charlotte says the reason Brie is going through with this match is because her and Daniel need the money. Charlotte gets offended when Brie said she can't believe what kind of champion she has become. Charlotte in return said she can't wait to see what their Goat-Faced Vegan babies become. Brie Bella then attacks Charlotte.
AJ Styles vs the Miz
Chris Jericho is a must on commentary in the future. Spinning back fist is a fantastic move along with the pele kick. I've said it before, and I'll say it again, AJ's moveset amazes me.
Winner: Styles via Calf Crusher
Dudley Boys Segment
Devon is actually surprising me as a heel. Bubba is a fantastic heel and you saw that first hand in TNA. Heel Dudley Boys are best for business and the tag team division.
Summer Rae vs Paige
When was the last time Summer was in the ring? Summer Rae looks like she has grown in the ring as a competitor. Wow.
Winner: Summer Rae via roll up
Are we seeing a possibly push for Summer Rae?
Heath Slater vs Zack Ryder
Welcome back to RAW Zack Ryder.
Winner : Heath Slater
Ryder was impressive though, what's up with the wins by social outcasts ?
Goldust and R Truth segment.
Entertaining once again and would be a great tag team. Wasn't PG at the end though.
Lucha Dragons and Neville vs Rusev, Del Rio, Sheamus
Maybe it's time WWE brings in a trios division. They already have New Day, Lucha Dragons with Neville, Cosmic Wasteland, and League of Nations. The double foot stomp by Del Rio is the dumbest move ever, why does his opponent hold himself up.
Winner: Del Rio via Double Foot Stomp
Becky Lynch vs Naomi
Why is there still some teams around from the Divas Revolution. I still don't like the fact they give two mediocre divas matches instead of one great one.
Winner: Lynch via dis-arm-her
Braun Strowman vs Big Show
This match was so predictable leading to DQ.
Waste of time.
It was simple to see that this match set up Big Show, Ryback and Kane vs Wyatt Family for Fastlane.
Winner: No Contest
Top 3 Matches of the Night
1.) AJ Styles vs The Miz
2.) Fatal 5 Way
3.) Paige vs Summer Rae

NEO Sports Insiders Newsletter
Sign up to receive our NEOSI newsletter, and keep up to date with all the latest Cleveland sports news.