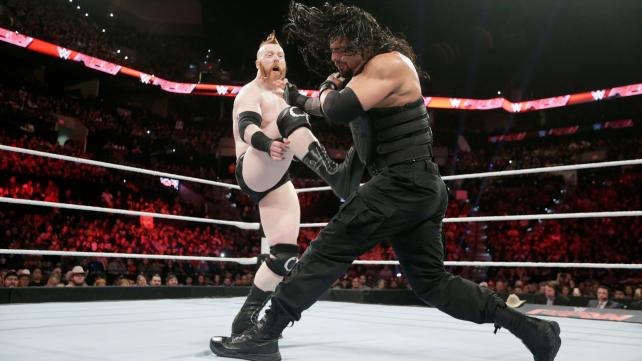 Fun Fact : Monday marked 17 years since the controversial Fingerpoke of Doom.
Opening Segment: Why does Steph start off every opening? I'm sick of this. Roman chants caught me by surprise (as always). Why is the YES! chant still around? Daniel Bryan has been gone forever.

Neville vs Kevin Owens
Dean Ambrose on commentary should be very interesting. Neville is so talented. That barricade doesn't look to nice to be thrown into. Neville hitting a 450 from the apron was pretty awesome. 2 Cold Scorpio reference (Fun Fact: I've met him).
WINNER: Kevin Owens via Pop-Up Powerbomb
Ambrose delivers a elbow drop through the announce table onto Kevin Owens. Owens looks like the weaker man for the first time in about a month
Stardust vs Titus O'Neil
Why is this a rivalry? Titus always walks into Stardust's promos and thus we have a rivalry. Cody Rhodes version hopefully returns soon because the Stardust gimmick has ran it's course. Why has Darren Young not been with Titus O'Neil, last I checked they were a tag team.
WINNER: Titus O'Neil via Clash of the Titus
Charlotte vs Becky Lynch
I said this last time these two were facing off, but I'm saying tonight or at the Rumble the Charlotte heel turn will finally happen. Ric Flair is once again annoying at ringside. I should start a petition to get rid of Ric from ringside for his daughters matches. Great match…and I predicted it too, the Charlotte heel turn.
WINNER: Becky Lynch via roll up with the tights
Team PCB officially is finished.
Vince McMahon laying down the law to Sheamus before his WWE World Heavyweight Championship match against Roman Reigns with him as referee. That kind of surprised me, would have thought he'd do anything to give Sheamus the championship. Which later became true.
Ryback vs Big Show
Again a rematch from last week. Nobody cares. Wyatt Family interference was the only thing that made this interesting. Attacking Ryback and surrounds Big Show yet somehow Show manages to clear out most of them until the numbers game took advantage.
WINNER: No Contest
Rusev and Alberto Del Rio vs The Usos
Fans are chanting Usos in the form of Lucha (As in Lucha Dragons). I really wish that WWE would build matches sometimes. I understand the surprise element for RAW but what is the backstory? Is it the Usos getting attacked by the League of Nations like 3 weeks ago? Is there even a backstory? I enjoy the superkick. League of Nations has potential to be a dominant stable in WWE.
WINNERS: Del Rio and Rusev via Del Rio double foot stomp
Dolph Ziggler vs Heath Slater (with Adam Rose, Bo Dallas, and Curtis Axel)
I really enjoy the fact that Slater coming out with Rose, Dallas and Axel. It gives those guys something to do because they have not been on TV in forever. Wonder if this stable of Slater's is going to be a new band he is forming?
WINNER: Heath Slater via roll up
What did Dolph Ziggler do to deserve that? I guess this new foursome is called 'Social Outcast'
New Day vs Kalisto and Dudley Boyz
Pre-Match:CHRIS JERICHO!!! Every time Jericho returns everyone loves him. RAW IS JERICHO! I get chills every single time Jericho comes back. Y2J officially entering the Royal Rumble. What a surprise!
Kalisto obviously teaming with the Dudley Boyz since Sin Cara dislocated his shoulder. Kalisto works very well with a teammate that is bigger than him, reminds me of a Batista & Mysterio type team. New Day is unbelievable. They can look like they are bound to lose the titles at the Rumble now they win tonight and look like they won't lose them any time soon.
WINNER: New Day via the Midnight Hour
Sheamus vs Roman Reigns (C) for the WWE World Heavyweight Championship with Vince McMahon as special guest referee
Vince is still super muscular for 70 years old. Vince of course is biased towards Sheamus. The slow count to Reigns was rough to watch. It's been a while since the WWE has had a special referee during a match and I think that is the main reason. Matches become so one sided and nobody can stay interested in these matches. Roman Reigns takes out McMahon once again with a Superman Punch. The concept of a special referee is truly pathetic and I see why it is not used often. I am not interested in the one sided fan fair of the referee. I understand that is the point of the special referee but it is an old and boring concept. The fans chanting "This is Awesome" obviously do not know have the same meaning of awesome as I do. Where the hell did Scott Armstrong come from? Where has he been?
WINNER: Roman Reigns via spear
I honestly believed that Reigns was losing the title tonight. He had the odds completely against him and overcame Vince McMahon, Stephanie McMahon, and surprise return of Scott Armstrong.
Roman Reigns is set to defend is championship at the Royal Rumble against 29 other men. It seems now that Reigns will win back to back Royal Rumbles.
Top 3 Matches of the Night
1.) Neville vs Kevin Owens
2.) New Day vs Kalisto and the Dudley Boys
3.) Charlotte vs Becky Lynch
Raw was off to a really hot start and had the crowd excited and involved with the amazing move set of Neville yet I flop on the ending.
This Thursday on Smackdown on USA at 8:00 EST
Kevin Owens vs Dean Ambrose for the Intercontinental Championship
Charlotte vs Becky Lynch for the Divas Championship

NEO Sports Insiders Newsletter
Sign up to receive our NEOSI newsletter, and keep up to date with all the latest Cleveland sports news.