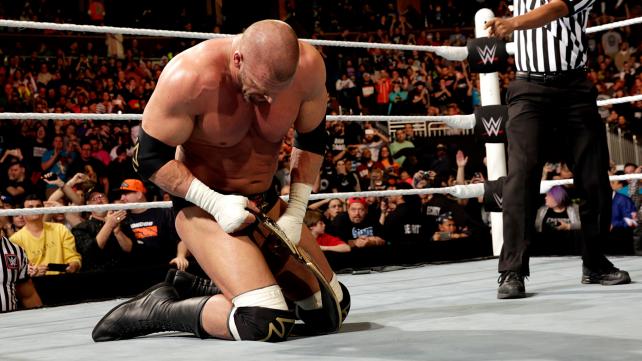 Dean Ambrose vs Kevin Owens for the Intercontinental Championship
This match was the best match of the night. Owens and Ambrose put on the best match of their careers in WWE. This match reminded me of why the last man standing concept can be so good with the right people. I was happy that the match didn't end with some type of scrutiny, like it has throughout history. By far one of the best feuds in a while for WWE
WINNER: Dean Ambrose by putting Owens though two tables on the outside
New Day vs Usos for the Tag Team Championship
New Day brought out a new trombone. Everyone can see that New Day has a ton of fun working their gimmick. The Usos are becoming rough to watch. I used to like the Usos but their move-set is very limited and repetitive. Hopefully New Day keeps the title until somehow valuable enough can defeat them and have an exciting, refreshing move-set. The crowd loved New Day and everything they had to offer
WINNERS: New Day with a pro New Day crowd
Alberto Del Rio vs Kalisto for the United States Championship
Kalisto wins again. This is stupid and a waste of time. I hope Kalisto at least keeps the title longer than a day (and I'm not saying keep it for 2 days). At least Kalisto is only four reigns away from Flair, for the most reigns of all time for United States Champion. This match was a botchfest and I don't think Del Rio can even work with him.
WINNER: Kalisto in a boring and uneventful match.
Charlotte vs Becky Lynch for Divas Championship
Flair plants a kiss on Becky Lynch, which was unnecessary. It was nice to see the Divas finally got a good amount of time but of course Ric Flair always ruins it. Ric should at least get part of that Divas Championship since he's saved Charlotte plenty of times from losing it.
WINNER: Charlotte in another terrible match for the night.
Sasha Banks attacks Charlotte and Lynch. Hopefully this leads to Banks against Charlotte at Fastlane and then something amazing at WrestleMania 32.
Royal Rumble match for WWE World Heavyweight Championship
Rusev takes the TV monitor with him to the back after putting Roman Reigns through the Spanish announce table. Rusev being eliminated first was a shock.
AJ Styles proves himself in the Rumble ad was extremely over with the crowd in Orlando. Styles was the best part of the Royal Rumble. I was shocked that he came out so early but I loved it.
Sami Zayn comes back for his second appearance in WWE during the Rumble, hopefully he stays.
Miz says he'll turn suplex city into Mizney World.
I was surprised to see Dean Ambrose survive to the final two and actually believed that he had this match won.
Mark Henry is quickest eliminated at just thirty seconds.
Roman Reigns not being around for the final two was a great choice because you knew for sure that there will be a new champion.
Fun Fact: No Legends came back for the Rumble like in the past which was shocking and refreshing.
WINNER: Triple H eliminates Dean Ambrose and becomes a 14 time Champion.