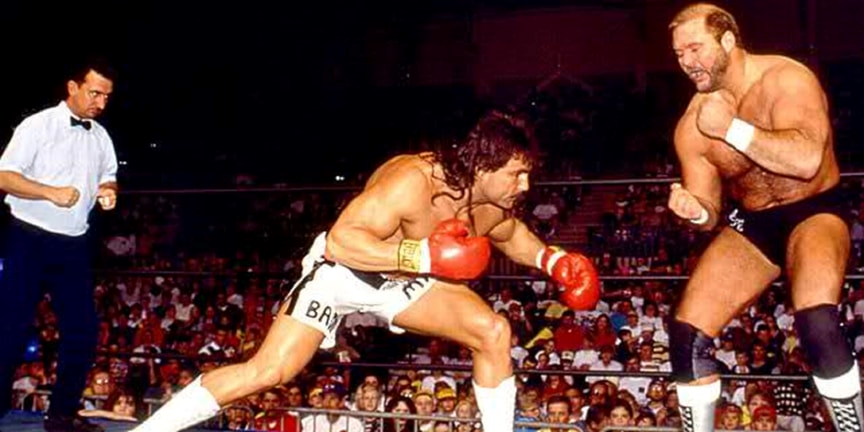 Well before the WWE network was created, fans had to decide where they wanted to spend their $29.99 at the time, in regards to Pay Per Views.  Yes, that's right, they weren't always free.  Thus the name, PAY PER VIEW. 
It used to be affordable to get all of them before 1994.  The WWF only had 5 per year.  Mania, Summerslam, Survivor Series, Royal Rumble and then in 1993, The King of the Ring.  Greed, as it often does, changes things quickly as it did in 1995.
In 1995 the WWF was under some serious financial strains, and needed to increase revenue as soon as possible.  This being said, they created 7 new Pay Per View Events called "In Your House".  As usual, the WCW had to copycat anything the WWF did. 
WCW already had a heavy load of pay per views at the time with their eight, Spring Stampede, Fall Brawl, Starrcade, Slamboree, The Great American Bash, Bash at the Beach and Halloween Havoc.  They would go on to add four more in World War 3, Hog / Road Wild, Souled Out and most infamously, Uncensored.
The initial showing of WCW Uncensored 1995 will forever go down in lore as the worst pay per view in Wrestling History.  Let us breakdown the card and explain exactly why that is, and how an event from 20 plus years ago is still talked about and mocked to this very day.
Other than the obvious, Ric Flair dressed like a woman and Bobby The Brain Heenan constantly mentioning how this event was bigger than Michael Jordan's return the NBA, there was plenty of other items to get annoyed with.
–          The opening match featured The Blacktop Bully vs Dustin Rhodes in a King of the Road match.  The object of the match was to climb to the top of the trailer's cage and sound a horn positioned there.  And yes, it was in the back of a 18 wheeler flatbed.  It was pure garbage as there was no way men in the back of a flatbed going 40MPH were going to be able to perform any actual moves.  They both bled from the wires and other sharp objects in the truck.  Because of that and the fact the match was taped days earlier, the WCW's no blood policy edited out those parts with fuzzy tv, blaming it on microwave interference? It will go down as the worst match in pro wrestling history.  And for the reward, both Rhodes and Barry Darsow where fired afterwards for bleeding…..
–          While the opening match was bad, the second match of Boxer vs Wrestler Johhny B Badd vs Arn Anderson wasn't exactly a classic.  In the end, it was Badd getting the knockout win. (shocker)
–          Haku (Meng) defeated Hacksaw Jim Duggan in a Martial Arts match.  Because that makes sense, taking a guy in Duggan who couldn't perform a single wrestling hold and putting him up against Meng in a match no one wanted to see.
–          If the night wasn't already off to a stellar start, it proceeded to get even worse when Macho Man beat Earthquake (Avanlanche) by DQ.  Yes, that it is right, the PPV billed to have no DQ's, had a match end with a DQ.  But that wasn't even the worst part of the match, oh no, that occurred when Ric Flair interfered to attack Savage while dressed in drag as a women. Yes,, I'll leave that there for now.
–          Up next in what was actually a great match, Big Bubba Rogers rallied from an early deficit to defeat Sting by pinfall.  The WCW tried to build on this match the following month at Slamboree, but failed miserably as it was billed as a lights out match and the lights in the arena failed to go out a single time, making the entire concept mute. 
–          The Nasty Boys defeated WCW tag Champs the Harlem Heat by pinfall to (not win the titles),  Yep, despite pinning the champs, they didn't win the belts with zero explanation ever given.  It was also billed as a Texas Tornado match which saw falls count everywhere.  Sadly, no fall ever occurred as the majority of the match was spent at the snack stand as men belted each other with cotton candy and popcorn.  Yep, popcorn and cotton candy do some serious damage.  Also, despite the fact no pin ever occurred, the bell suddenly rings and they announce the Nasty Boys win by pinfall.  Well then, maybe that's why they didn't get the belts.  I don't know, pass the cotton candy please!
–          Finally, the main event of the night, this would surely save the abysmal card right?  Wrong.  Hulk Hogan promised the Ultimate Warrior as his big surprise man to be in his corner.  What we got was an Ultimate Warrior imposter called Renegade.  Not only that, but Hogan goes on to win the "Strap" match against Vader, but not by beating Vader, oh no, that would have made too much sense.  Hogan actually wins by tapping all four corners while Ric Flair gets dragged to all four turnbuckles.  Yep, let that digest for a moment.  Then in a non-shocking twist, despite the Renegade as the savior, as billed, it is Macho Man running down to save Hogan and Renegade from the post match beat down.  Macho Man………
In conclusion
WORST PAY PER VIEW EVER

NEO Sports Insiders Newsletter
Sign up to receive our NEOSI newsletter, and keep up to date with all the latest Cleveland sports news.