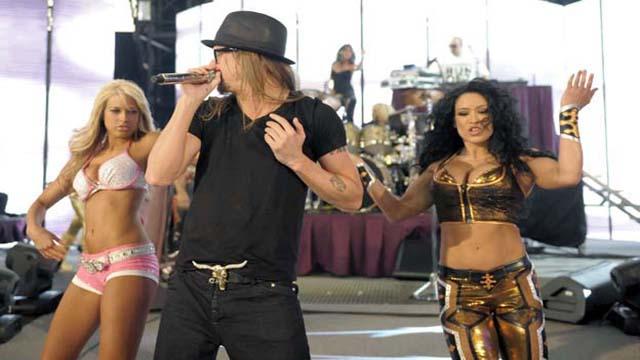 On Monday, World Wrestling Entertainment tweeted out the following announcing that Kid Rock is heading to the WWE Hall of Fame Class of 2018. Kid Rock has performed at WrestleMania 25 and Tribute to the Troops in 2012.
BREAKING NEWS: As first reported by @billboard, @KidRock is the celebrity inductee in the #WWEHOF Class of 2018! https://t.co/5QTD1Pz1v3

— WWE (@WWE) March 12, 2018
Kid Rock will be joining the likes of Goldberg, The Dudley Boyz, Ivory, Jeff Jarrett, Hillbilly Jim, and Warrior Award recipient Jarrius "JJ" Robertson.
These members of the Class of 2018 will receive their WWE Hall of Fame ring and officially be inducted on April 6th in New Orleans.
Triple H took to Twitter to congratulate the latest inductee.
.@KidRock has lent his signature sound to many @WWE events over the years. His support of our Superstars, events and commitment to our troops has been unwavering. For that and more, welcome to the celebrity wing of #WWEHOF. pic.twitter.com/sMwok8jklH

— Triple H (@TripleH) March 12, 2018
A few other WWE employees made comments about Kid Rock becoming the latest inductee.
And just like that, my Wrestlemania 34 goals have changed. Dear @wwe please let me induct @KidRock. I'm not saying I'm the biggest Kid Rock fan, but what I am saying is….I'm the biggest Kid Rock fan. https://t.co/ygyLH7Z4oR

— Mike Kanellis (@RealMikeBennett) March 12, 2018
Entrance themes for Undertaker and Stacy Keibler; performances at #WrestleMania and @WWE #TributeToTheTroops; and now, induction to the @WWE Hall of Fame Class of 2018. Welcome, Kid Rock! #WWEHOF https://t.co/HWgxBK8Vpm

— WWE Music Group (@WWEMusic) March 12, 2018