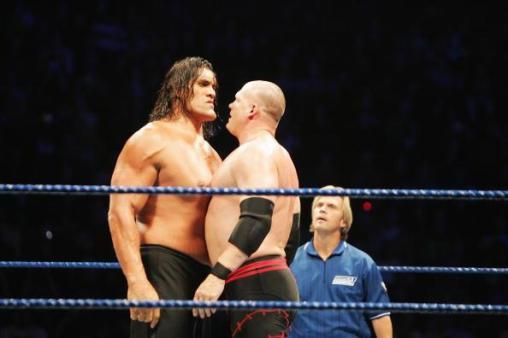 When people think about who has wrestled at the most consecutive WrestleMania's they instantly think it is John Cena or HHH, or Shawn Michaels, or The Undertaker, if not them, then certainly it must be Hulk Hogan, The Rock or Stone Cold Steve Austin?  Nope, well then Bret Hart, after all he wrestled in every WrestleMania from 2 – 13.  However, all those guesses, as practical as they seem, would be wrong.
Regardless on if he appears this weekend in Orlando at WrestleMania 33, Kane has appeared and wrestled at every WrestleMania since 14.  For all of us math majors out there, that's more then we can count on our fingers, and will need most of our toes as well, a whopping 18 straight WrestleMania's for The Big Red Monster.
Sounds impressive, doesn't it?  But then it gets you thinking, why is it never mentioned or highlighted in WWE lore, the answer is simple, with the exception of a couple pre-match Tombstones to Pete Rose, it really has been a lackluster run of matches.
It started off impressively enough at XIV with a great match against The Undertaker in Brother vs Brother, but went downhill quickly from there.  He lost to HHH at XV, and was buried in a forgotten tag match alongside Rikishi at WrestleMania 2000.  He did win the Hardcore title in a fun match at WrestleMania XVII before losing to Kurt Angle at WrestleMania XVIII in a match no one remembers.
Things went from bad to worse for The Big Red Machine at WrestleMania XIX as he was relegated to the undercard in a tag with RVD against La Resistance.  Things didn't get much better at WMXX as he was part of a huge letdown in The Undertakers return match.  It was the crowning touch of what was already a horrible Mania to begin with.
Between WrestleMania's 21-32 he was either overshadowed in a tag match, part of a battle royal, part of the MITB Ladder match, or on a very rare occasion, actually slotted in a singles match.  Perhaps the only bright spots stretch during that were victories over Chavo Guerrero for the ECW Title at WrestleMania 24 and one over Randy Orton at 28.
He was part of two of the worst matches in WrestleMania History at 23 against The Great Khali, and 27 as a member of an 8-man Tag Team match alongside The Big Show, Kofi Kingston and Santino Marella against The Core. 
In conclusion
18 total Matches
7 Singles Matches, going 2-5
Congratulations Shawn Michaels, your title of Mr. WrestleMania isn't going anywhere!

NEO Sports Insiders Newsletter
Sign up to receive our NEOSI newsletter, and keep up to date with all the latest Cleveland sports news.