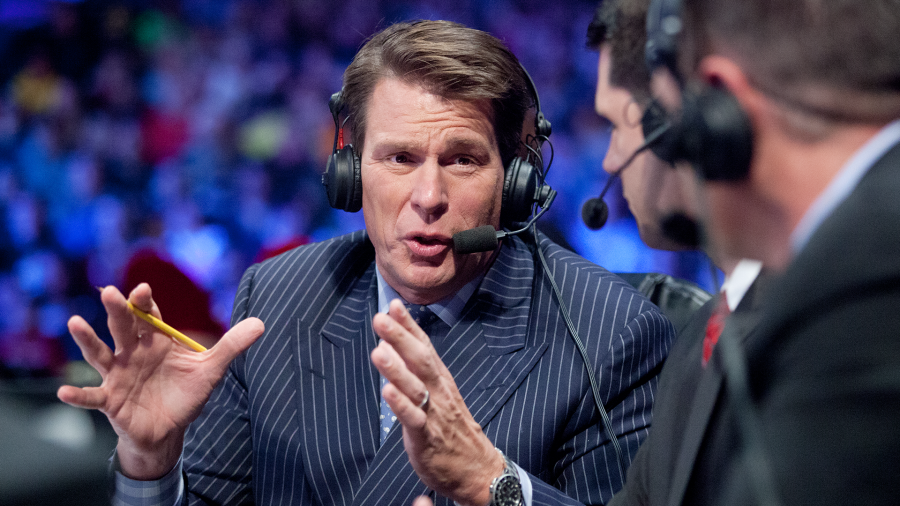 The once hefty four man announce booth of Smackdown Live has now dwindled down to just two men.  Mauro Raunello left amidst bullying allegations by JBL, and now the man who was dishing out the bullying has announced he is leaving too.
Earlier this weekend, per his social media accounts, JBL announced he is leaving the WWE, or at least cutting back.   
You can read his full statement below.  The WWE has not yet announced his replacement as to who will join Bryon Saxton and Tom Phillips.  Perhaps this is the big call up for Vic Charles, we will see.
 Full Statement below per twitter
"My new schedule will allow me to continue to be a part of the WWE family and also continue my work that I feel is the most important thing in my life. I will continue my 20+ year relationship with WWE and will appear on such marquee shows as Tribute to the Troops, WrestleMania, amongst others.
With the help of Beyond Sport, I founded Beyond Rugby Bermuda in 2010–which has been recognized as one of the world's best charities for work with at risk, gang focused, youth intervention. Beyond Rugby Bermuda won the 2014 NACRA Fair Play Award out of 7,000 programs and 17 countries for its work with at risk kids. I was named as a Beyond Sport Global Ambassador–an organization backed by all major sports leagues in the U.S.
I'm proud to say that in addition to being Smackdown's longest reigning WWE Champion, I inspired WWE's Tribute to the Troops over 10 years ago. WWE has been my partner in all my philanthropic works and this new deal with WWE ensures that will continue. WWE has made my dreams come true and helped me become a global name. And now, WWE is helping me use that name to make a difference. "

NEO Sports Insiders Newsletter
Sign up to receive our NEOSI newsletter, and keep up to date with all the latest Cleveland sports news.