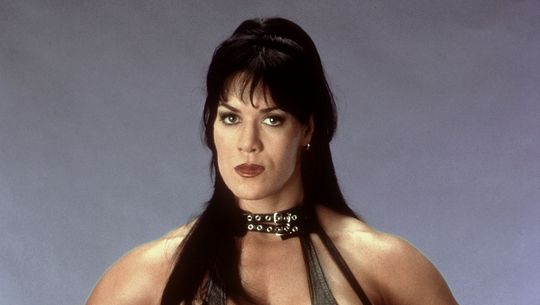 Nearly a year ago, I wrote an article about how hypocritical the WWE Hall of fame can be. Yesterday, they proved it yet again by doing a favor to the wife of Adam Copeland (Edge) and announced the upcoming induction of Beth Phoenix.  A woman who spent a little over 5 years on the main roster, and not all of them in the main event picture.  Meanwhile, they continue to snub the woman who redefined woman's role in Pro Wrestling, Chyna!
Joanie "Chyna" Laurer was easily one of the WWE's greatest female athletes of all time. She was the first female to compete on a regular basis with men. She was a former multi time IC champion, as well as the first female to compete in the Royal Rumble and King of the Ring. Not to mention, a founding member of DX.
The WWE's main reason for the snub was her shaky history after leaving pro wrestling. She had multiple drug issues along the way but the WWE has seen that with many of their former and current stars. What is holding her back is her role in the adult film industry.
Laurer made her porn debut with the 2004 video 1 Night in China with former boyfriend and pro wrestler Sean Waltman. Laurer appeared in her second pornographic video, entitled Another Night in China in 2009. In 2011, Laurer starred in her first professional pornographic film for Vivid Video entitled Backdoor to Chyna. She also starred for Vivid as She-Hulk in their parody of The Avengers, released in May 2012. A spinoff feature centered around the She-Hulk character and titled She-Hulk XXX was released to video in April 2013
It is hypocritical considering the WWE had no problems allowing multi time drug user and adult star Tammy "Sunny" Sytch into their Hall of Fame in 2011 during Wrestlemania 27 weekend.
She posed nude for Missy Hyatt's adult website Wrestling Vixxxens. She filmed her first of what will be many adult films with Vivid Entertainment for an adult film called Sunny Side Up: In Through the Backdoor.  She also charges people for nude pic sessions on Skype on snap chat.
Adult films hasn't been her only black mark since leaving the WWE as she also has had multiple issues with the law. In 2012, Sytch was arrested five times in a four-week span, for disorderly conduct, third degree burglary, and three counts of violating a protective order. She was arrested a sixth time in January 2013, also for violating a protective order. She was recently arrested yet again, just last month for breaking probation and routinely insults people on her Facebook page where she is currently once again, in rehab.
Sytch served 114 days in jail and was released in May 2013. In January 2016, Sytch pleaded guilty to driving while under suspension-DUI related charges stemming from three separate arrests in May and June 2015.
It seems like a double standard when you consider the fact that Sytch never set foot in a WWE ring as an actual competitor and was never anything more than eye candy. If the WWE wants to improve their overall PR and Hall of Fame legitimacy then it needs to remove people lie Drew Carey and "The Arnold", and start placing in those who actually deserve it and blazed those trails they are always talking about. Speaking of "blazing", they just inducted The Godfather, a "pimp".
As Owen Hart (someone else who should be inducted) once said, "Enough is Enough and it is time for a change!" It is time for the late great Chyna to take her proper role in the WWE Hall of Fame.
You can follow Vince McKee on twitter at VinceTheAuthor

NEO Sports Insiders Newsletter
Sign up to receive our NEOSI newsletter, and keep up to date with all the latest Cleveland sports news.