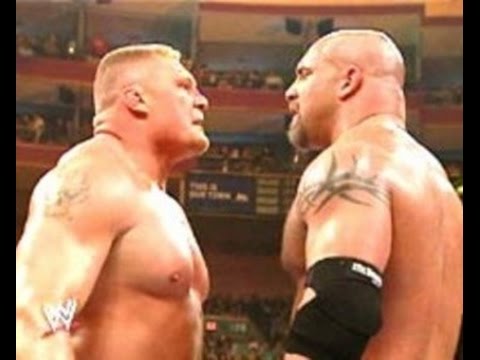 Goldberg is back, he's back indeed.
All night on Raw, the return of Goldberg was highlighted. Video packages of the man who was known for his undefeated streak in WCW and his disappointing WWE run were played all night, hyping everyone up to make sure they watched the end of Raw to see Goldberg return to WWE.
Michael Cole starts off the final segment of Raw in the ring. He shows the clip that Goldberg had with Jonathan Coachman on ESPN. Then, Cole proceeds to show a video clip of Paul Heyman from last week, challenging Goldberg to fight Brock Lesnar anytime. Cole invites out the man of the hour, Goldberg.
Goldberg makes his way to the ring in vintage Goldberg-style. He is being cheered on by fellow wrestlers as he makes his way to the squared circle. It is all familiar, but when he gets to the ring it gets even more memorable. The fans in Denver, Colorado greet him and shower down chants of "Goldberg!", "This Is Awesome!", etc. This gets Goldberg fired up and he takes over the mic.
Goldberg meant business. He was ready to fight Brock Lesnar and was not going to just sit there and let Lesnar and Heyman call him out. It's crazy to think this all started over a video game that featured Lesnar on the cover and Goldberg as a playable character. For weeks, people anticipated that this would happen. The WWE 2K video game has correlation with returns. The most memorable one was Sting, as "The Icon" had a few matches when he returned after being featured in the game. But even last year when Stone Cold Steve Austin was on the cover of the game, he returned at WrestleMania 32 in a quick cameo which featured a Stone Cold Stunner to Xavier Woods. Goldberg's return was far from shocking, but it was well needed.
Like every speech in the squared circle, it finished with Goldberg calling out Brock Lesnar and saying he was ready to compete in a wrestling match against him. But, that wasn't the most memorable moment on Monday night. Instead, there was an extremely cool moment from the Goldberg speech that will stand out more than anything that could happen in the ring. He brought up that he came back because he felt that kids needed someone to look up to and there aren't a lot of superheroes to look up to nowadays. This is something that was truly interesting because the old Goldberg was just there to destroy people and leave. No one would have thought that the biggest takeaway from a Goldberg speech in which he was going to be looking to call out the most intimidating man in all of WWE would be that he wants to be a role model. What he said really showed in his actions, as he greeted young fans with fist bumps and hugs. He even grabbed his son, lifted him up and carried him around the ring while he was leaving the arena tonight. This is just a different Goldberg than previously seen. Honestly, it's so refreshing to see.
So, this match is going to be a lot more enjoyable and accepted because you have two guys who are actually invested into the company. Goldberg's return was a great moment and reminded us why we love professional wrestling.

NEO Sports Insiders Newsletter
Sign up to receive our NEOSI newsletter, and keep up to date with all the latest Cleveland sports news.