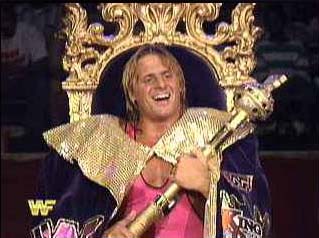 Part two of our look back at WWF King of the Ring brings us to the Baltimore Arena.
Parts of this epic Pay Per View were excellent, while others were horrible. Let's start with the good!
This show featured the coming out party of "The King of the Harts" Owen Hart who ran through the tournament with ease, winning three straight. His first round effort was against Tatanka, a less than 9 minute victory. His second match was short, only 3.37 minutes, but a five star classic against the 123 Kid. It was nonstop high flying action and one of the best matches of a loaded 1994. With the help of a heel turning Jim Neidhart, the Rocket became the king! He put on three great matches, and truly cemented himself as a main event player, capping off a great summer of 1994 for him.
As tremendous as the effort from Owen was, the effort on the microphone from Art Donovan was the worst in the history of PPV. The retired football was lost the entire time, didn't realize wrestling was scripted and time and time again, became more concerned with the weights of the wrestlers, and had no interest in the actual match.
The WWF World Heavyweight Championship match between Bret Hart and Diesel didn't disappoint as the champion vs champion match had plenty of highlights. It had an abrupt ending when the Anvil interfered causing the DQ, but it would later be revealed as to why. Diesel performed well in the biggest singles match of his career.
One interesting note, Lex Luger was nowhere to be found on this card, after being pushed to the moon by Vince McMahon, perhaps this was the sign that his run in WWF had ended, and mid card status awaited.
It was a solid card, but the main event was lacking purpose and it showed. The match between Jerry The King Lawler and Rowdy Roddy Piper failed to deliver. Towards the end, Lawler attacked Piper with a foreign object, which knocked Piper to the mat. Then, while trying to pin Piper, Jerry Lawler placed his feet on the ropes for leverage.
The fan at ringside dressed as Piper pushed Lawler's feet off, however, which allowed Piper to perform a back suplex and get the victory. It was a weak ending to a match no one was really into. The nights should have ended with Owen Hart.
For part one of the series click here
https://www.neosportsinsiders.com/flashback-wwf-king-ring-1993/
Stay tuned into NEO Sports Insiders for Part Three!
You can follow Vince McKee on twitter at VinceTheAuthor

NEO Sports Insiders Newsletter
Sign up to receive our NEOSI newsletter, and keep up to date with all the latest Cleveland sports news.