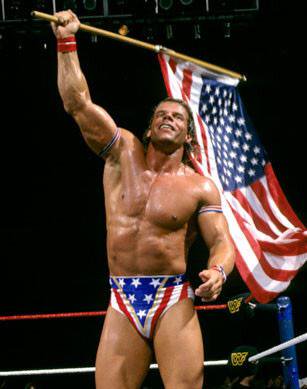 With the Fourth of July upon us, we are all feeling a little more patriotic.  The WWF and WWE have seen their share of patriotic superstars and moments over the years, but perhaps non bigger then Lex Luger slamming Yokozuna on the deck of the USS Intrepid on July 4th, 1993.
I remember it like it was yesterday, The Lex Express!  Growing up in Cleveland, I knew that Detroit wasn't that far away, and maybe just maybe, the Lex Express would swing down my street on it's way to drop Lex Luger off to face Yokozuna at the Palace of Auburn Hills.  It didn't happen, but it sure was cool for a 11 year old boy to think it may!
What I'm referring to is the Summer long build that the WWF created to make Lex Luger the ultimate American Super Hero to replace the departing Hulk Hogan.  It all started at King of the Ring 1993.  Yokozuna took out Hogan and took his belt.  It wasn't much longer that it became crystal clear Hogan wasn't coming back to the WWF anytime soon, leaving a huge void.
Vince McMahon wasted no time turning to the most jacked up muscle bounded guy he had left on the roster, he went to Lex Luger.  Now, at this point, Luger was a hated heel.  He had been running with the Narcissist Gimmick.  Managed by Bobby The Brian Heenan, Luger was trying to avenge Mr. Perfect turning on Heenan, and also fill the gap of Ric Flair leaving to return to WCW.
It wasn't working so Vince McMahon and WWF creative decided to fix 2 problems with one guy. Yokozuna had been billed as a monster that no one could even get off of his feet.  It was thought that slamming him was impossible and couldn't possibly happen.  Thus, the WWF came up with a the "Body Slam Challenge" on July 4th, 1993 on the Deck of the USS Intrepid.
The challenge wasn't just for WWF performers, but all athletes as men from various pro sports gave it a try, including such men as NBA Basketball Player Scott Burrell and NFL great Bill Fralic to name a few.
In the end, it was Lex Luger showing up in a helicopter to make a heroic speech, and do the impossible as he slammed Yokozuna to the ring on the ship.  Just like that, the Lex Luger and Lex Express was underway.  The Lex Express was the name of the bus that drove Luger around through America to meet with the fans in every city before he arrived at The Palace.
Despite the hope and the hype it never panned out for Luger in the WWF as he never once held a singles title, or even a tag title.  But, he still did provide this very cool moment!
July 4th 1993. Aboard the USS Intrepid Lex Luger slams Yokozuna to win the slam challenge. @GenuineLexLuger #WWE pic.twitter.com/NnioRTsdpy

— WWE Today In History (@WWE__History) July 4, 2016

NEO Sports Insiders Newsletter
Sign up to receive our NEOSI newsletter, and keep up to date with all the latest Cleveland sports news.