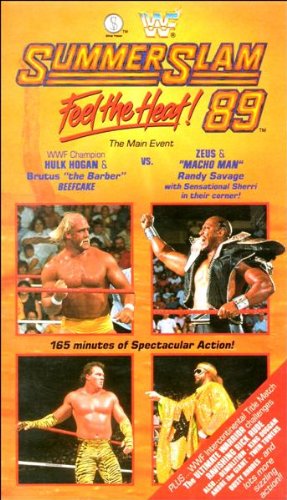 EAST RUTHERFORD, New Jersey – As the WWE approaches their 28th annual Summerslam this upcoming August, we here at NEO Sports Insiders thought we'd take everyone on a trip down memory lane and review the previous 27.
This edition focuses on the second annual SummerSlam which took place on August 28, 1989, in the Meadowlands Arena in East Rutherford, New Jersey.
The main event was coming off the heels of the Mega Powers exploding at Wrestlemania Vin a classic main event of Macho Man vs Hulk Hogan, a match that saw Hogan reclaim his World Title. Summerslam would give each man a tag partner, as Savage recruited Zeus, and Hogan brought along his buddy Brutus the Barber Beefcake.
WWF financed a professional wrestling movie "No Holds Barred". Hogan starred as the hero Rip, a popular professional wrestler, while Tom Lister played the villain Zeus. In the movie, Hogan defeated Zeus. The rivalry spanned in WWF, because Zeus wanted to take revenge from Hogan in real-life. It wasn't meant to be for the Human Wrecking Machine however, as Hogan and Beefcake came away with the win.
Hulk Hogan and Brutus Beefcake met Randy Savage and Zeus in a rematch at No Holds Barred pay-per-view contested under a steel cage where Hogan and Beefcake won again
The best match on the card was between Rick Rude versus The Ultimate Warrior for the WWF Intercontinental Championship. Rude had handed Warrior his first ever loss at Wrestlemania V, and the Ultimate one was out for revenge. He would obtain it and reclaim his title in one of the greatest matches in Summerslam History.
The losing streak of The Hart Foundation at Summerslam continued as the first match of the pay-per-view was a non-title tag team match between the WWF Tag Team Champions The Brain Busters Arn Anderson and Tully Blanchard, accompanied to the ring by Bobby Heenan, and The Hart Foundation Bret Hart and Jim Neidhart. The technical exchanges between Bret and Tully were classic, but the Busters walked away with the win.
Speaking of wrestling clinics, the Red Rooster and Mr. Perfect put one on as Perfect pinned Rooster in a fun little match that showcased both men well. Future Hall of Famer Dusty Rhodes had his first high profile match in the WWF with a convincing win over the Honky Tonk Man.
After the match Sean Mooney interviewed Honky Tonk in the isle. A still dazed Honky, thinking he was Elvis and that Jimmy Hart was "Cilla", asked Mooney where the stage was.
All in all it wasn't the greatest of shows, it was The Ultimate Warrior and Rick Rude pretty much saving what was a lackluster card with the thriller they put together.
You can follow Vince McKee on twitter at VinceTheAuthor

NEO Sports Insiders Newsletter
Sign up to receive our NEOSI newsletter, and keep up to date with all the latest Cleveland sports news.