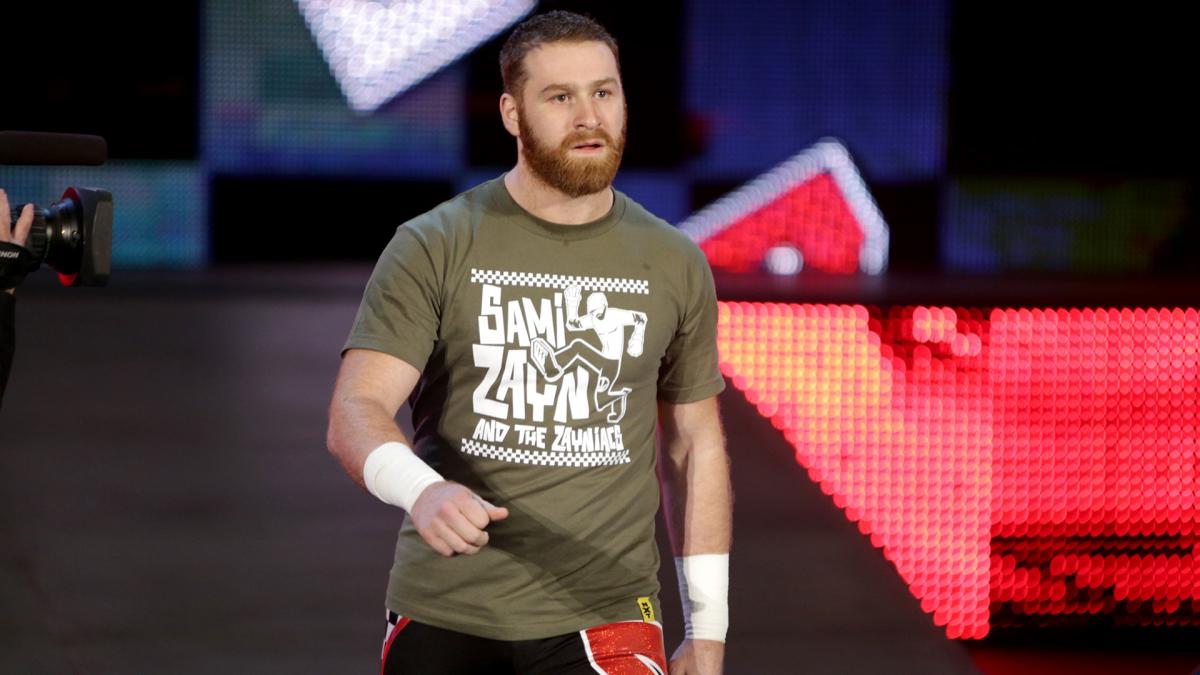 The latest WWE Shake Up Draft is behind us and some Superstars shall benefit from it, while others may plummet because of it.
It is designed to keep guys "fresh" and get them into new feuds in front of a possible new fan base after they have done everything they could possibly do on their current show.
Over the years, RAW has been known for the more established stars, less on in ring talent but more on reputation and promo skills. While Smackdown was known for being the show that showcased the best in ring talent on the roster.  Also being known for young talent needing exposure they wouldn't get on the crowded RAW show, despite 3 hours of tv time allotted.
With all this being said, this years "Draft / Shakeup" will certainly help 5 superstars that jump off the page. Let's take a look shall we?
Sami Zayn
It doesn't get more obvious than this one. He exudes talent, the fans love to get behind him but he struggles to win.  He was on a RAW roster filled with Monsters he struggled against.  Such as Samoa Joe, Braun Strowman and others.
Perhaps this switch to Tuesday nights will be just what he needs. At times, the WWE creative team seems to market him as a hybrid between Daniel Bryan and Mick Foley.  If you recall, Foley teased trading him to Smackdown earlier this year for Eva Marie of all people.  It seems as though his victory over The Miz on Monday nights RAW shows that WWE may finally be ready to get behind him full steam.  Despite the brand switch, this could be the best time and thing to ever happen to him.  We have seen how good his matches with Owens have been, and he will also have in ring time with another Monster (Baron Corbin) very soon.  A role he knows how to play well.  Could this be his time?
Kalisto
This may be the steal of the draft, or the ultimate bust. For Kalisto, this should be more so a move to 205 Live then actually RAW.  While he will get time on both shows, it will be and should be 205 Live that gets him back on the right track.  Fans are already salivating at the thought of him and Neville colliding.  Kalisto causes fans memories to harken back to Rey Mysterio in his WCW days and early WWE days before he "beefed up".
As you may recall, Kalisto was on the fast track to stardom with a great first 7 months of 2016. Then came a live, unscripted promo on Draft night that sent him into a tizzy.  He botched it so badly, the WWE has refused to let him even try talking again.  He actually swore on air and it was an epic fail.  The WWE creative team needs to move past this and realize how good this guy can be in the right division.  Not everyone needs to talk or cut promo's.  Let Kalisto be Kalisto, and 205 Live can become really good.
Apollo Crews
The most athletic big man the WWE has had in a long time will make his move to Monday nights. He is loaded with talent and can have a 5 star match with anyone you put in the ring with him.  The problem with Crews was his attitude behind the scenes.  He had heat with several wrestlers and agents on Smackdown, and it proved to crush him.  RAW is 3 hours long and he should have plenty of chances to resurrect what once was a promising career.  If not, he will be gone soon and floundering back on the indies.
Dean Ambrose
By hook or crook, he is one of the most popular Superstars on the entire roster. Doesn't look like much, doesn't do too much, but by golly, the fans love him.  His crazy good promo skills win over any crowd he talks in front of.  He proved that Monday night with a hilarious promo cut on the Miz & Maryse.  Perhaps the biggest boost for Ambrose is he is now reconciled and on the same roster with his "Shield" teammates Rollins and Reigns.  Don't be shocked in one last desperate try to get Reigns over with the fans, they don't start teaming the three of them up once again.  Wyatt also got moved to RAW, and the matches Ambrose had with Wyatt in the Fall and Winter of 2014 were great, I see plenty of them on the way once again.
Mickie James
One of the most popular Divas of the "previous" decade, Mickie James has made her way back to Monday Nights. She seemed oddly out of place on the Blue Brand, and will get her chance to recapture some of her past magic on RAW.
She is a talent every which way you slice it, in the ring, on the microphone and easy on the eyes. She adds much needed veteran leadership to the RAW Womens locker room packed with NXT call ups.  She will help bring that veteran presence to an already talent rich division with Bayley, Banks, Nia Jax and Alexa Bliss.  The RAW women's division needed a shakeup badly, it had become a 4 woman race.  They essentially did a 2 for 1 trade by sending away their blue chipper in Charlotte, but acquiring two gems in Bliss and James.  Bliss is also the real deal and look for her to shine on RAW.

NEO Sports Insiders Newsletter
Sign up to receive our NEOSI newsletter, and keep up to date with all the latest Cleveland sports news.