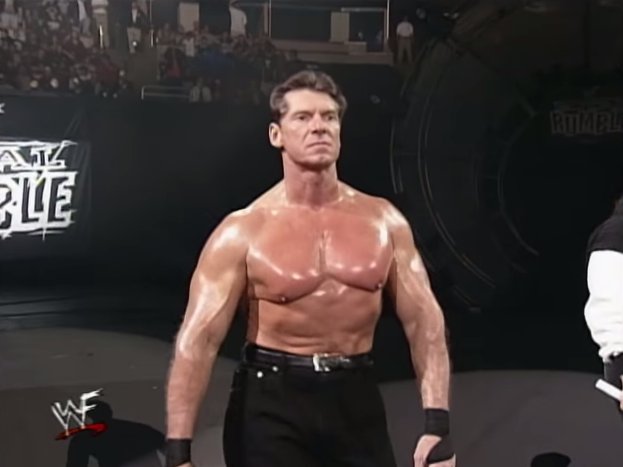 As of late, the WWE has had a really bad habit of screwing up the Royal Rumble winners and going with the most predictable choice.  Need an example?
2013 – John Cena
2014 – Batista
2015 – Roman Reigns
2016 – HHH
Well, let's hope that changes tonight and the WWE gives the fans what they want.  Such as they did with Austin in 98, The Rock in 00, and so on down the line.  If you're planning to wager tonight on the result, here is five to watch, some long shots, some very real possibilities.
Vince McMahon
Odds 1,000 – 1
He made a point of talking about how old he is now and how he can't take any hits.  He has also been all over the news this week with the new XFL and now sexual harassment charges against him.  You never know what this guy is going to pull next for mainstream attention.
My thought is this, he draws number 30 and as he is walking to the ring, while the last two people remaining tumble over the top.  Giving him the win by default.  I know the chances of this happening are slim to none, but can you imagine the backlash and attention if it does?  Don't put it past him
The Miz
Odds 20-1
WWE Management loves this guy and he has been on a roll.  He is over and when you factor in the storyline of his first-born child due to be born WrestleMania weekend, the story writes itself.  Maybe him wining the IC title on RAW was to throw everyone off?
Daniel Bryan
Odds 10-1
This would be amazing and is a rumor that has gained plenty of steam as of late.  I do not see it happening as he is not cleared for contact.  However, where there is smoke, there is fire.  Never say never! Will they give the Philly fans the winner they wanted three years ago?
Roman Reigns
Odds 5-1
Another storyline that writes itself as Brock Lesnar is the one man that Reigns hasn't beaten.  They have been working on this storyline for three years between the two.  I personally do not see Reigns winning it because it is just too obvious.  They can still and will build a storyline between Lesnar and Reigns for the title at Mania without Roman having to go over tonight.
Shinsuke Nakamura
Odds 2-1
Nakamura is over, Philly fans love the underdog.  A match with AJ Styles at WrestleMania would steal the show and everyone thinks Reigns is going to win.  If the WWE truly wants to make up for the 2015 Philly Rumble, then Nakamura is the man here.
PREDICTION
Shinsuke Nakamura last eliminates Roman Reigns to win the 2018 WWE Royal Rumble

NEO Sports Insiders Newsletter
Sign up to receive our NEOSI newsletter, and keep up to date with all the latest Cleveland sports news.