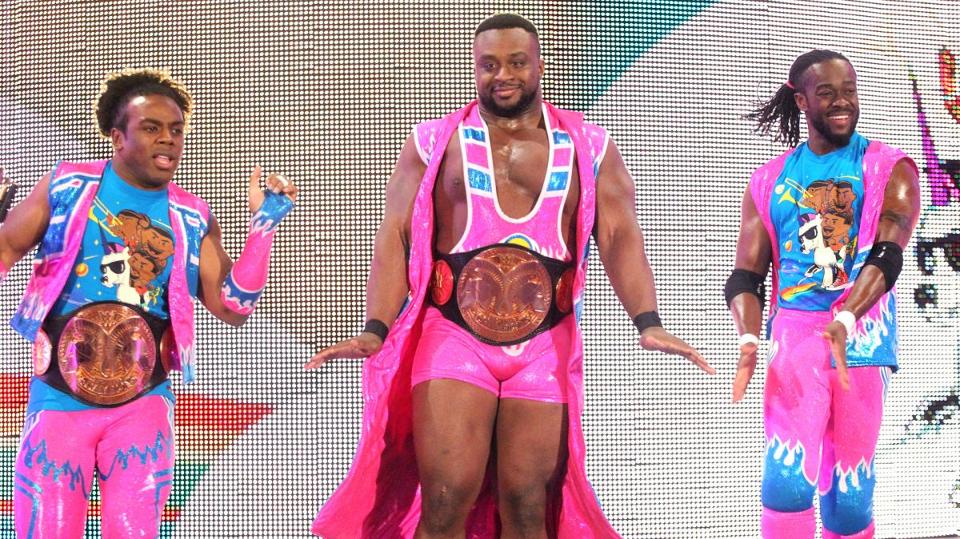 The WWE RAW draft / raid of Smackdown is over, and it was quite hefty as it saw several big names jump ship from Smackdown to RAW.  Including the likes of The Miz, Dean Ambrose, Kalisto, Alexa Bliss and the former WWE Heavyweight Champion Bray Wyatt.
It also saw such minor names as Mickie James, Maryse, Rhyno, Curt Hawkins, Heath Slater and Apollo Crews leave for RAW as well.
So what does all of this mean for Smackdown?  Who can they expect to steal away from RAW?  Well, other then Seth Rollins who was given his word by Kurt Angle that he is going nowhere, and also Samoa Joe who will feud with Rollins, everyone else is up for grabs.
One thing is for sure, Smackdown lost major heels last night in The Miz & Bray Wyatt, along with Styles turning face.  That being said, this draft for them points heavily towards plucking off heels from Monday Night.
Let's get right to it, here are my top 5 possible names to leave for Smackdown.
1 – Charlotte
This one is a sure thing.  I would be beyond shocked if it doesn't happen as they have had her lose clean several times in a row for the first time in her main roster run, going on a month straight now.  She was practically untouchable, and now can't seem to buy a win.  Smackdown just lost two of their three top women in Alexa Bliss and Mickie James.  The door is wide open for Charlotte to walk right in and dominate.  Naomi would be a serious underdog if they begin a feud.  I also wonder if they bring her in as a face, and start her off with Natayla instead, based off of the classic they have had in the past.
2 – The New Day
While at first I thought it would surely be the Bullet Club reformation with Gallows and Anderson coming over, I can no longer see it that way as I have a feeling AJ Styles is about to become a face.  With that being said, The New Day, much like Charlotte went from a year plus of being unbeatable, to a team that can't buy a win all of a sudden.  With Kofi on the shelve,  I see them headed to Smackdown for a fresh start and possibly even a breakup.
3 – Jinder Mahal
He would have a natural storyline with Mojo Rawley based off of the Andre The Giant Battle Royal finish from WrestleMania 33.  Mix in the fact that he also lost cleanly to Finn Balor last night, and this seems to be a definite.  With the lack of heels on Smackown, this could be a real chance for him to make a statement in his second run with the company.  He has shown he can perform well when given the chance to do so.
4 – Kevin Owens
While I'm not 100% convinced this happening just yet, because I still see a feud with him and Finn Balor in the making, there is still a very strong chance Owens moves to Smackdown tonight.  The United States Championship was a staple of Smackdown for many years during the original brand split.  Also, with Dean Ambrose moving to RAW, they will not have two secondary belts on one brand.  Couple all of that with the fact that Smackdown lost their top two heels last night, and they need heel name power quickly.
5 – Roman Reigns
It's crazy to think that the "Face of the WWE" would be moved to the "B" show.  But rumors are flying around that it may happen.  Couple that with the fact he got destroyed last night by Strowman, and that may have sealed his fate.  This one is extremely risky because I can easily see them moving Strowman instead to begin a feud down the line with Orton.  There is many ways this thing can go but Reigns to Smackdown, to replace Cena as the top name, just makes the most sense.
Other names you may not be surprised to see show up tonight
Rusev and Lana – Smackdown is going to need heels.  Their top 3 either left or turned face recently.  (Wyatt – Miz – Styles)
Anderson and Gallows to attack a newly face turned Styles.
Emma to begin her singles run in a new environment.
Finn Balor isn't very likely, but if Owens moves, there is no reason he won't move with him to feud over the United States title, however after last night it looks like a possible Bray Wyatt feud on RAW is more likely.
Big Show – It has been 33 seconds since his last face / heel turn, he is due for another one.

NEO Sports Insiders Newsletter
Sign up to receive our NEOSI newsletter, and keep up to date with all the latest Cleveland sports news.