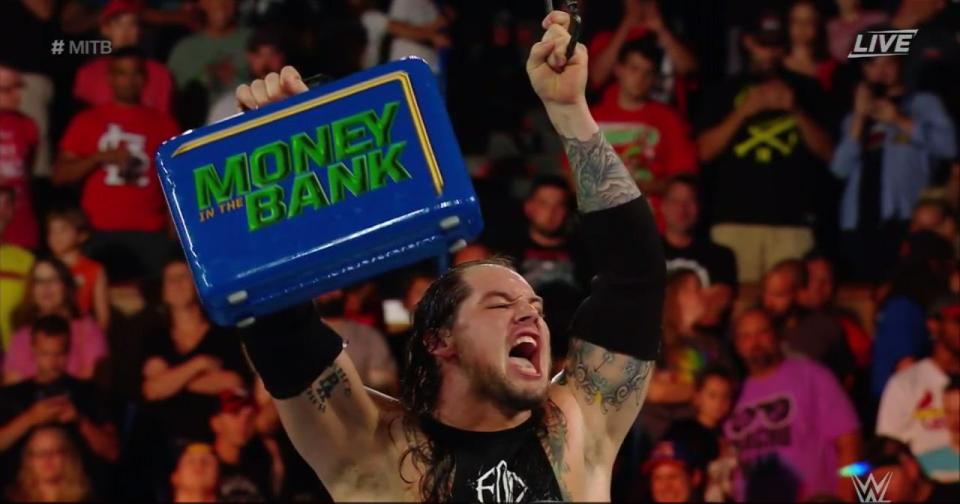 The WWE is gearing up for their biggest show of the summer, and the second biggest card of the year, this Sunday at the Barclays Center in Brooklyn for Summerslam 2017.  Both Smackdown and RAW have been heating up, and this Sunday can prove to be very interesting.  While predicting a "scripted" show is always tougher then it sounds, I thought I'd give it a try anyway.  Enjoy my top 5 "bold" predictions for Sunday night!
1 – Baron Corbin will cash in the MITB briefcase (again) to win the WWE World Heavyweight Championship.
I'm sure your first thought is, "wait, that's impossible".  I understand why you would think that as he tried cashing it in on Smackdown Tuesday and fell flat on his face.  Since then the WWE has worked hard with outside media outlets to let things slip.  Such as "Jinder's feet were outside of the ropes, or underneath them."  Plus, JBL went out of his way to mention how the ref screwed up the start of the match and that he didn't need to wait for Jinder Mahal to get to his feet to start it.
Top all that off with that same ref screwing up the finish to the Owens vs Styles match earlier in the month, and I'm pretty sure that finish from Tuesday get's thrown out, and Corbin gets his MITB back at Summerslam.
So then the question becomes, who does he cash it in on?  While the initial rumor all summer was that Shinsuke Nakamura would win the belt then get cashed on by Corbin, Tuesday's finish leads me to believe differently.  I now see it that Mahal beats Nakamura by DQ or some other cheap way, to hang on to the belt, only to lose it to a Corbin a few seconds later.  It will be a wild finish no doubt.
2 –  Roman Reigns will get pinned to cost Brock Lesnar his title (again!)
It will be a flashback to WrestleMania 31 when Lesnar lost his belt on the Rollins cash in and pin over Reigns.  It will happen again at Slam.  This time it will be either Samoa Joe or Braun Strowman getting the win over Reigns, giving Lesnar a write off TV, without losing the belt himself for a second time.  A recipe that clearly works for everyone.
With that being said, this will only add to the story of Reigns vs Brock Lesnar for Mania.  The long "not so" secret has been a match between the two will headline WrestleMania 34 in March.  This gives Reigns 7 plus months to win the title, Lesnar to return and win the Rumble, and the rest will write itself.
3. Enzo Amore will turn against The Big Show and re-unite with Big Cass
Ok, so this one is a little far fetched considering Enzo will be in a cage and won't effect the actual bell to bell match in any way. However, the hot rumor is an Enzo heel turn, and what better time would their be?  If not, then it will be the same incredibly predictable storyline it has been since day one with these three. For the fans sake, please do not go in the direction of a Cass win and post match beat down of Show.  It has been the writing on the wall for 4 months.  Maybe, just maybe, they go in a different way.
4. The WWE will announce their return to the Barclays Center for Summerslam 2018
This one almost seems like a sure thing as the WWE seems to have had a liking to keeping the "Biggest Party of the Summer" in the same location for multiple years as they did with the Staples center in LA from 2009-2013.  Not sure why they are doing this and have completely abandoned MSG for anything other then big house shows, but that seems to be the plan.
5. Finn Balor will defeat Bray Wyatt in a match that may steal the show.
Wyatt has a lot to prove and will be fighting with a chip on his shoulder as he has been taking a beating as of late.  Balor, has shown that his best matches come when the Demon paint appears on his body.  Balor rarely loses when the paint is on, Bray Wyatt barely wins period.  This one seems like a sure thing and a great match to be had in the process!
For full predictions for the entire show, simply turn the page

NEO Sports Insiders Newsletter
Sign up to receive our NEOSI newsletter, and keep up to date with all the latest Cleveland sports news.