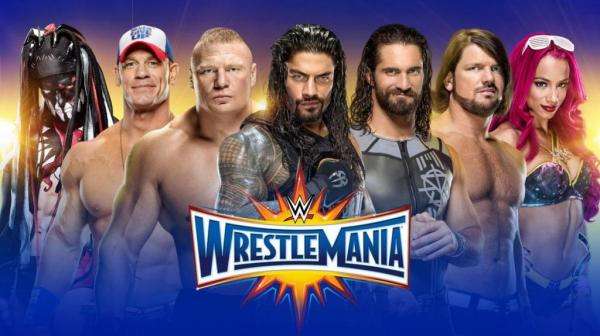 Recently my co NEO writer Matt Loede submitted his early Mania match predictions.
While the biggest show of the year is still several months away, I couldn't help but take his cue and toss out a few ideas of my own as for possible matches.  Some predictable, some a bit of a stretch.
Brock Lesnar vs Goldberg III – Because there is no chance in hell this match doesn't happen.
Seth Rollins vs HHH – Okay, so not really going out on a limb on this one, it has been rumored and planned for two years.  It was supposed to happen last year before Rollins got hurt.  I can see Rollins winning this, but then going right back to heel where he is best at soon after.
Roman Reigns vs Finn Bailor for the WWE Universal Title – This may be a bit of a stretch as many are sold on the idea of Bailor vs Owens for the title as the storyline would practically write it self.  I would tend to agree, if Chris Jericho wasn't red hot and bound for a split with Owens.  That all being said, Roman wins the title from Owens at the rumble, meanwhile Bailor returns to win the Rumble and set up this match.
Kevin Owens vs Jericho – Y2J is getting some of the biggest cheers of his career, and he is doing it as a heel.  Enough said, there is too much logic not to make this happen.
John Cena vs The Undertaker – Well, because, this may be the last year for it?  They have to do it now or it may never happen.
Aj Styles vs Dean Ambrose for the WWE Heavyweight Title – Your biggest heel on Smackdown versus the biggest face.  I'd also look for Styles to retain.
Braun Strowman wins the Andre The Giant Battle Royal last eliminating Doph Ziggler
Daniel Bryan vs The Miz – I may be dreaming here, but does anyone else notice what they are doing and teasing almost every week. Something is cooking, if not this year then next in the Superdome.
Bailey vs Sasha Banks for the Womens Championship – It was epic in NXT, why not do it again on the grandest stage.
I'd also look for The Wyatt Family to get a match as well as an appearance by the Rock in some form.  You'd also have to believe that Charlotte is in the mix by then as well.  Even after Bailey takes the title from her.
So many options, it should be and will be a fun few months leading up to it!